There is no better window into the Finnish soul than the Moomins, the charming children's book characters created by Finnish author Tove Jansson.
Moomins aren't just for kids. Adults love them too, and Finland has enthusiastically embraced the Moomin theme, with everything from museums to amusement parks to cafés and shops vying for tourist dollars.
So, whether you're a Moomin newbie or hard-core fan, you'll wanna read this guide to Finland's most magical Moonin attractions.
Moominworld
Naantali, near Turku
Mickey Mouse can keep his roller coasters! Moomins are simpler sorts, with a sweet world of their own just outside the historic coastal city of Turku on the small island of Naantali.
Here, you can hug and talk with Moomin characters as you stroll along the promenade, or swim at the small beach. Don't worry about the bright purple sea monster by the jetty; it's just Edvard the Booble – he's harmless.
If you can tear your kids away from the water play area, the sand boxes, the Moomin house and the police station, be sure to take a ride in Moominpappa's boat.
Daily performances at the theatre include a free play in Finnish and Swedish (with English and Russian subtitles!) plus a musical that works for everyone, no matter the language or age.
Moominworld is open all summer, some autumn weekends, and one week in February. Check the website for exact dates, plus practical information on tickets prices and how to get there.
The Moomin Museum
Tampere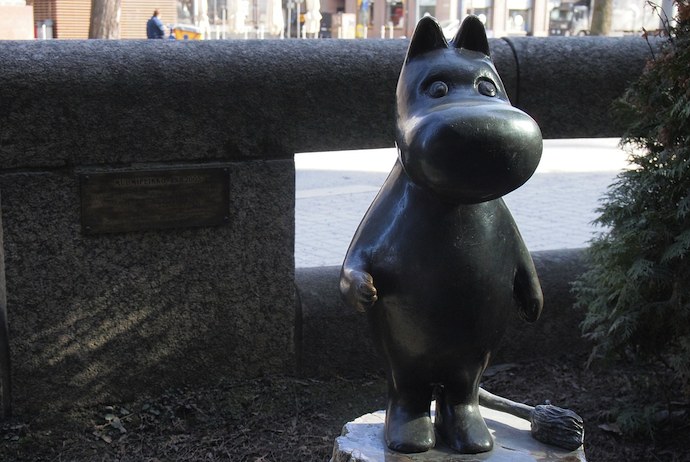 The Moomin Museum in Tampere, about an hour and a half by train from Helsinki, is an extraordinary place, mostly due to the 2000-plus original artworks donated by Tove Jansson.
Stroll around the permanent exhibits and discover everything you've ever wanted to know about Moomins. Or, call ahead to book a slot on one of the free tours.
The museum also puts on special exhibitions, such as an excellent display on the history of Moomin animation.
While you're in Tampere, leave time to check out the remarkable murals by Hugo Simberg, the town's many public saunas, and the country's best munkki (Finnish doughnuts).
The Moomin takeover
Jansson's books about the gentle family of trolls have been translated into more than 50 languages. They've also been made into comics, movies, and television series, including the recent hit all-star-cast animation Moominvalley.
Moomins in Helsinki
You don't actually have to leave the capital to get a good Moomin fix.
You can spend an entire day following the Tove Jansson trail, which not only guides you through Jansson's life and significant locations, but also round most of Helsinki – a unique way to see the city.
If you only have time for a few highlights, the free Tove Jansson exhibit at HAM (Helsinki Art Museum) is the place to head. The museum is housed in the city's former tennis palace, along with a museum of culture and a cinema.
Don't miss the airy frescoes and murals that Jansson originally painted for Helsinki's City Hall – and see if you can spot the tiny Moomin characters she hid in them.
Moomin cafés
After all that culture, you might want to check out one of Helsinki's Moomin Cafés.
With Moomin characters drawn in your cappuccino foam, Moomin dolls seated in empty chairs and Moomin books in several languages available to read while you eat, there are plenty of charming touches to make these cafés worth a visit.
Not only that but the food and coffee are top-rate and very reasonably priced. Try Mumin Kaffe at Liisankatu 21.
Moomin shops
Helsinki's main Moomin Shop is in the Forum mall in downtown Helsinki, though Moomin merchandise is available pretty much everywhere you go.
Look out for the excellent wooden Moomin creations made by Finnish artist Anne Paso. They can be found in some of the higher-end craft shops around Senate Square.
For Moomin gifts, check out Arabia's not-to-be-missed store on the Esplanadi. The famed Finnish ceramics company releases four new special-edition Moomin mugs each year, which often become collectors' items. They also provide international shipping – a big help for the fragile gifts.
From Moomin mittens to sweatshirts, anything bought from Makia x Moomin clothing collection makes an excellent souvenir. Their main store is in downtown Helsinki, near the Amos Rex Museum.
If you're running out of time, you can always grab a last-minute souvenir at the Moomin store in Helsinki airport.
And since Finnair is an official partner of the Moomins, if you order off the Finnair website, you can even have a Moomin waiting in your seat when you board your flight to Finland or on your way back home.
Moomins by boat: Söderskär lighthouse
For hard-core Moomin fans, the hour-and-a-half long cruise to Söderskär lighthouse from the main Helsinki harbour is a magical experience.
Some claim this lighthouse is the inspiration for the lighthouse in Moominpappa at Sea. Whether that's true or not, it certainly evokes the unique Moomin landscape.
There are no souvenirs to buy or even much to do, but that's what makes this the perfect trip for those seeking the true Moomin ethos.
You can climb up the lighthouse then have a cup of coffee in the cosy lighthouse keeper's cottage before heading back to civilization. Bliss!
See also
Fun day trips from Helsinki
33 cheap and free things to do in Helsinki
6 fun boats trips to take from Helsinki