Winter is a great time to visit Finland, from Helsinki in the south all the way up to the Arctic Circle and Finnish Lapland in the north.
The town of Rovaniemi is a popular base for winter activities, and the countryside surrounding it really does fulfil all expectations of snowy wonderlands, icy lakes and warming saunas.
From husky safaris to snow-mobile tours, ice-fishing to ice-floating, there are plenty of exciting adventures you can sign up for in this magically frozen part of the country. For example, there's a 5-hour snowmobile and ice fishing adventure tour where you'll learn more about the unique Finish way of life. You can also try this Apukka Aurora Husky Tour that let's you ride your own sledge while hunting for the Northern Lights.
And if you're short on time, you don't even have to travel all the way north – Helsinki has a few thrilling wintery tour options too! Here are some of the best winter options for wintry adventures in Finland:
Take a reindeer sleigh ride
What could be more festive than a sleigh ride across the snow pulled by reindeer?
This fun two-hour trip takes you to a Sami reindeer farm, where you will meet local reindeer herders and learn all about their traditional culture and ways of life.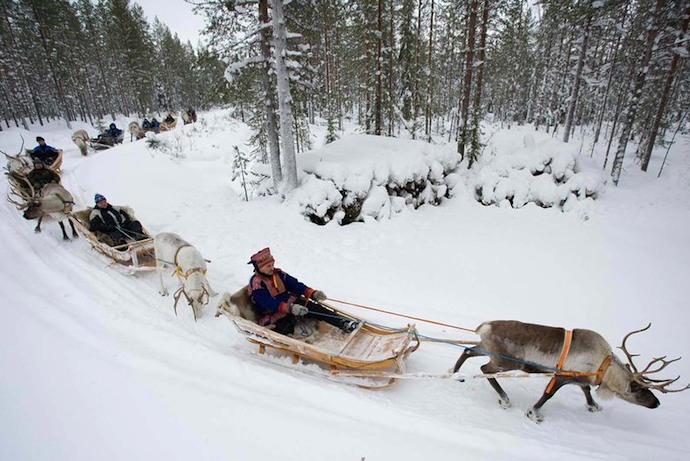 You then get a chance to feed the reindeer before heading off into the forest, wrapped in warm blankets, in a fairytale wooden sleigh pulled by Rudolph and his friends.
Afterwards, you can warm up in front of the fire in a traditional wooden Lapland hut, while listening to Sami stories over a steaming hot drink.
View the frozen waterfalls of Korouoma
In winter the waterfalls of Korouoma turn to ice, forming giant ice sculptures that hang over the tall cliffs.
The full-day trip takes you through Arctic forests and along the Korouoma hiking trail with its 14 spectacular blue ice frozen waterfalls.
Located in Posio's virgin forests, the Korouoma valley was created more than a million years ago, and it has a dramatic gorge that's more than 100 metres deep at its centre.
Bring your camera as there are plenty of dramatic selfie-spots in this glacial landscape, then warm up in front of a traditional campfire barbecue!
Go northern lights spotting with huskies
Mid-winter is a great time for viewing the northern lights and Rovaniemi is a good destination for some serious aurora-spotting.
And what could be cuter than heading out for the evening to see the lights on a sledge pulled by huskies?
Join this tour and the huskies will take you on a 10km sled ride deep into the forest and right away from any light pollution so that you have the best-possible chance of seeing the light show.
At Kota, you'll stop for a Lappish barbecue of grilled sausages and a hot drink with a chance to warm up in front of the fire.
Go ice-fishing by snowmobile
Real adrenaline junkies will love this guided snowmobile trip through thick forests and Arctic wilderness to do some ice-fishing in the Raudanjoki River.
After an exhilarating snowmobile ride, you'll be able to channel your inner Bear Grylls by cooking soup on the campfire, drilling a hole in the ice, setting up your hook and doing your best to catch dinner.
But don't worry if you don't manage to catch anything – 'emergency' sausages are provided to cook over the fire.
As any good Scout knows, it's important to be prepared – all your equipment is provided as part of the trip from thermal clothing, boots, gloves to helmets. All that's left for you to do is enjoy the ride!
Go floating on an ice-breaker adventure
Fancy a trip on an authentic ice-breaker? The Polar Explorer heads out into the frozen waters of the Bothnian Sea, cutting a trail through the ice in its wake.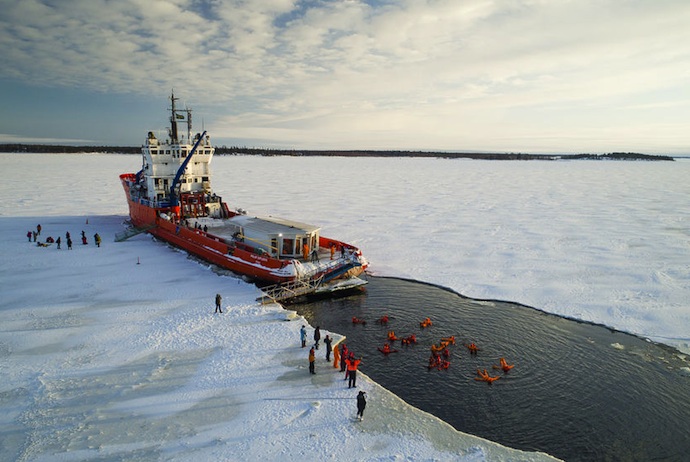 Passengers get a guided tour of the workings of the ship, which then stops, so you can get out and walk on the ice.
Those brave souls who dare can event get kitted out in survival suits and leap into the water for a swim – or really more of a float.
The ship actually leaves from Axelsvik port in Sweden, but bus transfers from Rovaniemi are provided if you need them.
Snowmobile across a frozen archipelago
Like we said at the start of this post, you don't need to head all the way up to the Arctic Circle to get your fix of snowmobiles and frozen forests!
This action-packed tour leaves from Helsinki and heads out towards the icy Gulf of Finland for a fun snowmobile trip through wintery landscapes.
After helping you get kitted up in warm snowshoes and thermal gear, your experienced local guide will lead you out on forest trails across the beautiful frozen archipelago to one of the islands.
Here you'll have a Finnish barbecue (you can leave your shorts at home, brrr!) and you can even try your hand at ice-fishing. The tour only operates in cold weather, of course, but full refunds are given if the conditions aren't suitable.
Feed some reindeer and see Helsinki's highlights
This is not a specific winter tour, but there's still a lot of wintry joy to be had through feeding reindeer in the forest.
If you're lucky with the weather, you may even get to see these beautiful animals in the snow, making the experience even more magical.
Dedicated reindeer-feeding tours run year-round from Helsinki to Finland's most southerly reindeer park, where you can get up-close-and-personal with the reindeer and feed them lichen.
The tour also stops in at some of Helsinki's top sights en route, such as Uspenskin Cathedral and the Sibelius Monument, so this is a great option in you want to see Helsinki's highlights in comfort on a cold winter's day.
See also:
Moomin sights and attractions in Finland
Like what you've been reading? Get our best tips by email!