Near the Arctic Circle in Finnish Lapland, Rovaniemi is one of the most popular spots for winter snowmobiling tours.
And it's easy to see why – this city of around 60,000 people gets plenty of snow, and has a wide range of terrains and beautiful landscapes right on its doorstep.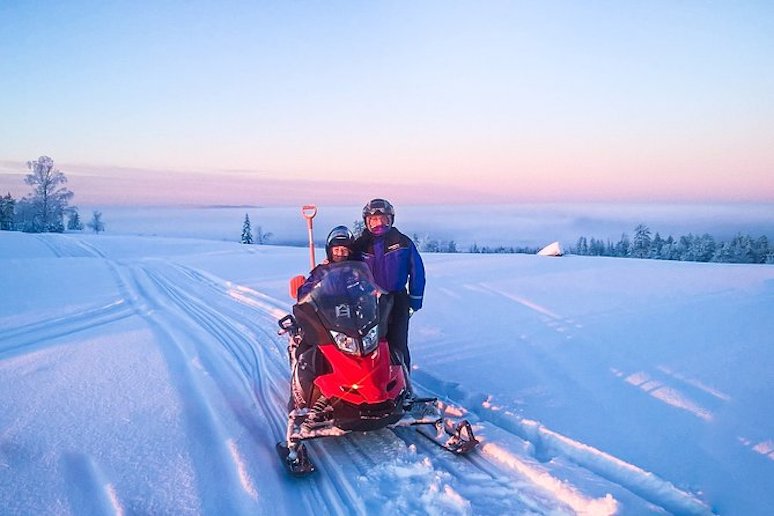 Let's dive in and discover some of the best tours you can do in the area.
Where is Rovaniemi, and what's it like?
Rovaniemi is a city located in northern Finland, in the region known as Finnish Lapland.
It is situated about 8km (5 miles) south of the Arctic Circle and is known for its many winter activities such as skiing, dog-sledding and, of course, snowmobiling.
The area has a subarctic climate and is covered in snow for around six months a year, making it a winter wonderland. Days are short, especially from November to February, when the sun struggles to peep above the horizon for more than a few hours per day.
In summer, however, temperatures are usually mild and the eerie midnight sun can be experienced, with barely any darkness.
The city also has a good variety of restaurants, shops and hotels, as well as a number of cultural and historical attractions.
And you can't mention Rovaniemi without mentioning Father Christmas – thanks to some clever marketing, it's also become known as the home of Santa (and you can even pay to stay at a dedicated 'Santa Claus Village').
Why is Rovaniemi such a good place for snowmobiling?
Rovaniemi is an ideal destination for snowmobiling due to its location, which receives plenty of snowfall each year, and its well-maintained trails that wind through the beautiful Finnish wilderness.
Additionally, the area offers a range of other winter activities, such as northern lights viewing, ice fishing, reindeer sledding and cross-country skiing, making it a perfect place to experience the winter wonderland of Finnish Lapland.
Our favourite snowmobile tours near Rovaniemi
Snowmobile joyride for beginners 
Never been snowmobiling before? This tour will get you all geared up and prepared for your first-ever outing!
First, you'll learn how to drive and manoeuvre the snowmobile before you head out on the trails accompanied by your teacher and guide.
This is a very slow-paced and easy ride that only lasts an hour. Perfect for those who just want a taste of the sport, and to enjoy the spectacular views.
Journey through the Lappish wilderness
This half-day snowmobile trip will take you through the frozen forests and lakes of Lapland. A perfect tour to experience the beauty of Rovaniemi as you speed through the trails.
You will be paired up on your snowmobile and guided by experienced (and friendly) hosts.
Warm up with some blueberry tea and gingerbread during your ride and take in the serenity of the snow-clad countryside.
Visit Santa and his reindeer
A day full of magic and fun is what you can expect on this Arctic delight tour. As well as a snowmobile trip, you will get the chance to visit Santa Claus at the Santa Claus Village.
Then you'll go on a sleigh ride, pulled by reindeer, and join an Arctic Circle crossing ceremony. Perfect for the whole family!
Go ice-fishing by snowmobile
You can't get more Lappish than a snowmobile and ice fishing experience.
On this guided tour you will ride your snowmobile to one of the frozen lakes. Here you will get the unique experience of arctic fishing.
Once you've caught a fish or two, you will then be rewarded with a traditional Lappish meal: bread, salmon, pork sausage, marshmallows and hot blueberry juice. Yum!
Meet some friendly animals
If you are an animal lover, then you will surely enjoy this safari to a reindeer and husky farm.
This tour lasts around 5–6 hours and includes a snowmobile ride, as well as a visit to the reindeer and husky farms.
The day will begin with visiting some reindeer and a short sleigh ride. Then you will get a chance to feed these majestic creatures.
After that you will continue the journey to the husky farm, where you'll meet the dogs and go on a husky-pulled sled ride. It will give you a taste of what it's like to be a Finnish musher.
Afterwards, you will take a snowmobile trip through the Arctic forests and learn more about the history of the area.
This fun-packed day will be sure to leave you with some life-long memories.
Camp under the Northern Lights
This tour provides the ultimate Finnish experience: Aurora chasing on snowmobiles followed by a traditional Lapland-style barbecue.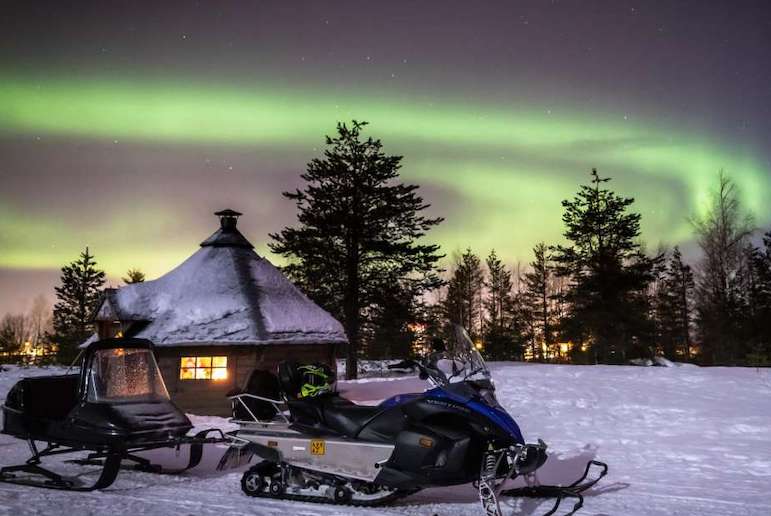 You will ride far from the city, away from any light pollution. The only thing that surrounds you is the snowy wilderness and the stars above.
After snowmobiling, you will warm up around the fire and eat a delicious dinner cooked on the barbecue. Can't get much better than that!
Where else can you snowmobile in Finland?
Finland offers many great places to go snowmobiling outside of just Rovaniemi. Here are a few of our favourites:
FAQ
How old do you have to be to drive a snowmobile in Finland?
Under Finnish law, the minimum age for driving a snowmobile is 15.
Do you need a licence for a snowmobile in Finland?
On official snowmobile routes, you need at least a category T (tractor) driving licence when driving a snowmobile in Finland. For international visitors, holding a valid car license is usually enough.
Do you need goggles when snowmobiling?
You should definitely wear goggles when snowmobiling. Goggles protect your eyes from the wind and snow, so it's very important to keep your eyes safe from the elements.
Is it OK to snowmobile alone?
While It is generally safe to go snowmobiling alone, it is not recommended. Snowmobiling can be a dangerous activity, and it is always safer to go with a companion.
Going with a friend or in a group can also make the experience more enjoyable too.
However, if you do go alone, it's smart to let someone know your plans and expected return time and to carry a means of communication in case of an emergency.
Can families go snowmobiling in Rovaniemi?
Yes, families can go snowmobiling in Rovaniemi. Certain tours, such as this family snowmobile safari, are perfectly suited to families with children.
The adults drive the snowmobile and the kids ride in a snowmobile-pulled sled.
What do you wear for a snowmobile trip? Is gear included?
Proper gear is provided on most snowmobile tours. However, you should always come prepared just in case! We recommend bringing the following:
Warm jacket/winter coat and trousers
Gloves and scarf
Thick pair of socks
Winter boots
Goggles
Helmet
It is also a good idea to wear layers so that you can easily adjust to any changes in temperature.
What does riding a snowmobile cost in Finnish Lapland?
Snowmobile tours in Lapland usually range from $100USD to $300USD. Keep in mind most tours are 'all-inclusive' and will provide:
Pick-up and drop-off at your accommodation.
Training for those who have never ridden a snowmobile before
A professional and enthusiastic guide to accompany you on your trip
Warm clothing and equipment for the ride (usually thermal overalls, boots, gloves, woollen socks, scarves and helmets)
Snacks and warm drinks
See also:
Snowmobile tours in Kiruna
Snowmobile tours in Iceland
Snowmobile tours in Tromso