If you think summer is the only time to enjoy the capital of Finland, think again. Each season in Helsinki has its own distinct appeal, with plenty to see and do. So decide on your priority – Is it price? Beating the crowds? Or perhaps timing your trip to coincide with one of Helsinki's festivals? This guide will help you decide which season works best for you.
When to go to Helsinki: a quick guide
Winter in Helsinki showcases the city's strengths: saunas, snow sports and nightlife. Also, it's the best time for off-season deals.
Spring in Helsinki is… short. But it's also the perfect time to beat the crowds.
Summer in Helsinki highlights the city's embrace of nature: from stunning shorelines to inner-city beaches and fun-friendly parks.
Autumn in Helsinki is a surprisingly good time to visit. The days are longer than in winter, prices are still relatively low, and autumn is also when some of Helsinki's quirkiest festivals take place.
Winter in Helsinki: sisu and savings
There are excellent deals to be had in winter, which runs from November to early March. Hotel prices can be half that of high season, so you don't have to skimp on accommodation. A good to is to look for bargains at some of the city's hottest properties like the slick St George Hotel or the Art Deco-themed Hotel Lilla Roberts.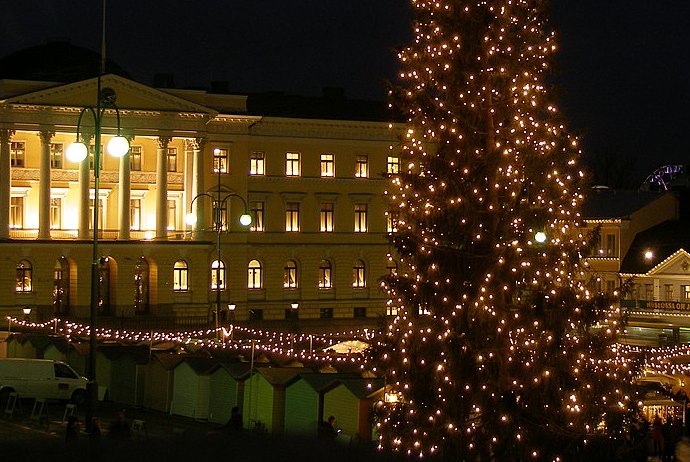 Prices do increase over Christmas, though, so if you're looking for somewhere cheaper to stay try the Helsinki University-owned Töölö Towers. They have an excellent free breakfast, a good sauna, and kitchens in every unit. It's also handy for trams and the city centre.
Winter in Helsinki is cold but there's plenty of festive cheer to keep you feeling all warm inside. The Christmas Market in Senate Square is definitely worth a visit, as is the pop-up skating rink next to the Central Station.
The ferry to Suomenlinna Island runs year-round, but is especially magical in winter when the ships navigate through ice. Although some of the museums on the island are closed in winter, the fort and snowy sea vistas more than make up for it.
Don't even think about skipping a winter sauna! Try Kulttuurisauna for a mellow, Asian vibe, while Löyly is a livelier option with more of a party atmosphere (there's a bigger bar). Both places include unforgettable (optional) dips in the winter sea.
Of course, it gets dark early in winter; the sun starts going down by mid-afternoon. But experiencing the early dusk and late sunrise is interesting, as the quality of the light and sky can feel otherworldly.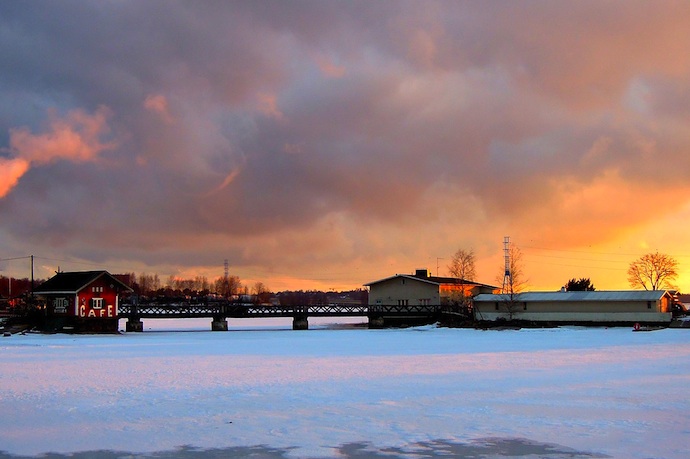 Is the Helsinki Card worth buying?
Read this guide to see how much you could save during your trip!
What's all this sisu stuff about?
If you're wondering why the Finns are still on their bicycles in December, or diving naked into icy water in February, that's sisu. The Finnish word describes a lifestyle of grit and inner determination and is intricately tied to finding joy in nature.
Sisu is one reason why Finland has been named the world's happiest country by the United Nations World Happiness Report, for the second year running. Experiencing Finnish sisu first-hand may just change your outlook on travel – and life.
What about winter festivals?
Nothing is quite as Finnish as Lux Helsinki, a combination of art, politics, family, music, food and beer. It takes place during the first week of January and sees the streets of the inner city shut down for five nights as thousands of Finns come out to see this unique light and sound show.
Spring in Helsinki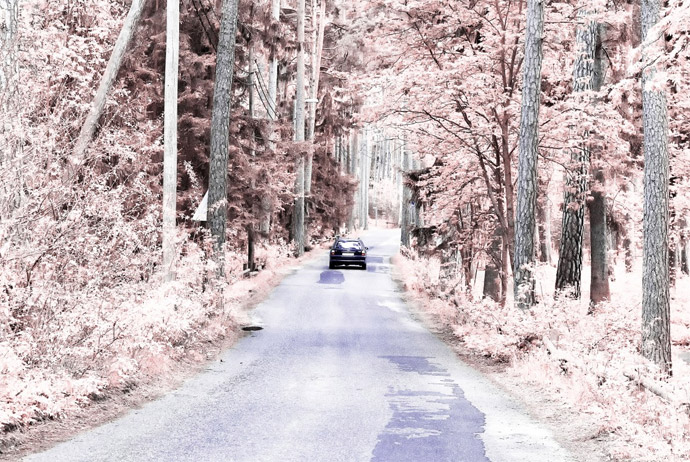 Spring in Helsinki may be slow to arrive, but when it comes, the city seems to wake up from its winter slumber. There may still be frost (or even snow!) but if you visit in April or early may there's a chance you'll see cherry blossoms bursting into life.
Lots of events begin taking place in spring and there might even be enough sunshine to make you want to take a walk through one of the city's pretty parks.
The days are much longer in spring, which means there's more time for sightseeing during daylight. If you're only visiting for a couple of days, this is a great time of year to grab a Helsinki Card and squeeze in as many museums, galleries and attractions as you can.
Although winter is a fading memory by April, there's still lots happening in Helsinki's nightlife scene – there's something for clubbers, metal-heads and casual bar-hoppers alike.
Early spring (late February and early March) offers some of the best chances to view the northern lights in northern Finland. So after a few days exploring Helsinki's charms, book an overnight trip to Lapland. Flights are cheap and take just over an hour from Helsinki to Rovaniemi where the days are still significantly shorter, allowing plenty of opportunities for seeing the aurora.
What about spring festivals?
On 1st May, Vappu is Helsinki's version of May Day. Students, workers and, well, everyone, comes out in full force wearing wacky hats and outfits. The extremely odd student overalls (you'll know them when you see them) are great conversation starters and make Vappu a perfect time to party with the usually reticent Finns.
Summer in Helsinki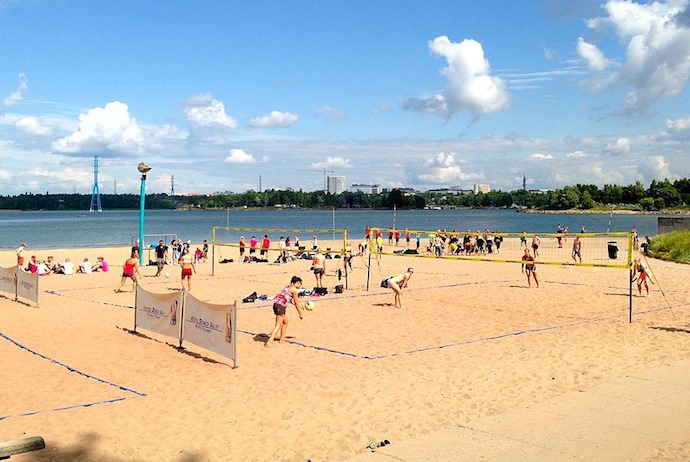 Summer is an excellent time to visit Helsinki, not only because of its almost-midnight sun (there's around 19 hours of daylight by late June!), but also because it hasn't been discovered yet by the tourist masses that can make travel to other European capitals in summer a hassle.
Weather-wise, summertime in Helsinki can offer up everything from drizzly and cold to cloud-free 25c scorchers, when the parks are full of picnickers and visitors start wondering why they don't just move to Finland.
There's so much to do and see in summer, so it's worth considering the Helsinki Card, which includes free access into most of the city's top attractions like canal tours and museums, plus public transport.
Be sure to also visit off-the-tourist-path spots like Hietaniemi Beach (also known as Hietaranta), an inner-city beach with safe swimming, cafés and volleyball pitches. Or, for an authentic Helsinki experience, try the friendly kayak and rowing boat hire shop, next to the must-visit Café Regatta. Don't worry, they'll help you out if you're a beginner!
If you don't mind paying higher prices and experiencing slightly bigger crowds, the best time to visit Helsinki in summer is probably June to August. You'll have the best chance of great weather and will enjoy long, mild days when all of the city's best attractions are open. There are also plenty of daily flights to Helsinki airport from Europe and the rest of the world.
What about summer festivals?
The Flow Festival (early to mid August) has put Helsinki on the map in terms of huge, blockbuster music festivals. But it is also done with a Finnish touch; it's the world's first carbon-neutral festival, with zero waste, green electricity and sustainable food vendors.
Autumn in Helsinki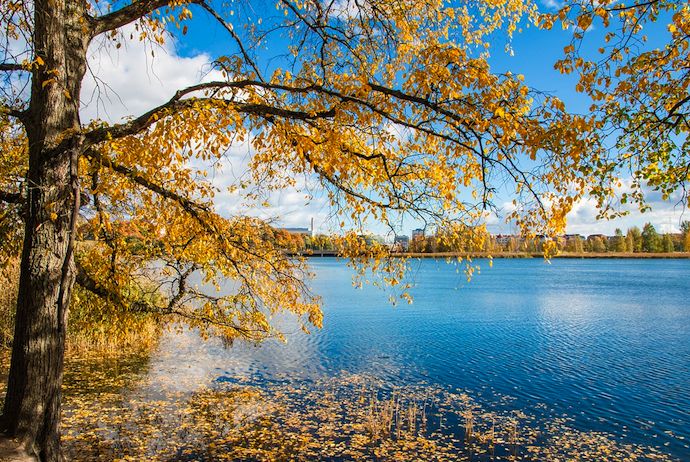 Autumn is one of Helsinki's most beautiful seasons. The freeze hasn't yet set in, but most of the tourists are gone, so Helsinki's popular attractions can be all yours. You can experience spectacular foliage in local parks such as Kaivopuisto, in the southeastern part of town.
Or, if you're in Helsinki in September, it's not too late to take the twenty-minute ferry ride from the Central Harbour to Vallisaari Island, a nature reserve just beyond Suomolinna Island. It's so pristine, you have to stay on the paths to avoid disturbing the 1,000 species of butterflies or the extremely rare thyme-leaf dragonhead. And the views of Helsinki and the bay are not to be missed.
Moomin World, too, is open for three weekends in the autumn. It's a little far for a day trip from Helsinki (about 3 hours by train), but you could combine it with a night in Turku, to experience another of Finland's most interesting cities. There are more day trip ideas in this guide.
Late autumn is also a great time to see the northern lights. Helsinki makes a good base from which to organize a weekend tour of Lapland's natural wonders led by locals. After watching the spectacular night sky show, your biggest stress will be deciding whether to go bilberry or cloudberry picking.
Best autumn festival
The Helsinki Baltic Herring Festival may not sound too exciting, but it's so distinctly Finnish that you shouldn't miss it. In the first week of October, working fishing boats from all over the north sail into Helsinki's main harbour to showcase all manner of pickled, smoked and deep-fried herring. The festival includes a pop-up sauna, handicrafts and plenty of outdoor beer, food and spontaneous song.
See more:
Day trips from Helsinki
6 fun boat trips from Helsinki
Is the Helsinki Card worth buying?
Like what you've been reading? Get our best tips by email!