Go looking for food in Oslo and you'll find just about everything – sushi shops, kebab stands, burger joints and taco trucks, plus a good smattering of Vietnamese, Indian and Italian food. Yep, it's all here – except, it seems, traditional Norwegian food.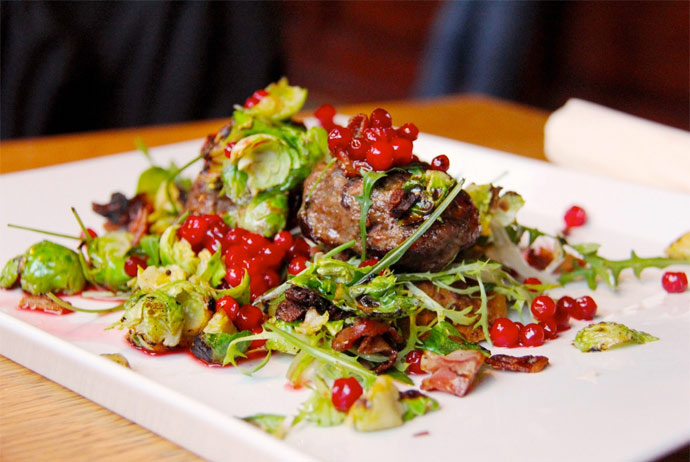 Classic Norwegian cuisine – based around fish, meat and fresh seasonal vegetables – can be surprisingly difficult to find in the capital. Fortunately for you, we've scoured the city and compiled a list with some of the best places for traditional Norwegian food in Oslo, along with some tips on which traditional dishes to try when you get there.
Kaffistova
A cafeteria in the middle of downtown Oslo, Kaffistova is basic, but it gives you a good opportunity to try some Norwegian dishes if you're exploring the downtown area and are a little short on time.
Grab a tray and check out the warm food offerings, which usually include Norwegian meatballs, steamed salmon and even reindeer patties. The place is modern and clean, and the prices are decent. It's not the best Norwegian food in town, but it's a cheap, solid option in a very central location.
We recommend:
If you come before 2pm, Kaffistova has an excellent selection of open-faced sandwiches, called smørbrød in Norwegian. Classics include rekesmørbrød (prawns with lemon and mayonnaise), smørbrød med laks og eggerøre (a fancy salmon and egg sandwich) and karbonadesmørbrød, an unusual kind of meat-cake-sandwich thing.
Rosenkrantz' gate 8
Mon–Fri 11am–9pm, Sat & Sun 11am–7pm
kaffistova.com
Is the Oslo Pass worth buying?
Read this guide to see how much you could save during your trip!
Sofie's Mat og Vinhus
An unassuming place hidden on a quiet side street behind Bislett Stadium, Sofie's Mat og Vinhus is an excellent and affordable option serving good Norwegian food in a nice relaxed environment.
Sofie's might look well-worn, but it's cozy and charming nonetheless. The staff are incredibly friendly, and the traditional food is consistently good. Norwegian fare here includes meat cakes, lamb chops, and a classic fish gratin. The beer is decently priced as well, making Sofie's a place you can easily spend all evening at without going broke (there are more options for drinking cheap beer here).
We recommend:
In December, Sofie's is one of the best places to get traditional Christmas dishes such as ribbe (steamed pork ribs) pinnekjøtt (dried mutton ribs) and lutefisk (whitefish soaked in lye). While 19th century lutefisk was infamous for being bland, dry and slightly chemically, the dish today can be pretty good – especially when it's prepared as well as it is at Sofie's.
Sofies gate 15
Daily 3pm–1am
sofiesmat.no
Frognerseteren Café and Restaurant
For a classic 'Norwegian cabin' experience, hop on the subway and ride the Holmenkollen line to Frognerseteren station, where you'll be treated to magnificent views of the city and one of the most enjoyable meals in town.
The Frognerseteren Café and Restaurant in housed in a massive wooden house with a large fireplace and traditional cabin décor inside. The café here is self-serve and the options are plentiful, so take some time to browse before grabbing a tray and a table. Combine a stop here with a visit to the nearby Holmenkollen Ski Jump and Museum, or with a hike in the surrounding woods, where you'll be sure to work up a hearty appetite.
We recommend:
Rømmegrøt, a thick and hearty sour cream porridge. It's a classic Norwegian mountain dish and is often eaten before and after long treks in the wilderness. Season it to your taste with butter, sugar, and cinnamon.
Holmenkollveien 200
Mon–Sat 11am–10pm, Sun 11am–9pm
frognerseteren.no
Restaurant Schrøder
Schrøder has been open for more than a century, though it only recently drew international attention after being featured in Jo Nesbø's best-selling crime novels as the favourite haunt of his dogged detective, Harry Hole.
The atmosphere here is simple yet evocative, with wood-paneled walls and large oil paintings by various Norwegian artists depicting Oslo and the surrounding countryside.
The food consists of traditional, home-style Norwegian dishes, along with a bit of international cuisine – ask the staff and they'll be happy to point out the classic Norwegian offerings, along with the special of the day (called dagens in Norwegian). The prices are cheap by Oslo standards, making this one of the best options for budget-conscious travelers.
We recommend:
The reindeer meat cakes in berry sauce, which have long been a staple at Schrøder.
Waldemar Thranes gate 8
Daily noon–12.30am
restaurant-schroder.no
Stortorvet Gjestgiveri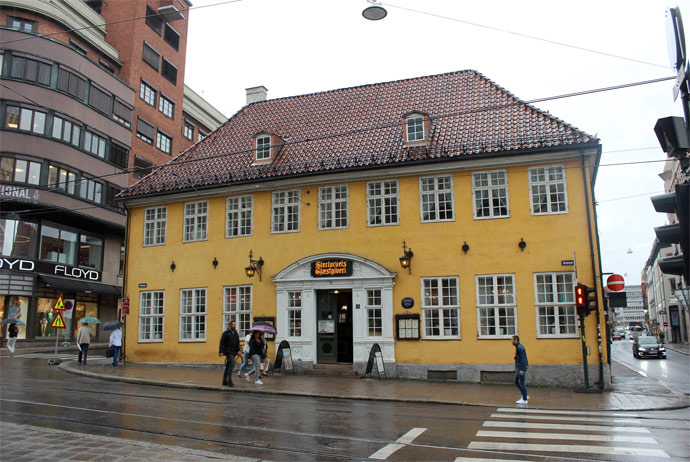 Occupying a mustard-coloured building from the 1700s, Stortorvet Gjestgiveri is the latest in a series of restaurants that have operated on this site since the 19th century.
More upscale than the other dining options here, Stortorvet Gjestgiveri is a great choice if you want to enjoy a fine meal in an atmospheric locale. The dinner menu is limited to a few standard fish and meat dishes, but the options are all good and based on traditional Norwegian ingredients.
Their desert menu is equally excellent, and features timeless treats like tilslørte bypikera (veiled city girls), an urban version of a timeless apple and whipped cream Norwegian desert.
The inside seating area offers a formal and classic atmosphere, with a large fireplace that you can warm yourself by on cold evenings. In the summer you can eat out in the courtyard, which provides a more relaxed setting where you can enjoy your meal in the fresh air and old-style surroundings. Wherever you choose to sit, the service is fast and excellent.
Bear in mind:
Like many other Norwegian restaurants, Stortorvet Gjestgiveri serves whale meat. Apparently the whale steak served here, with spring carrots and a cranberry broth, is particularly good, but it's worth considering some of the issues around whaling before ordering (or even eating here).
Whale hunting remains a controversial topic, with a quota of around 1000 minke whales slated for hunting off Norway's coast in 2017. While the whales aren't actually endangered, activists have raised concerns about the ways whales are hunted, and the fact that much of the demand for whale meat is driven by curious tourists.
Grensen 1
Daily 11am–10pm
stortorvets-gjestgiveri.no
Map of traditional Norwegian restaurants in Oslo