When you think of Swedes and their eating habits you probably think 'healthy.' All they eat is crispbread, pickled herring and fresh summer berries, right? Well, not really. Sugary candy (godis) plays a pivotal role in Swedish culture.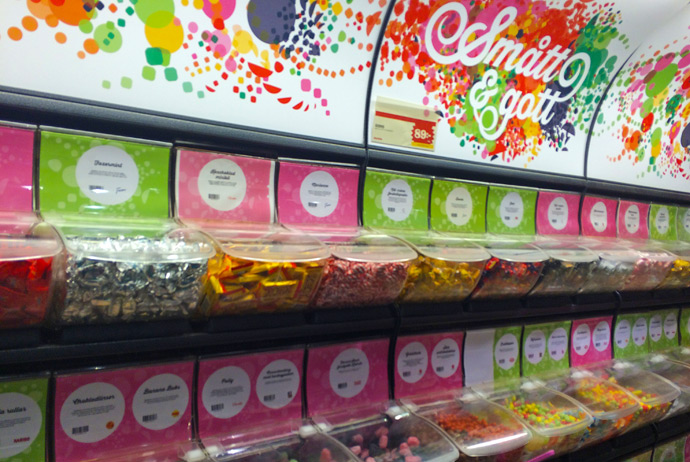 It's hard to believe, but Sweden imports and consumes more candy than any other country in the world. On average, Swedes put away 17 kilos of the sweet stuff every year. And the average family – two adults, two children – eats an astonishing 1.2 kilos of candy per week.
These eating habits might sound like a dentist's worst nightmare, but Swedes often battle through midweek cravings and save themselves for fredagsmys, which roughly translates to 'cosy Friday'.
As the working week comes to an end, adults and kids celebrate by ploughing through crisps, dips, soda and sweets in front of the TV. It's like a kids' party for the whole nation. Every. Single. Weekend.
Buying candy in Sweden
Treating yourself to a bag of pick 'n' mix in Sweden is an exhilarating experience. There's simply so much on offer. It's not uncommon for you to be faced with over 100 different varieties of candy, usually in lurid colours.
It's impossible not to feel a sense of childhood glee when you arm yourself with a small plastic shovel and a paper bag. And if you're used to getting ripped off at the cinema back home, you'll find the sweets here are actually pretty cheap.
If you're shopping for candy on the weekend, make sure you hit the pick 'n' mix aisle nice and early. Leave it too late and there's a good chance that some of the best sweets will be gone.
Which Swedish sweets should you try?
It's a good idea to be adventurous when choosing your candy in Sweden – don't play it safe with Liquorice Allsorts, Skittles and praline shells! Try something you've never heard of before.
Some sweeties worth seeking out include sockerbitar (a Swedish marshmallow that's much chewier than its American cousin), Marianne (a hard, mint-flavoured candy with a chocolate centre) or häxvrål, (a sweet cable-shaped chew, often with a salt-liquorice flavour, whose name translates to 'witch scream').
Salt liquorice features heavily. Be sure to try super-salty sweets like Djungelvrål. This is the Marmite of Swedish sweets – you'll either love the sweet-saltiness of it all, or you'll want to go and brush your tongue with a piece of wire wool.
A sweet-toothed trip to Gothenburg
Going to Gothenburg? Sweden's second city is one of the country's best places for stocking up on sweets, and there's an amazing selection of candy shops within easy reach of one another. Here are four of our favourites.
Sega Gubben
With a play-on-words name that means both 'the tough old man' and 'the chewy old man', this Gothenburg candy store is renowned for its fresh products and helpful staff. Inside the bright and cheery shop, you'll find several hundred different kinds of candy available for your eating pleasure.
Alongside the Swedish candy you'll discover Japanese and American varieties too, as well as a range of soft drinks from around the world. For you liquorice lovers, there's a whole room dedicated to the stuff. If you live in Sweden and can't make it to the store, they have a nice website where you can buy in bulk without needing to leave the comfort of your home.
Övre Husargatan 10
Gothenburg
Mon–Thurs 9am–9pm, Fri & Sat 9am–10pm, Sun 10am–9pm
4-Gott
Started way back in 1999, 4-Gott is a chain of candy stores with eight branches across Gothenburg. The shop on Östra Hamngatan claims to have the city's biggest selection of different sweets, and we think they're probably right – this is a huge temple to all things sugary with a kaleidoscope of colourful candy to choose from. The chain sells about three tonnes of sweets per week, so you won't find any stale pick 'n' mix here.
Östra Hamngatan 5 (opposite Nordstan)
Gothenburg
Mon–Fri 7am–10pm, Sat 9am–10pm, Sun 9am–9pm
Flickorna Kanold
Flickorna Kanold is the place to go if you're looking for something really special to satisfy your sweet-toothed cravings. This beautiful cafe and chocolate boutique is well known for its handmade pralines and truffles. Everything they make is based on traditional recipes, and you'll find a few surprising flavours to try, such as saffron, mulled wine and goats' cheese.
If you visit often you'll be presented with a VIP card which, when fully stamped, entitles you to a free box of choccies. Mmm. There are two other branches in Gothenburg, including one inside the city's main food hall.
Södra Larmgatan 14
Gothenburg
Mon–Fri 11am–6pm, Sat 11am–4pm
Sjutton Kvadratmeter Lakrits
If you're a liquorice lover, Sjutton Kvadratmeter Lakrits (Seventeen Square Metres of Liquorice) is the place for you. It has one of the best ranges of liquorice products in all of Sweden.
Open since 2013, the store has a cute, boutique feel to it, and is staffed by people who eat, sleep and breathe liquorice. You'll find every kind of liquorice here, including new, innovative sorts, as well as plenty of liquorice related products, including several different liquorice teas, liquorice toothpaste, and books about liquorice.
Plantagegatan 13
Gothenburg
Mon–Fri 10am–6pm, Sat 11am–3pm
sjuttonkvadratmeterlakrits.tictail.com
Like what you've been reading? Get our best tips by email!