If you like art and fancy a quick escape from central Stockholm's hustle and bustle, consider a trip to the Carl Eldh studio museum. Hidden away in Bellevue on the edge of the Royal National City Park, just north of the city centre, it's a tranquil little place that's packed with interesting stuff to look at.
As the name implies, this is where one of Sweden's most famous sculptors, Carl Eldh, had his studio. Although Eldh's work can be seen on grand public squares across Sweden, it was in this unassuming wooden building that he spent much of his time, perfecting his craft as a classical sculptor.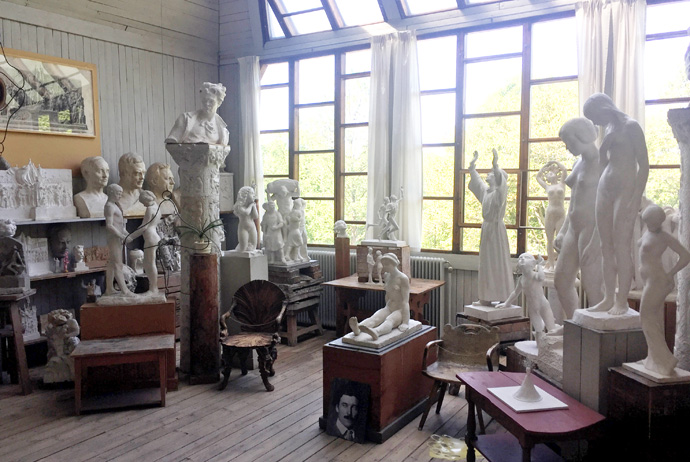 The building has barely changed since Eldh's death in 1954, and it now acts as a kind of beautiful time capsule, cluttered with countless statues, drawings and other curios. There are hundreds of busts and full-body statues here, mostly in plaster and bronze, along with clocks, old books and big stone reliefs.
Even if you're not that into classical sculpture, the atmosphere here is pretty special – light floods through a huge wall of glass, and you can really get a sense for how it must have been for Eldh out here, slowly working the stone and watching the sunlight bounce off it.
There isn't much information in English, but walking around the museum you can still get a good idea for how the sculptor's ideas were taken from the earliest stages – usually in sketch form – right up to the finished work in stone or bronze.
The studio itself, designed in 1918 by the architect responsible for Stockholm's City Hall, just looks amazing, too.
This is especially true in the summertime when the grounds that surround the building burst into life. Even on a weekend, it's normally quiet enough out here to be able to find a peaceful spot and just enjoy the studio and grounds, which offer glimpses of the lake called Brunnsviken in the distance.
While most of the building is taken up by Eldh's work, there's a small space for temporary exhibitions at the back of the museum, where more contemporary sketches and artworks are put on display.
Where to see more Carl Eldh statues in Stockholm
If a trip to his studio makes you want to seek out more of Carl Eldh's work, try these spots in Stockholm. From April–October, you can also join a guided sculpture walk in Stockholm (contact the studio for details).
– The City Hall (there are several statues in the grounds)
– Stockholm Olympic Stadium (two naked runners in bronze)
– Tegnérlunden (statue of August Strindberg)
– Norra Bantorget (The Branting Monument)
Want to learn more about Eldh and the studio while you're out here? Well, if you speak a bit of Swedish then there are some books lying around, which give an insight into Eldh's relationship with the writer August Strindberg, who was the subject of many of Eldh's statues.
Otherwise, you should time your visit to coincide with one of the guided tours, which take place in English at 1.30pm and last around half an hour.
The tours are included with the admission price, so you might as well join one if you get there in time. Coffee and snacks are available in the entrance hall, in case you get hungry while waiting.
When you're done, we'd highly recommend a wander through Bellevue park and up towards Hagaparken and the copper tents.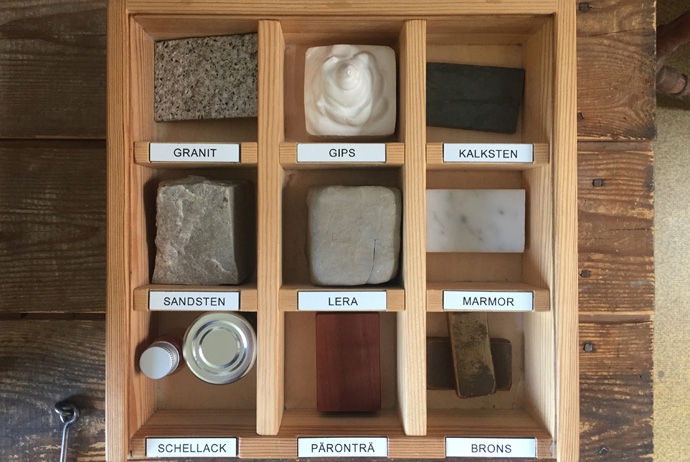 Practical info
Entry to the museum costs 80 SEK (70 SEK for students, free for kids aged 15 and under). This includes a guided tour (see above).
Getting to the studio is pretty easy. It's walkable from Norrmalm and the Central Station, if you don't mind a bit of a hike (allow around 40 mins).
Otherwise, the easiest option is to take a bus to Roslagstull or Sveaplan and then walk a few minutes north to the museum (just head towards the water). The studio is on a hill, so follow one of the paths upwards to reach the entrance on Lögebodavägen. Driving? There's paid-for parking out front.
Carl Eldhs Ateljémuseum
Lögebodavägen 10
Stockholm
eldhsatelje.se
Apr & Oct: Sun noon–4pm
May & Sept: Thurs–Sun noon–4pm
Jun–Aug: Tues–Sun noon–4pm