Stockholm is at its best in summer, with so many green parks, waterfront walkways and outdoor spaces to enjoy. You can swim, cycle and sightsee to your heart's content – but to be honest, nothing beats chilling out at some of the city's fantastic outdoor bars and cafés.
And all that's before you even think about exploring the islands of the Stockholm Archipelago, just a short ferry journey away.
Days are at their longest during summertime, with more than 18 hours of daylight to enjoy every single day during mid June. If you're lucky, you may even get some warm weather, too – people are often surprised to learn that temperatures in Stockholm can hit 25c or more during summer!
Here are some tips for how to spend a perfect summer's weekend in Stockholm.
Explore Gamla Stan
Start right in the centre, where Stockholm was founded back in 1252, and wander along the pretty pedestrianised streets and narrow cobbled alleyways of the city's oldest district.
It can feel crowded in summer but Gamla Stan is still a great place to simply stroll, browse and get lost amid the 17th- and 18th-century houses, churches and squares that make up this atmospheric neighbourhood.
If you want to really to get to grips with the area and find out more about its history, it's well worth take a guided walking tour around its backstreets and hidden corners.
Drink coffee (or beer) outdoors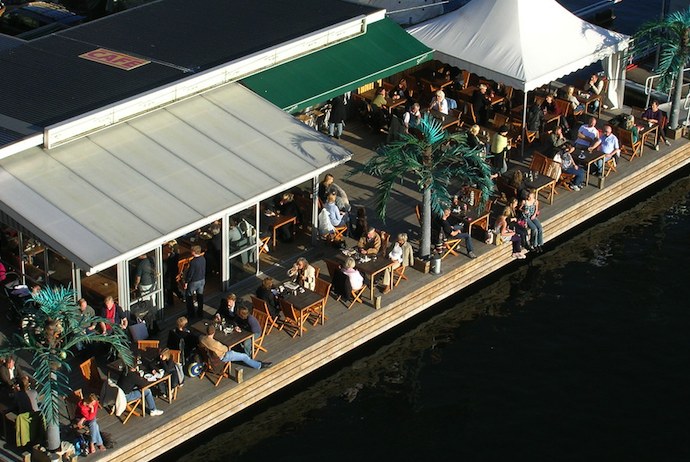 Swedes take their coffee very seriously, and you'll certainly get a good cup wherever you go. If the sun's out, stop for a coffee at one of Stockholm's lovely pavement or waterfront cafés to enjoy a bit of people-watching. You can see some of our favourites in this guide.
Alternatively, check out one of the city's summer-only garden cafés, such as Vintervikens Trädgårdskafé , which serves organic and seasonal food grown in its own kitchen garden.
There are some great options for beer drinkers too but you'll find that most bars with terraces or outdoor spaces (called uteserveringar in Swedish) are full to bursting on summer days.
★ SUGGESTED DISCOUNT
Save with the Stockholm Pass
Get up to 50% off at Stockholm's top attractions, including the Vasa Museum, SkyView Stockholm and The Viking Museum, plus discounts on some of the city's best boat trips.
Cycle out to Djurgården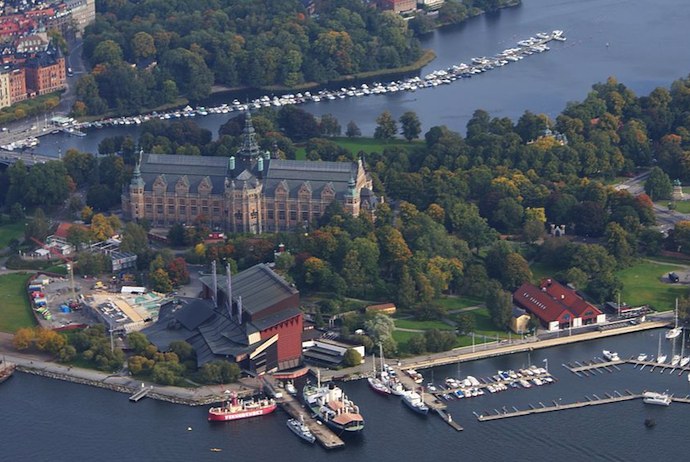 A great way to get round the city in summer is to rent a bike. There are bike lanes all round Stockholm, along with plenty of rental outlets, plus a public cycle scheme. It's an easy flat cycle ride from Stockholm centre to the beautiful wooded island of Djurgården.
Bike paths run around the island, so you can easily explore its many museums, which include the Nordiska Museum of Swedish culture, and the fascinating Vasa Museum, home to a 17th-century preserved warship.
Also worth checking out is Skansen, an open-air cultural museum and zoo with a traditionally Swedish feel. All of these places are included with the Stockholm Pass, so it's worth getting hold of one of those before you set off.
If you'd rather not go it alone you can join a bike tour – this three-hour trip goes right past Skansen and some of Djurgården's prettiest wooden buildings.
Take a boat trip to Drottningholm
It takes just an hour to make the scenic boat trip from Stockholm along Lake Mälaren to Drottningholm Palace. The journey here is certainly part of the fun, though the palace itself is no less impressive once you arrive.
A Unesco World Heritage Site, it's modelled on Versailles and is home to the Swedish royal family. Once you've marvelled at the palace's formal rooms and ornate décor, leave time to explore the beautiful landscaped gardens.
The boat here and the palace entrance fee are included in the Stockholm Pass, or you can buy them individually. There's more on visiting the palace in this guide.
Have a picnic
Head to one of Stockholm's wonderful food markets and buy yourself a picnic. Östermalms Saluhall (in a temporary location on Östermalmstorg until winter 2020) is the upmarket choice. Meanwhile Hötorgshallen has more variety and affordable options, and Söderhallarna is the place to go for good quality Swedish specialities.
Once you've chosen your lunch, do as the locals do and take it to a local park to eat – Humlegården is a leafy central choice. It's budget-friendly, and a great way to feel like one of locals!
Local tip: grab a disposable barbecue (engångsgrill) from a supermarket and grill some grub in the park – when you're done, do as responsible Stockholmers do and stash it in one of the special barbecue recycling bins dotted around the park.
Go for a swim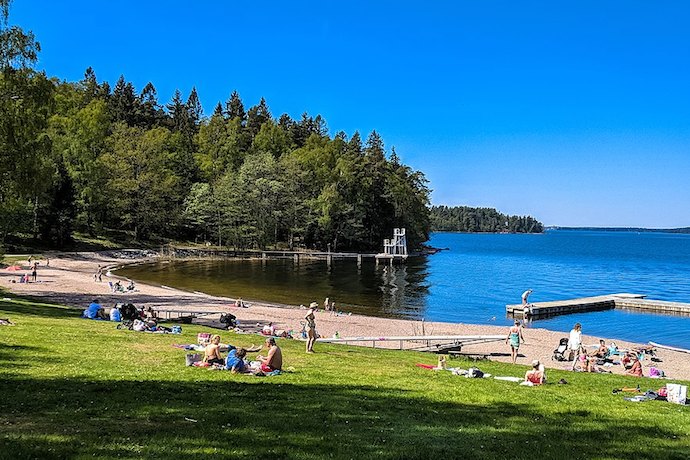 Summer is the perfect time for a swim and Stockholm has no shortage of places to get into the water, whether you prefer swimming in the sea or the marginally warmer (and usually beautifully clear) lakes.
Just west of the city centre, Långsholmens strandbad, Klippbadet and Smedsuddsbadet are all good beaches to take the plunge.
Explore the archipelago
If you have time left over, don't miss out on exploring some of the thousands of islands that make up the Stockholm Archipelago.
Many of the islands are easy to reach using public ferries. One of the nearest clusters of islands, the pretty wooded Fjäderholmarna, are a mere 20-minute ferry ride away, and there are plenty of others that are easily accessible on a day trip.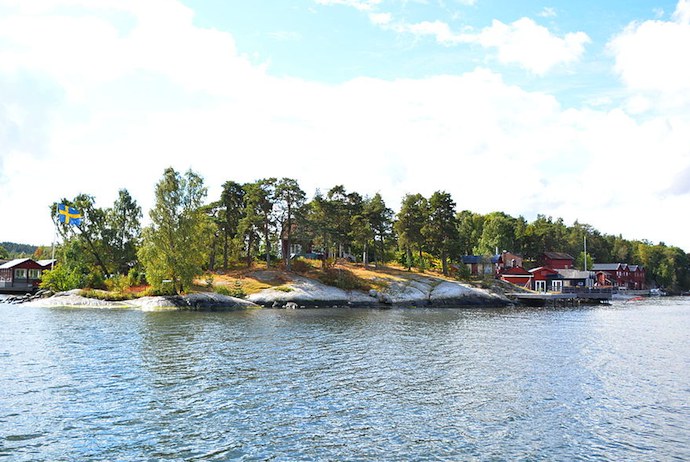 Once you're out in the archipelago you can spend time hiking, barbecuing, swimming, and even camping, if time allows. There are certain rules you need to follow but this is a great cheap way to extend your weekend in Stockholm and enjoy a longer chill out in Sweden.
There are some amazing archipelago tours on offer, including this two-day kayaking trip that includes sea swims and a campfire dinner.
Grab a beer at one of Stockholm's rooftop bars
As summer approaches, many of Stockholm's hotels and bars open up their rooftop terraces , pulling in well-dressed locals for early evening drinks. The bars range from swanky, upmarket cocktail bars to trendy, laid-back joints with an urban vibe. But, what they all have in common is great views and a perfect place to soak up the last of the day's rays.
Catch an open-air film
And if you happen to be in the city in the middle of August, join the locals in the Rålambshovsparken park at sunset for an open-air film showing. Stockholmers often bring a picnic, then settle down in front of the giant outdoor screen to watch one of a series of classic films. Check the website for what's showing on which night.
See also:
100 free and cheap things to do in Stockholm
Stockholm Archipelago: 5 great islands to visit
Where to stay in Stockholm
Is the Stockholm Pass worth buying?