Sweden might be small but it's home to some of the world's most amazing places to stay. Travel around the country and you'll soon start encountering quirky hotels and hostels that go way beyond the usual bed-in-a-box format of most modern digs.
In this guide we've rounded up some of Sweden's most iconic and creative accommodation, from central Stockholm to the furthest-flung corners of Lapland.
These are not Sweden's cheapest crash pads, we'll admit – but if you're up for a splurge, they're sure to make your trip extra special.
Fancy spending the night in a converted steam plant? We've got it covered. Prefer to keep it cool on a bed made of ice? No problem. Or maybe you'd like to try sleeping underwater? Our guide to Sweden's best places to stay will help you on your way.
Treehotel
Harads, Swedish Lapland
Tucked away in the remote northern village of Harads, 90km northwest of Luleå, the incredible Treehotel has seven rooms suspended among pine trees near the Lule River.
Even the names of the rooms are tantalising – you can choose to spend your night in the UFO, the Cabin, the Dragonfly, the Blue Cone, the Bird's Nest, the ingenious, semi-camouflaged Mirrorcube (pictured here), or the luxurious Seventh Room, which is built around a tree.
All of the 'treerooms' have their own personalities, and you'd have to spend a night in each (and be rather rich) to discover all of their quirks. If you're just passing by and don't have the budget for an overnight stay, you can take a guided tour of the Treehotel for around 175 SEK.

Feeling inspired? Try these DIY treehouse plans!
The Icehotel
Jukkasjärvi, Swedish Lapland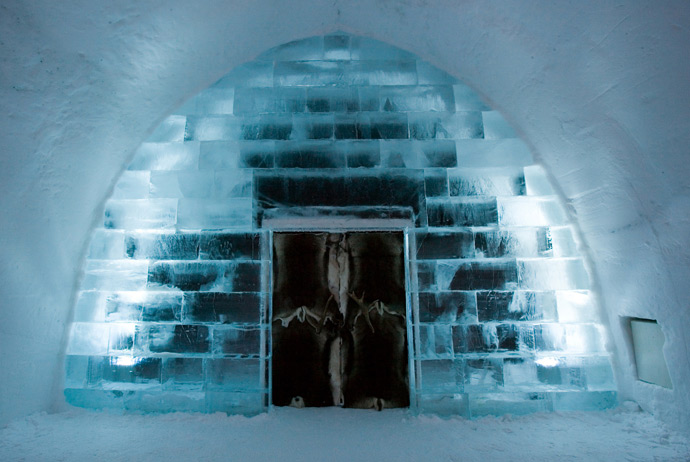 Every year, when the fleeting Arctic summer gives way to winter, work begins on the reconstruction of a true Swedish institution. Built annually from the frozen waters of the Torne River, the Icehotel offers intrepid guests the chance to bed down on reindeer skins inside rooms made from snow and ice. The temperate hovers at around -5°C, even if it's much colder outside, and you'll be kept warm by heavy-duty sleeping bags.
The 'ice suites' are designed by a different group of selected artists every year, so no two versions of Icehotel are ever the same. Prices are high, as you might expect, but the Icehotel is a proper work of art, and a stay there is something you'll never forget. Not got the budget to spend the night there? Read our guide to seeing the Icehotel on a budget.
Jumbo Stay
Arlanda Airport, near Stockholm
It's rare to get a good night's sleep on a plane, but it certainly helps if the plane never leaves the ground. Jumbo Stay is a converted Boeing 747 that retired from a distinguished career with Singapore Airlines, Pan Am and Transjet back in 2002 and started a new life as Arlanda Airport's most iconic hotel.
An instant hit upon its opening in 2009, Jumbo Stay now has a mix of dormitories and private rooms spread along the fuselage. The flight deck is home to a double room with an en-suite bathroom, and there's a wing-top observation deck for amateur plane-spotters.
Hotell Utter Inn
Västerås, Västmanland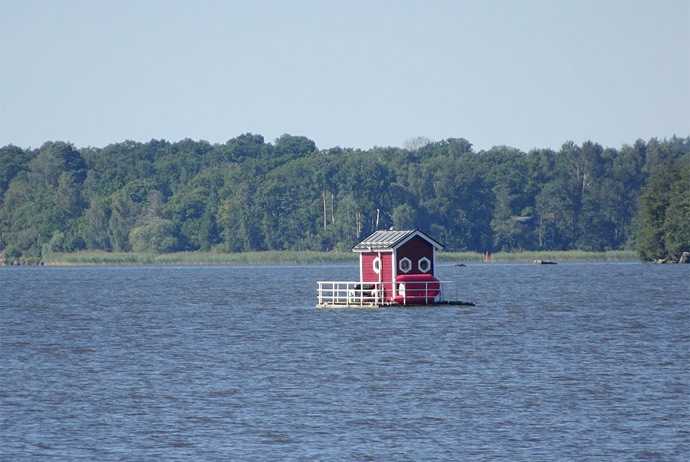 At first glance, Hotell Utter Inn in Västerås (April–October only) seems like nothing more than a small cabin floating on a raft in the harbour. Step inside and you'll realise that this is one of the country's most amazing one-bedroom hotels.
There's a kitchen and a WC above water level, and three metres below the surface there's a bedroom with panoramic windows looking out into the watery underworld. A stay here gives a whole new meaning to the phrase 'sleeping with the fishes'.
The work of artist Mikael Genberg, this place is accessed by boat from Västerås harbour, and the only way to book is it is via the local tourist board.
Steam Hotel
Västerås, Västmanland
This vast, iconic brick building on the shores of Lake Mälaren is a Västerås landmark. Over a hundred years old, the 18-story high former steam plant has been beautifully converted into a smart, stylish hotel. All giant wooden beams, high ceilings, brickwork and exposed pipes, its decor is industrial chic – and the vibe is pure luxury.
The rooms have great views over over the city or lake, and there's an outdoor roof-top pool looking out over the lake, plus an upmarket spa where you can indulge in the usual pampering.
You'll need a large budget to stay here, but if you want to splash out, it's the place to do it.
Af Chapman
Central Stockholm
Wander around Stockholm for a couple of hours and chances are that you'll catch a glimpse of a magnificent white sailboat moored off the island of Skeppsholmen. That's Af Chapman, the most iconic of Stockholm's many floating hotels.
Like Jumbo Stay (see above), Af Chapman enjoyed a storied history before entering the service industry; it sailed the seven seas between 1888 and 1934, before being repurposed to accommodate members of the Swedish navy shortly thereafter.
Nowadays its 77 rooms are available to all. With a historic feel that befits its remarkable backstory, Af Chapman offers unparalleled views of beautiful Gamla Stan, easy access to central Stockholm, and surprisingly affordable prices. Fully booked? Try these other floating hotels in Stockholm.
Camp Ripan
Kiruna, Swedish Lapland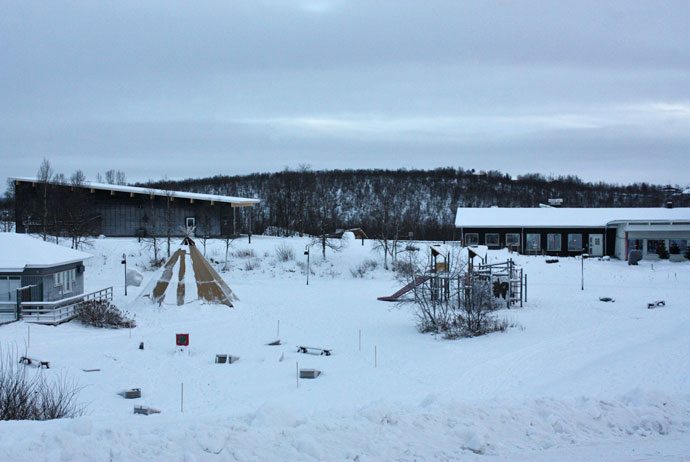 Kiruna is a peculiar place. It's home to the world's largest iron ore mine and the most beautiful building in Sweden, and will shortly have a real-life spaceport in its vicinity. As if that weren't enough, the whole town is currently in the process of being moved.
On the eastern edge of this fascinating frontier town is Camp Ripan, a hotel and campsite that allows views of the northern lights and the midnight sun – depending on the weather and the season, of course. Its cosy chalets are reasonably priced (for this part of Sweden, anyway) and there's an onsite restaurant serving local fish and reindeer meat.
Visby Fängelse
Gotland
The island of Gotland is synonymous with medieval architecture, stunning natural beauty and a surprisingly mild climate, which makes it a top spot for Swedes on their summer holidays.
But the island's most unusual hotel has much darker connotations. Until 1998, Visby Fängelse was a fully operational prison; shortly after the last of its inmates were released, it reopened as a hostel. Guests can choose from a wide variety of 'cells', ranging from regular dormitories to multi-bed cottages surrounding a picturesque courtyard. Overhead, the seven chimneys that gave the prison its nickname ('Sjumastaren') still look out over Visby harbour.
Salt & Sill
Near Gothenburg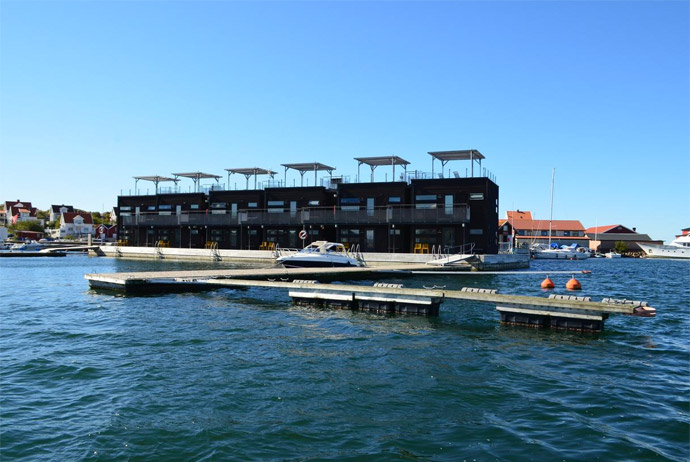 Northwest of Gothenburg on Sweden's windswept west coast, Salt & Sill is a wonderfully tranquil place to spend the night. The hotel hugs the waterfront on the tiny island of Klädesholmen, which is home to just a few hundred people, and offers gorgeous views out over the low-slung islands of the Gothenburg archipelago.
Although this is a quiet place, there are plenty of slow, wholesome activities to enjoy, from fishing and swimming to taking lazy bike rides (it's joined to its neighbour by an impressive road bridge). This part of Sweden is famous for its seafood, so you'd do well to check out the hotel's restaurant, which has a deck right by the water's edge.
Grand Circus Hotel
Malmö
Ever felt like running away and joining the circus? This fun hotel on the eastern edge of Malmö lets you do just that, without needing to brush up on your trapeze skills.
The rooms here, all with shared bathrooms, occupy brightly painted trailers that look like they've just rolled into town. Expect floral wallpaper, quirky furnishings and surprisingly cosy-looking sleeping spaces!
Falknästet
Kullaberg nature reserve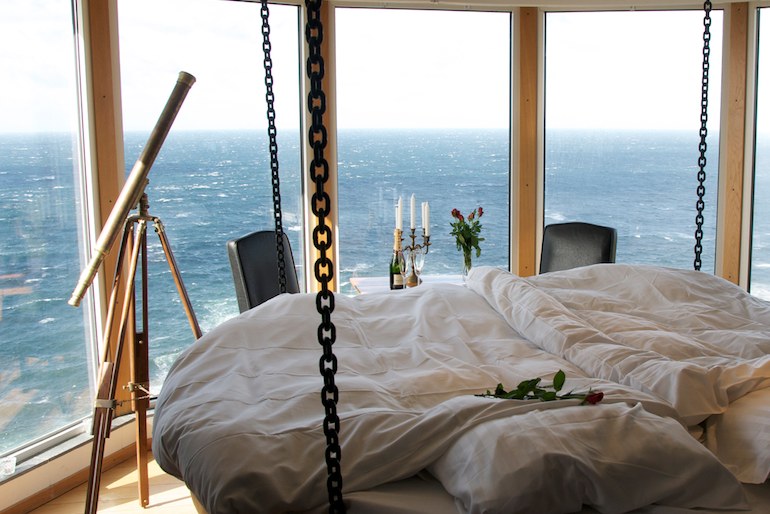 Fancy sleeping in a round bed suspended from the ceiling with panoramic views of the sea and coastline all round?
Falknästet (which translates as the falcons nest) nestles beside the Kullen lighthouse, surrounded by the beauty and natural landscapes of the Kullaberg nature reserve.
Sleeping just two people, it's perfect for romantics so, whatever the weather, you can hole up in bed and watch the sunset or the waves crashing on the shoreline below.
Or if you fancy something a little more energetic, you can go walking, snorkelling, coasteering, abseiling or take a porpoise safari in the surrounding nature reserve.
Häringe Slott
Västerhaninge
Who wouldn't want to sleep in a palace? Häringe Slott was built in 1657 by Count Gustav Horn and has had a succession of eccentric and wealthy owners ever since, each of whom left their own particular touches on the palace.
Today's owners have restored it to have a comfortable country house vibe, but have kept some of the more unusual features such as an enormous outdoor swimming pool and a 1930s bowling alley – not to mention the dungeons.
Set right by the sea in the scenic Häringe-Hammersta Nature Reserve, yet just half-an-hour's drive from central Stockholm, it's a great place to chill out in comfort.
Fejan Canvas Hotel
Fejan
It's camping but not as you know it. Based on the beautiful island of Fejan in the Stockholm Archipelago, the Fejan Canvas Hotel provides comfortable yurt-like tents on wooden decks, some with views of the sea, others tucked away in the woods just a short walk from the beach.
The tents come equipped with proper beds, rugs, wood-burning stoves and lots of luxurious touches that make this feel like glamping at its very best. You can go kayaking, swimming and exploring the woods, or simply sit back on your deck with a glass of wine and enjoy the peace and quiet.
See also:
12 of the best place to stay in Scandinavia
Camping in Sweden: the ultimate guide
The best places to visit in Sweden
Map of the best places to stay in Sweden