With such a short summer in Stockholm, it's no wonder locals flock to the rooftops to soak up every last inch of sunlight.
There are lots of rooftop bars to choose from across the city, from classy cocktail joints to casual craft beer hangouts, and most of them offer beautiful views over Stockholm and its waterways. These bars aren't always easy to spot when you're wandering around at street level, but we're here to help you out.
Tak Park at Urban Deli
Sveavägen 44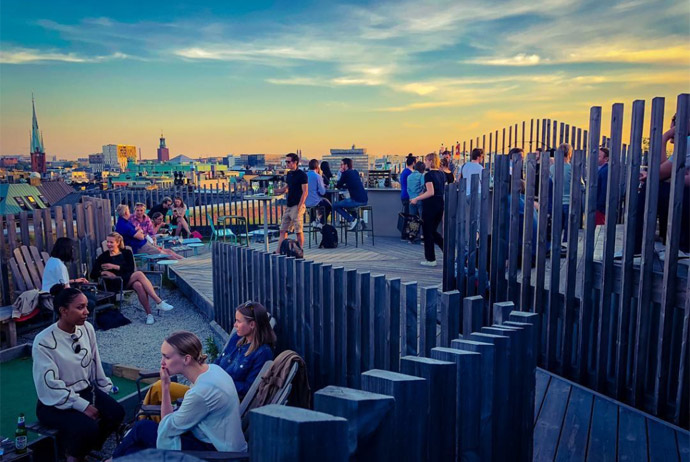 Tak Park is all the rage right now, and is definitely worth a visit if you're looking for good views and good vibes in central Stockholm. This place is up above the Hötorget branch of Urban Deli, a hip supermarket and restaurant that's a big hit with hungry tourists and well-to-do Stockholmers.
Open all summer, the sprawling roof park on the ninth floor guarantees 360-degree panoramas of lovely Norrmalm. The roof terrace is a nice place to relax when the sun's out – expect sheltered wooden walkways and lots of leafy vegetation. There's also a covered bar area that does decent, summery beers and healthy (if expensive) nibbles and salads in plastic pots. Open: Mon–Fri 3–10pm, Sat & Sun 11.30am–10pm.
Tak Bar
Brunkebergstorg 4
With a distinctly Japanese vibe, Tak Bar (literally 'roof bar') is one of the best rooftop bars in all of Stockholm. Located on the 14th floor between Hotel At Six and the Hobo Hotel, it does a good line in raw food (think sashimi and zingy oysters) and also offers fantastic views.
Tak is no ordinary hotel terrace; this is a new sipping-and-staring experience in its own right. Come for the food – a simple but elegant fusion of Nordic and Japanese – and stay for the deliciously creative cocktails, sake, beer and wine. Live DJs play nightly from Thursday–Saturday. The main bar is open: Mon–Wed 1pm–midnight, Thurs & Friday 1pm–1am, Sat 12.30pm–1am and Sun 1pm–8pm.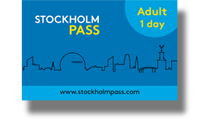 Is the Stockholm Pass worth buying?
Read this guide to see how much you could save during your trip!
Winery Hotel
Rosenborgsgatan 20
Up above the swanky Winery Hotel near the Friends Arena, this cool terrace opens to the public in the summer. This is the sort of location to grab your cocktail and a pool lounger early, bagging a good spot for one of the live DJ sets.
As the name suggests, this hotel is twinned with a winery in Tuscany and even has its own wine shop, so be sure to try a glass of the house Winery Red. The heated pool is for guests only, but if you're feeling like you want to splurge (special occasion?), you can book a day room. Anyone can book a superior room from 11am to 9pm for around 800 SEK, which includes room access, bathrobes, slippers and sweet swimming in the rooftop pool.
Slakthuset
Slakthusgatan 6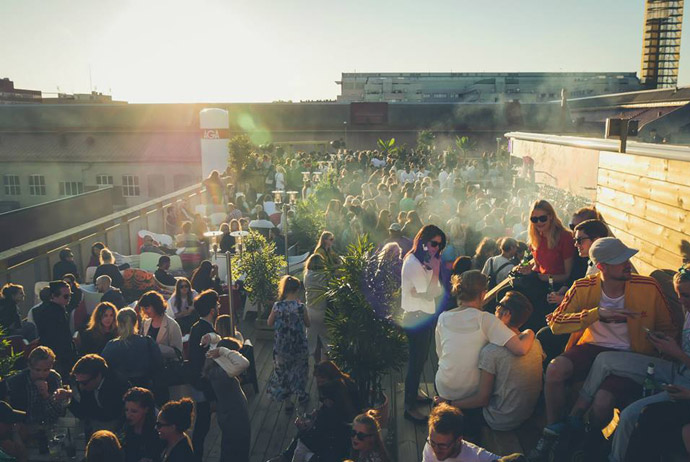 Once a slaughterhouse, Slakthuset reopened in 2015 with a wildly popular dancefloor – and its electronic beats have barely stopped since. This classic roof terrace boasts 600 sq m of wooden deck, with unbeatable views of the Globen arena. Come for the cocktails, then stay for the music (it goes on until the wee hours). Open Friday & Saturday 10pm–3am.
Enzo's
Långholmsgatan 15 B
Enzo's screams casual Italian, offering as much pizza, pasta and football as you can cram into a single afternoon. This Italian sports bar also has a small roof terrace, so if you're looking for somewhere to unwind after work and cheer on your team over a pint, hit up this little trattoria in Södermalm.
Kung Carls Bakficka
Norrlandsgatan 28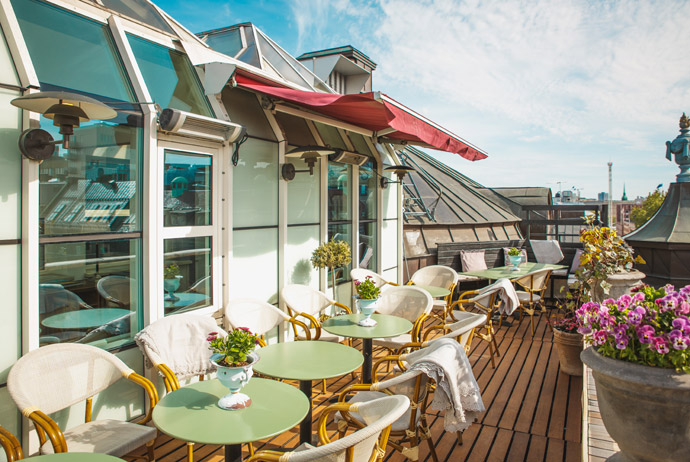 Class it up on the roof terrace at Kung Carls Bakficka, a narrow and hidden stretch of outdoor terrace just large enough for your intimate birthday party or special event.
Here you can sip cava at your leisure, watching the sun set over Stockholm's iconic skyline. Normally reserved for groups of 20-30 (dinner party, anyone?) it's best to call beforehand to check availability. There's also a classy hotel here if you fancy staying the night.
Dramatenterrassen
Nybrogatan 2
Dramaten's Terrace is a delightful roof space if you want to enjoy lunch with gorgeous views of Stockholm's waterways. The vibe is stylish but casual, and, like most of Stockholm now, it's cash-free (so bring your card).
Lunch specials are usually Swedish fare with a bit of flair – from roast pork to shrimp salad. Live DJs drop from Thursday–Saturday from 9pm–1am. With close to 100 seats and marvellous views over Nybrokajen and Strandvägen, there are worse places to spend a summer day in Stockholm.
Gondolen
Stadsgården 6
It's a bit touristy, admittedly, but the views over Slussen, Lake Mälaren and the Gröna Lund theme park are definitely something to write home about.
The food is fairly decent, the drinks reliable, but it's the view that most people come for. This place rests on a rocky outcrop high above one of the busiest places in Stockholm, so be sure to bring sturdy shoes for the steep walk up to lookout point. Closed Sunday.
Solstugan
Snoilskyvägen 37
It's a bit off the beaten path, but if you love mingling with the locals, or just want to get away from the hubbub of central Stockholm and save a few kronor in the process, head across the water to Solstugan on the quieter island of Kungsholmen.
Located in the Kristineberg area, this casual bar and restaurant is all about live music, fish and chips, and yummy halloumi burgers, without any of the pretence that troubles other terrace bars in Stockholm.
Want views without drinks? Try these lookouts and viewing platforms instead!
Map of rooftop bars in Stockholm
Like what you've been reading? Get our best tips by email!