Riddarholmen, the small island that's joined to Gamla Stan's western edge by a busy road bridge, is uninhabited. Unless, that is, you count the dozen or so Swedish monarchs laid to rest within its biggest landmark.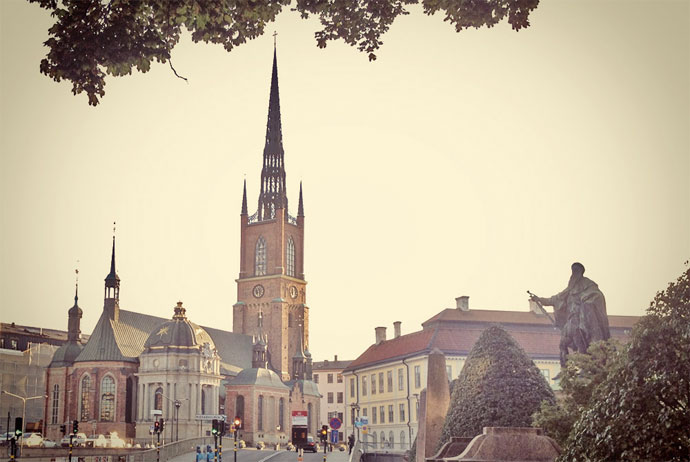 Between 1634 and 1950, all but one of Sweden's monarchs were buried at Riddarholmskyrkan, the church whose cast iron spire rises high above the island today, and is visible for miles around.
That spire, which appears on countless postcards from Stockholm, is actually a relatively modern addition; it was tacked on in the 1800s after fire ripped through parts of the roof.
The main structure has existed since around 1290, which makes it the oldest preserved building in Stockholm. It was originally built as a Franciscan monastery but evolved to become a parish church – and eventually, the favoured resting place of Sweden's royals.
Now that Riddarholmskyrkan is 'full', Sweden's current and future monarchs will be buried on a small island to the north of the city centre. However, it's still possible to gain access to the church – in summer at least – to see the marble sarcophagi that serve as their ancestors' final home.
Entry
50 SEK. Card payments only. Guided tours in English (included) take place at 11.30am from mid-May–mid-Sept.
Getting there
Take the subway (T-bana) to Gamla Stan. Walk around 300m north and cross the bridge – the church will be right in front of you when you reach the other side. Alternatively, take bus 3 or 59.
Riddarholmskyrkan
Birger Jarls Torg
Riddarholmen
Gamla Stan
Stockholm
+46 840 261 30
kungahuset.se
From mid-May–mid-Sept hours are generally 10am–5pm, but the church often shuts at 1pm, and can stay shut for several days at a time. Check the website first. From mid-Sept–Nov, the church opens on Sat & Sun from 10am–4pm. The church is closed at other times of the year.
Like what you've been reading? Get our best tips by email!