If you like money, you'll love Myntkabinettet – a museum dedicated to the history of coins, notes and economic progress. Here you can learn about the importance of cash for different cultures through the ages, and see lots of extremely old money. You won't need any money to get inside, as entry to the museum is now free.
This museum is not nearly as boring as it might sound; individual coins and notes are brought to life with well-written descriptions, which shed light on the people and societies who relied on them when trading.
The Money of the World exhibition begins in 625 BC, when the first-ever coins were struck in Asia Minor, and continues all the way to present-day credit card transactions.
Highlights elsewhere in the museum include the world's first proper banknote (issued in Stockholm) and some of the world's biggest coins. The largest of all are nearly two feet long, and weigh almost 20kg.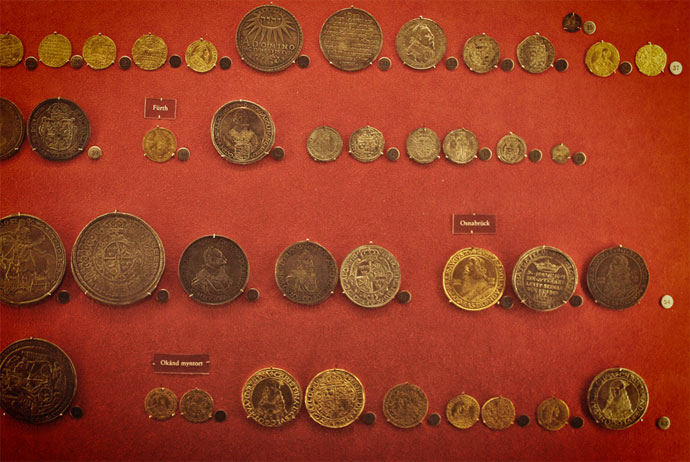 Other exhibits look at famous forgeries and the role of piggybanks, which seem to have been around in one form or another for as long as money itself.
If being surrounded by cash leaves you feeling spendthrift you can grab a dinner at the museum's bar-restaurant, Myntkrogen, where mains cost upwards of 290 SEK.
Entry
Free
Getting there
Buses 2 and 55 stop at Slottsbacken, just around the corner from the museum. Otherwise, take the T-bana to Gamla Stan and walk northeast through the old town.
Kungliga Myntkabinettet (Money Museum)
Slottsbacken 6
Gamla Stan
Stockholm
+46 851 955 300
myntkabinettet.se
Daily 11am–5pm