Stockholm's excellent (and now free to enter) medieval museum – Medeltidsmuseet – is the ideal place to start your exploration of Gamla Stan. We reckon it's one of the best museums in the whole city, and there's enough interesting stuff to keep kids and adults happy for a couple of hours.
Tucked beneath street level close to the Swedish parliament building, Medeltidsmuseet uses centuries-old artefacts and themed, walk-through exhibits to tell the story of Stockholm's genesis.
Entry to the museum is through a dark, 17th-Century tunnel, which echoes with the piped-in sound of horses clip-clopping over cobbles. Clearly labelled exhibits reveal how the city grew from a small strategic outpost between Lake Mälaren and the Baltic Sea to become a bustling medieval city.
By the end of the Middle Ages, Stockholm had around 6,000 inhabitants: more than any other city in the region, but a fraction compared with Europe's biggest city at the time, Paris, which had 100,000 residents.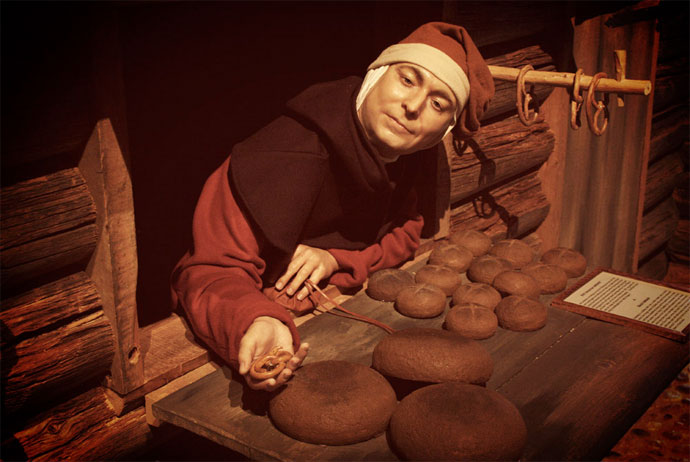 The museum does a good job of showing what life must have been like for the people of medieval Stockholm. Of course, having a life-size recreation of an old medieval community, complete with cobbled streets and a marketplace, certainly helps.
Here you can follow the sound of chanting monks to a mock-up of 15th-Century church, take a peek into a medieval herb garden, or pay a visit to the local baker (unfortunately his buns are made of plastic).
Stretching for 55 metres through the middle of the museum is a proper slice of medieval Stockholm: the last visible section of the old city walls. Other parts of these tall brick defences were either ripped down in the 1600s or covered over completely. Archaeologists discovered this section from 1530 in the late 1970s, and the whole museum was built around it.
One other exhibit to see before you leave is the 16th-Century ship that was found in the water around Riddarholmen in the 1930s. The 20-metre-long wooden boat had been loaded with three cannons before it sank, presumably in preparation for battle.
However, experts don't believe the Riddarholm ship would have given its enemies much to worry about; investigations revealed that the boat was built using Viking techniques and poor-quality timber – perhaps explaining its early demise.
Entry
Free
Getting there
The nearest T-bana station is Kungsträdgården – it's a five- to ten-minute walk northeast of the museum. Gamla Stan T-bana is a little further away, but still walkable.
Medeltidsmuseet
Strömparterren 3
Norrbro
Gamla Stan
Stockholm
+46 850 831 620
medeltidsmuseet.stockholm.se
Tues & Thurs–Sun noon–5pm, Wed noon–8pm
Like what you've been reading? Get our best tips by email!