Little changed since it opened in 1923, Gothenburg's natural history museum – Naturhistoriska – offers a fascinating insight into how museums were run in days gone by. The pretty brick building sits atop a small hill in Slottsskogen park and is home to thousands of stuffed animals.
Many of the exhibits here are from the early 1900s and the taxidermy skills are pretty varied, running from impressively life-like to laugh-out-loud funny.
There are all manner of beasts in the museum's glass-fronted cabinets, from birds and bears to pigs and possums. But one creature at Naturhistoriska is especially big and famous. The Malmska Hvalen (the Malmska Whale) is the world's only stuffed blue whale.
It's enormous at almost 16 metres long and would have weighed around 25 tonnes, pre stuffing. Amazingly, blue whales can grow to twice this size; this one was only young when it beached outside Gothenburg in 1865, only to be turned into a tourist attraction.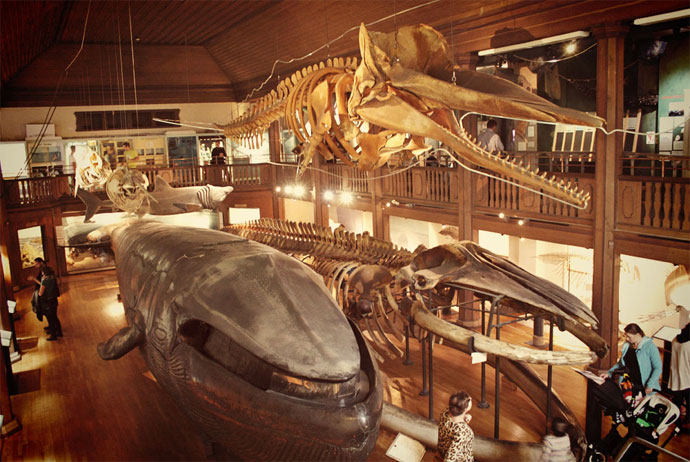 It's said that "indescribably nauseating" smells came out of the whale as a team of workers – boozed up to strengthen their resolve – began hacking it apart. Later, with the bones boiled and the skin scrubbed, work began on piecing the whale back together – this time with a mouth that opened wide enough to allow intrigued locals to look around inside.
The whale eventually went on tour, reaching Stockholm before it was finally transported to the natural history museum in Gothenburg, where it remains today.
There's still a bit of a sour-sweet smell given off by the whale and wandering around its huge body, which is held together with metal studs, is definitely an unusual experience.
Unfortunately it's no longer possible to go inside the whale – it was closed to the public when a couple of young lovers were caught getting amorous inside. But the mouth is still opened on special occasions such as election day (the word val means both whale and election in Swedish).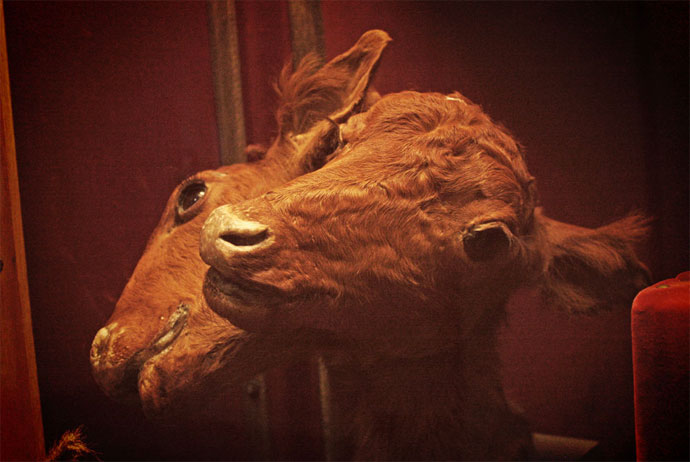 Elsewhere in the museum exhibits are split up into different animal classes such as fish, reptiles and mammals, with lots of unusual specimens soaking in formaldehyde. In the section on human biology there are pieces of brain, liver and kidney, while a cabinet nearby displays a frightful collection of oddities, including a two-headed cow and a weasel-like creature being squeezed by a scaly snake.
The museum's most controversial exhibit – a jar that holds conjoined human twins – was only recently removed from this cabinet but it's still kept at the museum, albeit out of sight.
Before you leave Naturhistoriska, check out the excellent collection of exotic birds, arranged in old-fashioned wooden cabinets. Just nearby is the museum's main taxidermy hall, which centres on a huge African elephant. It was studied alive in 1948 by one of the museum's taxidermists, who decided it would make a nice addition to the collection – and promptly shot it.
Also worth a look at the museum are the very old dioramas by Gustaf Werner, which aimed to give the museum's early visitors a glimpse into distant natural landscapes. Although they may struggle to impress modern visitors, the scenes here took a whole decade to carefully piece together.
Naturhistoriska is slowly being renovated and will no doubt lose some of its strange, 1920s charm in the process. So, if you want to see the galleries before they change, it's worth going soon.
Entry
40 SEK (free for under 25s). Buy a ticket here and you can use it to access the Röhsska design museum, the Konstmuseum, Sjöfartsmuseet and Göteborgs Stadsmuseum as many times as you want for the next year.
Getting there
Take tram 1, 2 or 6 to Linnéplatsen (bus 52 also stops there). From the tram stop it's a five-minute walk uphill to the museum through the trees – there's a clearly marked path snaking up the hill.
Naturhistoriska
Museivägen 10
Gothenburg
+46 104 414 400
gnm.se
Tues–Sun 11am–5pm (until 8pm on Thurs)
Last updated: July 2016
Like what you've been reading? Get our best tips by email!