For decades this coal-fired boiler house down by the Älvsborg Bridge powered local factories. When industry began to dry up the boiler house was abandoned, and it didn't take long for word to spread to local graffiti artists, who started using its walls as a canvas, and ravers, who held illegal parties in its cavernous halls.
Today the old boiler house is still powering Gothenburg – creatively, anyway – as Röda Sten Konsthall, the city's most experimental art gallery.
The old building's exposed brick walls and high ceilings make it ideally suited to the multi-sensory exhibitions that take place here throughout the year. Usually all three floors of the gallery are given over to the same exhibition or artist, with the focus on anything from the role of fantasy in contemporary art to the importance of sound when it comes to understanding our world.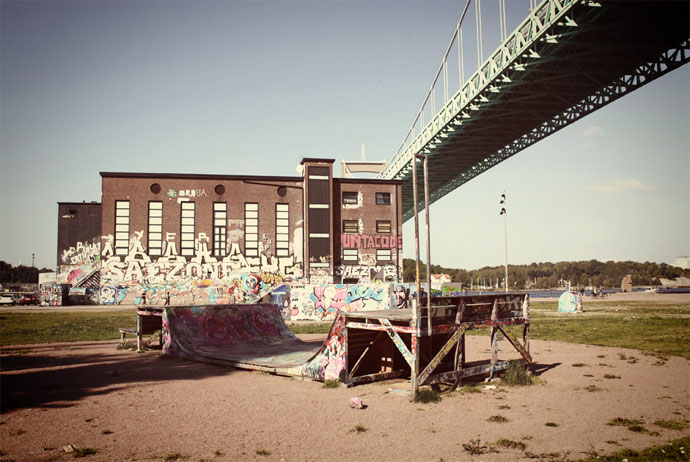 Echoing metal staircases decorated with creepy stencilled figures link the different sections of the gallery. In the boiler house's enormous main hall, known as the cathedral, it's still possible to see the original tags that those first graffiti artists left inside the building.
This main hall is normally used for the big visual highlight of each exhibition, and a lookout point high up in one corner provides bird's-eye views down onto the installations.
English-language flyers about the art being displayed are usually available at reception, and there are often translations in the galleries themselves.
When you're done exploring inside, you can take a look at the graffiti that covers the building's outer walls and the nearby skate ramp, or watch the enormous Stena Line ferries roll in from Denmark as you take a stroll along the riverside.
If you make it out to Röda Sten we would definitely recommend stopping for a snack at the gallery's excellent ground-floor café, which does a seriously good vegetarian brunch on Sundays.
Entry
40 SEK. Under 26s free. Students and pensioners 20 SEK.
Getting there
Trams 3 & 9 from the city centre stop at Vagnhallen Majorna. From there, cross the main road and walk west downhill along Banehagsgatan. When you reach the water, Röda Sten will be on your left-hand side (just past the bridge).
Röda Sten Konsthall
Röda Sten 1
Gothenburg
+46 311 208 16
rodasten.com
Tues & Thurs–Sun noon–5pm, Wed noon–7pm
Last updated: March 2015
Like what you've been reading? Get our best tips by email!