For families with young kids, the big indoor science centre called Universeum is the perfect place to spend a rainy day. In fact, almost anyone with a vague interest in the natural world and 'how things work' will find something of interest here.
Part zoo, part science museum, Universeum takes a fun and often hands-on look at life on and around our planet. Exhibits are spread across a huge glass building and lead visitors on a journey from the most primitive life forms all the way to the future of space exploration.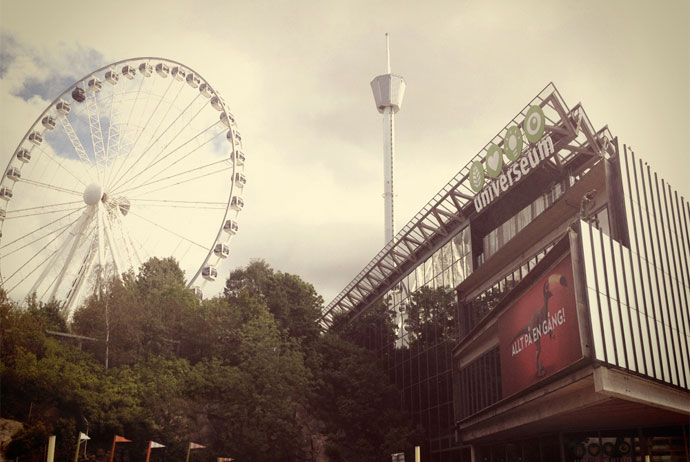 There's an impressive Ocean Zone housing googly-eyed marine creatures from around the globe, including species native to the seas around Sweden. One whole tank is given over to aquatic species found around western Sweden.
This Ocean Zone is also where you'll find a shallow tank full of rays (it's possible to stroke them as they swim around) and a walk-through shark tunnel. Arrive at 2pm on Monday, Wednesday or Friday and you can see the sharks being fed.
We think the highlight of any visit to Universeum is a walk through the indoor rainforest. Stroll among the tropical plants in this big, humid greenhouse and you'll see colourful birds flitting between the branches. Look carefully and you might glimpse hairy marmosets monkeying around in the treetops.
Apparently some of the rare tropical species here have felt comfortable enough to reproduce in this artificial environment, which is quite something when you consider that there's often snow visible through the windows.
This 'open-plan' approach to zoo keeping can have consequences, however: in 2014 a visitor stole a toucan. It was later discovered, alive, in a flat across the city. Universeum is now hoping to add 'anti-theft' tags to animals in this part of the centre.
Allow three hours or so to have a good look around the entire place.
Universeum
Södra Vägen 50
Gothenburg
Daily 10am–6pm, with extended hours in summer
Entry 245 SEK (180 SEK in winter)
+46 313 356 450
universeum.se
Last updated: July 2016