Crowning the southern end of Kungsportsavenyen, Gothenburg's imposing art museum – the Konstmuseum – is one of the city's most recognisable buildings. Built in the 1920s from thousands of flat yellow bricks and with seven soaring arches spaced evenly across its façade, it's the kind of severe-looking monument that you might associate with pre-war Berlin.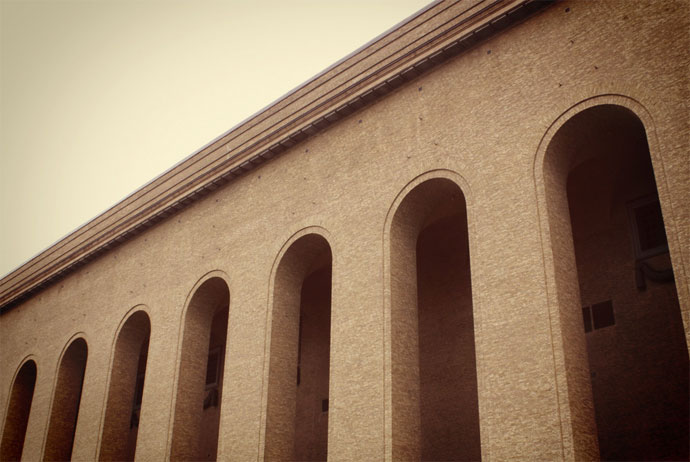 Supremely well curated, the museum inside is home to an impressive array of watercolours, sculptures, oils and sketches, with pieces from the 1400s up to the present day.
Works by Picasso, Monet, Van Gogh and Rembrandt can be found dotted around the serene galleries, but the real highlight is the rare collection of Nordic art – it's easily among the finest in the world.
Start your tour of the Konstmuseum just left of the main entrance in the Hasselblad Center, a gallery devoted entirely to photography. Around five exhibitions are put on here throughout the year, one of which is given over to work by young Nordic photographers.
Follow the central staircase up to the first floor and you'll emerge in the museum's long and skinny sculpture gallery. Pride of place is given to Seconds in Ecstasy, a provocative, six-metre-high sculpture of a pole dancer by Gothenburg-born artist Cajsa von Zeipel. Bathed in pinkish light, it rotates slowly throughout the day.
At the opposite end of this gallery is Bälg IV, a mysterious sculpture by fellow Swede Ulf Rollof that looks like a ray gun for use in the Earth's dying days.
The second floor is packed with paintings and takes considerably longer to explore. Be sure to seek out the exceptional Karl XIIs likfärd by Gustaf Cederström. Bleak and snowy, it shows Swedish soldiers carrying the body of King Karl XII home after he was shot in the head while trying to invade Norway in 1718.
For many art fans the fact that this is a highly romanticized version of what really happened (the king was never carried home in this way) is neither here nor there.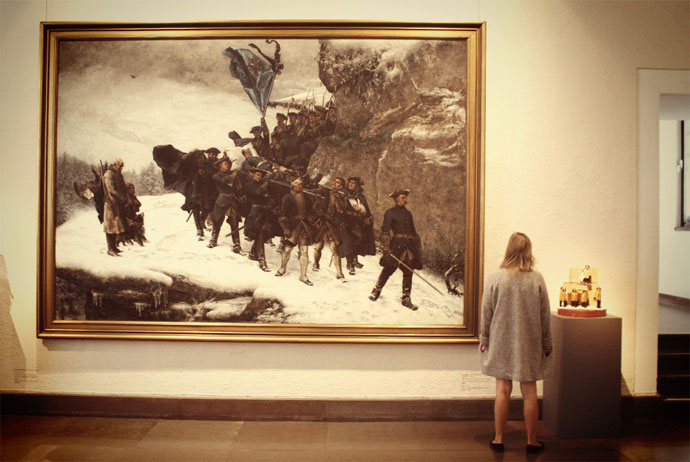 If you only see one part of the art museum, make it Fürstenbergska Galleriet, up on the top floor. Here you'll find works by the 19th Century's most prolific Nordic artists, such as Anders Zorn and Carl Larsson.
Oil paintings depict scenes of outdoor life and give some clues to how the region's wealthiest lived at that time. Our favourite is Hip, Hip, Hurrah! by Danish artist Peder Severin Krøyer. Set in the late 1880s, it captures the soft light of a Scandinavian summer just perfectly.
When you're done with the exhibitions, you don't have to exit through the gift shop. But as it's packed with books on art, design, typography, travel, and social issues, you may decide it's worth a quick look anyway.
Entry
40 SEK (free for under 25s). Buy a ticket here and you can use it to access the Röhsska design museum, Göteborgs Stadsmuseum, Sjöfartsmuseet and Naturhistoriska Museet as many times as you want for the next year.
Practicalities
You can't take bags into the galleries. If you have one with you, you'll need to leave it in one of the lockers by the ticket desk (bring a 5 SEK coin). Also, you're not allowed to make notes in the galleries using pens. We did it and got told off by the guards. Pencils are fine.
Special exhibitions featuring borrowed works by world-famous artists such as Andy Warhol and Francis Bacon regularly take place, but you'll need to pay extra to gain admission.
Göteborgs Konstmuseum
Götaplatsen
Gothenburg
+46 313 683 500
konstmuseum.goteborg.se
Tues & Thurs 11am–6pm, Wed 11am–8pm, Fri–Sun 11am–5pm
Getting there
Buses 18 and 52 stop directly outside the museum on Götaplatsen. Alternatively you can take tram 3, 7 or 10 to Valand, a short walk away on Kungsportsavenyen.
Last updated: March 2015
Like what you've been reading? Get our best tips by email!