Originally a hub for the city's mail, this imposing, neo-classical building underwent a huge transformation at the start of this decade, emerging in 2012 as one of the city's biggest and most talked-about hotels.
The Clarion Post still shows signs of its time as a base for Sweden's postal service, with sections of the gorgeous original interior – like the desk where stamps were sold – still surprisingly intact. But really, once you step beyond the grand façade and through the glittering gold entranceway, the place feels like a thoroughly modern business hotel.
There are iMacs glowing on tables around the Post Bar, which acts as a meeting place not only for hotel guests, but locals too. Here, long leather bench seats meet with bookcases and contemporary, bucket-shaped seats. The lobby feels almost like a mall, with shiny black floor tiles reflecting light up into a tall atrium.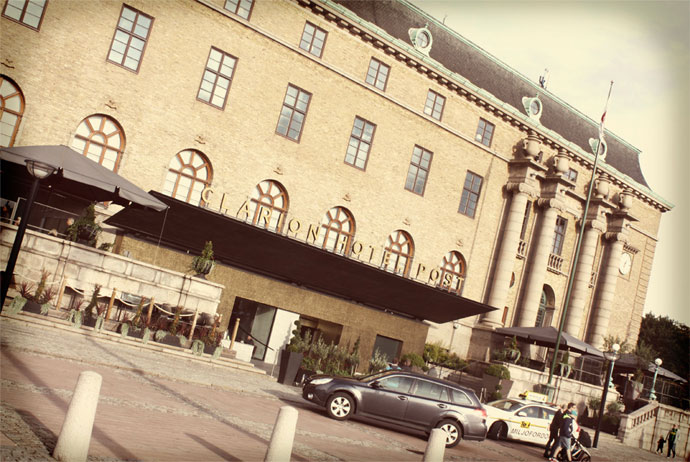 Apart from refurbishing the existing building, planners also got permission to build an enormous new wing out back. Towering above the original construction, it's not pretty to look at but at least provides space for some of the hotel's best facilities – most notably, the panoramic rooftop pool that looks out over the city and is kept at 37 degrees centigrade throughout the year.
Each room at the Clarion Post has exactly what you'd expect from a big, international-class hotel: a desk, free wifi, a TV and a decent en-suite bathroom. Rooms in the older part of the building are the most atmospheric and spacious, thanks to their high ceilings. Superior rooms and suites are the most comfortable option of all, however, with Italian-designed furniture and big windows that let the light flood in.
All guests staying at the hotel can use the pool but treatments at the onsite spa cost extra. The main restaurant here, Norda Bar & Grill, was launched with help from celebrity chef Marcus Samuelsson. It puts an American twist on local seafood, so expect plenty of prawns, lobster, oysters and crayfish.
Despite the unusual backstory and the comfortable rooms, the best reason to stay here is the unbeatable location. The Clarion Post is just across from Gothenburg's main railway station and has easy tram and bus links with the rest of town. There are good eating options nearby and there's a lovely park – Trädgårdsföreningen – just across the road.
---
Make a booking now
---
Clarion Post
Drottningtorget 10
Gothenburg
+46 316 190 00
clarionpost.com
Updated: September 2014