Sweden has one of the world's best healthcare systems. So if you're unlucky enough to fall ill when you're travelling around the place, or get involved in an accident, you should be able to get good care as soon as you need it.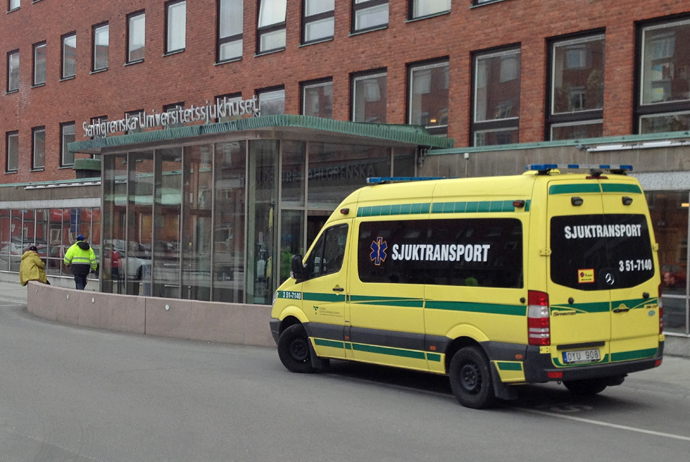 Private healthcare options are increasingly common, but healthcare in Sweden is still primarily taken care of by tax-funded clinics and hospitals, which provide free (or greatly reduced) treatment for all Swedes who need it.
As a temporary visitor to Sweden you can also get medical treatment at state-administered clinics and hospitals, but the way the process is handled varies depending on where you're from.
How does the Swedish healthcare system work?
Healthcare for EU nationals visiting Sweden
If you're planning on visiting Sweden from another country in the EU or EEA (or Switzerland), you should get yourself a blue European Health Insurance Card (EHIC). This card is free – just apply online – and is valid for up to five years.
In some countries the EHIC entitles you to free healthcare but in Sweden the rules are a little different. The card essentially just gives you access to healthcare at the same rate as Swedes. For example, seeing a doctor will cost you between 100–300 SEK. If you need several appointments or specialist work then the total amount you'll be required to pay is capped at around 1000 SEK.
If you're already in Sweden and don't have an EHIC with you, you'll have to rely on your travel insurance. First you'll have to pay the full (very expensive) rate for treatment and then try to claim back the money, usually minus any excess, from your insurance provider.
It goes without saying that even with an EHIC, you must, must, must buy travel insurance.
Healthcare for those visiting Sweden from outside the EU
Tourists visiting Sweden from outside the EU have no automatic right to free or reduced-cost healthcare.
However, Sweden does have reciprocal agreements with some non-EU nations, most notably Australia. Check with your local healthcare organisation to see what you're entitled to.
Again, even if you find that you are covered in Sweden, you should ensure that you have a comprehensive travel insurance policy in place. (No healthcare system is going to pay you for that lost or stolen phone).
Finding a doctor in Sweden
To see a doctor about a non-urgent problem, your first port of call should be one of Sweden's public health centres – known in Swedish as vårdcentraler. The 1177 Vårdguiden website has a searchable map of clinics around the country.
Special 'drop-in' clinics can be found in larger cities and may be the best bet if you need to see a doctor on the same day, or outside usual surgery hours. Even then, you should be prepared to wait a while to see a doctor or nurse: take a numbered ticket and wait your turn.
Getting to hospital
The same 1177 Vårdguiden website has a map showing accident and emergency departments (akutmottagningar) across Sweden. If you ever need help in an emergency, call 112.
Pharmacies
Most supermarkets in Sweden stock only the most basic medicines, like paracetamol and ibuprofen. For anything much stronger or more specific you'll need to head to a pharmacy. Many drugs require a prescription – see our section on finding a doctor, above.
Finding a dentist in Sweden
If toothache strikes when you're in Sweden, you should be able to get treatment from a dentist. As with regular medical care (see above), EU citizens with an EHIC card are entitled to emergency treatment at regular clinics (Folktandvården), at the same cost as Swedish nationals.
It is not free, however, and certainly not cheap. An emergency appointment plus X-rays and treatment (extraction, filling, etc) can cost 1000–2000 SEK. Visitors from elsewhere have to pay full price, as do EU citizens without an EHIC card.
Do you need any vaccinations for Sweden?
No. However, tick-borne encephalitis (TBE) is a problem in rural Sweden. The disease is spread by bites from infected ticks who feed on wild animals, but is only really a risk if you're spending time hiking or camping in rural regions.
The best defence is to avoid picking up a tick in the first place – wearing long trousers which are tucked into your socks is always a smart move, and you should keep to designated paths and trails whenever possible. If you're going to be spending a lot of time in the forest, then the vaccine is worth considering.
Mosquitoes can be a big annoyance during the summertime, especially in central and northern parts of Sweden, but bites are harmless. There is no malaria risk in Sweden.
Dangers when out walking in rural Sweden
There are two main dangers when wandering off into the Swedish countryside: getting lost (it's amazing how similar pine trees start to look after a while) and getting caught out by the weather. Winter weather can be treacherous, so plan ahead, dress properly and tell someone about your plans so they can raise the alarm if you fail to show up.
There is also a very small risk of encountering a bear when walking in parts of rural Sweden. Compared with bears in other parts of the world, the ones in Sweden are shy and will generally avoid confrontation. Mother bears can be aggressive if they think their young are threatened, though.
Travel insurance for trips to Sweden
Our line on this is simple: comprehensive travel insurance is an absolute must, even if you're visiting Sweden from another EU country and have an EHIC card.
If you're involved in a serious accident and need long-term care (or even have to be flown back to your home country), you really don't want to get saddled with that bill.
Not only that, but the best travel insurance policies offer recompense in the event that your stuff gets lost or stolen, or if your trip is ruined by delays and cancellations.
Choose your policy carefully: some insurance companies charge over-the-top excess fees, and will only pay out a limited amount in the event of a problem. If you're planning on getting involved with specific, potentially hazardous activities in Sweden (like skiing, for example) double check to make sure your chosen policy has you covered.
We recommend using World Nomads, which can arrange cover for a wide range of activities, including skiing and snowboarding. Their travel insurance policies are great value for money and are backed up by reliable insurers who provide 24-hour emergency assistance. Get a quote now.