Visiting Finland without a phone is pretty much unthinkable nowadays. Checking maps, booking accommodation, keeping in touch with friends and family and, of course, posting fab selfies of your trip – they all use data. And if you don't have free data roaming that can work out expensive.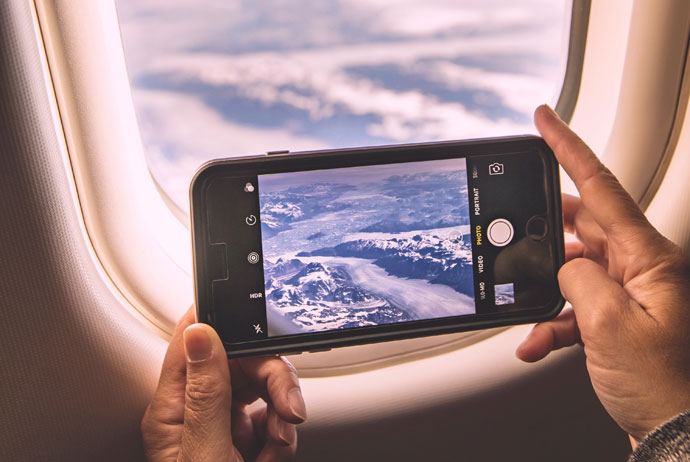 Wi-fi coverage in Finland
If you're just staying in Helsinki you probably won't need to use your own data at all. The Finnish government has funded an excellent network of free high-speed 4G wifi spots, and that covers almost everywhere in the city and includes nearly all public buildings.
Wifi speeds are fast enough for video calling and high-definition streaming and you don't even need to sign in or enter a password to use it.
However if you're heading off the beaten track or to one of the smaller more remote villages, having a good supply of your own data is useful.
Data charges in Finland
From an EU country? Great news! EU citizens get free data roaming and can make use of the same data allowance that they have back home, which means you'll barely have to think about charges while you're travelling around Finland.
This extends to some calls and texts too, but be careful if you're dialling international numbers (like ringing the USA from Finland, for example), as your network can still apply hefty charges.
If you're from a country outside the EU, using the internet and making calls in Finland can quickly rack up bills. You'll be charged for the amount of data you use, and while a sending a few small emails is unlikely to cost much, streaming video content or checking social media can lead to massive charges. This is when it's really useful to get a Finnish sim card.
Do I really need a Finnish sim card?
If you're an EU citizen or spending your entire trip in Helsinki, or one the larger cities such as Tampere, Espoo, Vantaa or Turku, the short answer is no.
On the other hand, if you're from the USA, Australia, Canada or any other non-EU country, and you happen to be doing a lot of travelling around the country, you will almost certainly save money by buying a Finnish sim card,
You'll have a different number but will be able to enjoy far cheaper internet access wherever you go. Just bear in mind that all Finnish networks require an unlocked GSM-compatible phone to work. Most modern smartphones will do the job just fine.
Travelling to other European countries as well?
If you're combining your trip to Finland with one or more other countries, you may find it easier to buy an international sim card, such as the New Europe sim, before you leave home. The card will be sent to you at your home address so that it's ready to use as soon as you touch down. You can either buy it ready loaded with credit or top it up yourself online. And you can use it too if you cross over the border into any of the other Nordic countries or other parts of Europe.
Which phone network is best in Finland?
The three main network providers in Finland are Elisa (which sells sim cards under the brand name Saunalahti), DNA and Telia, all of which sell pre-paid sim cards. Telia is the largest telecoms operator in Finland, but Elisa tends to have slightly better coverage and data speeds.
Sim cards can be bought either from the company's own stores or from R-kioski, the Finnish version of 7-Eleven. There's an R-kioski at the airport in Helsinki so if you need instant connection, you can buy a card there as soon as you arrive.
Costs and deals
All the networks offer similar deals on their prepaid sim cards, with the price you pay depending on the length of time, what you want included and the wifi speed you need.
If you only use your phone for a few brief Whatsapps and for booking the odd tour or hotel, you can probably get away with spending less than €8 a week. Elisa/Saunalahti's cheapest card and most basic package, for example, includes seven days' 4G internet for €7.90.
If, however, you're messaging constantly, posting pics all day, chatting to friends and streaming the latest movie, you'll need a more substantial deal.
Rates are still pretty reasonable, with Elisa/Saunalahti offering unlimited 4G internet in all Nordic and Baltic countries plus 5000 minutes of chat time and 5000 messages per month for €29.90. If you need more data, most prepaid cards allow you to top up online, at R-kioski stores, some post offices and ATMS or at the network company's own shops.
Bear in mind that prices and packages change regularly, so check online or ask at the shop for the best deal on the day. But don't stress too much about getting a bargain – all the companies are reasonably priced and offer good coverage in most parts of Finland.
Alternatives to getting a Finnish sim card
Since Finland has pretty good wifi coverage in most of its larger towns, you may decide not to bother with buying a separate sim card and just rely on local coverage.
If you do, downloading a free wifi finding app such as Wiman may be useful. It provides maps of the nearest free wi-fi hotspots wherever you may be and automatically connects you to the strongest and fastest.
Like what you've been reading? Get our best tips by email!