When planning your trip to Denmark, one of your first questions will likely be: what is a good daily budget for travelling in Denmark? Visiting this Nordic country can be expensive—the cost of living in Denmark is one of the highest in the world—but there are plenty of ways to enjoy your trip at various budget levels.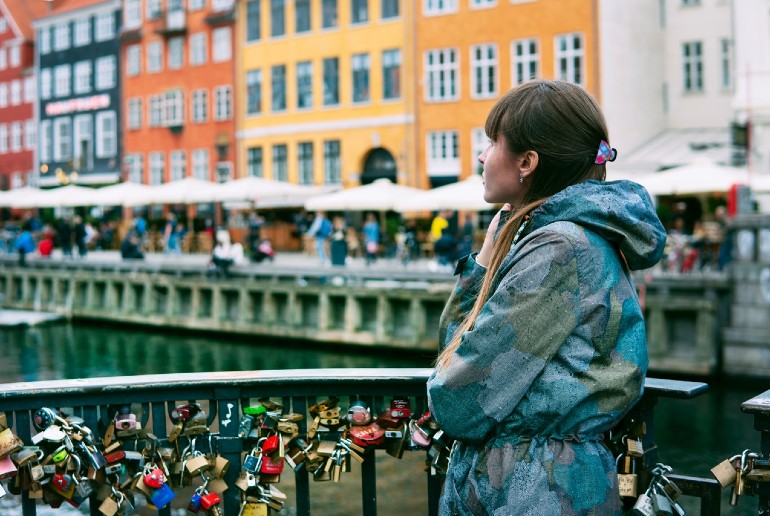 Average cost of trip to Denmark
Low budget: 500 DKK ($73 USD) per day
Staying at a hostel is one of the best ways to save money on your trip. Lots of them even offer extra perks that make this type of lodging even more economical, like cheap meals, bike rentals, and free tours.
You'll find tons of great options in Copenhagen and a few in Aarhus, but outside Denmark's two largest cities, hostels are sparser. Still, there are plenty of budget and mid-range hotels in other areas of the country, and if you're looking to stay in the countryside, camping is a fun and relatively inexpensive option. 

For your meals, steer clear of dining at fancy restaurants which can quickly eat into your daily budget for Denmark. Instead, opt to buy your food from supermarkets, street vendors, or food halls which all offer great food selections at a much lower price.

You don't need a huge budget to experience the sights in Denmark. Take advantage of free attractions like Nyhavn in Copenhagen, the Botanical Gardens in Aarhus, or Hans Christian Andersen's neighborhood in Odense.
Look for discounts on attractions and plan your visit accordingly. Tickets for Tivoli are cheaper on weekdays, and many museums have free admission on certain days of the week. 

Wherever you go in Denmark, getting around locally by biking or walking are the best ways to save money and see the sights like a local. For longer distance travel, bus or ferry tickets will be the most affordable method.

Medium budget: 1200 DKK ($174 USD) per day
If your travel budget for Denmark is a little more robust and hostels aren't your thing, there are plenty of affordable options for your accommodations. Stay at a budget hotel or consider renting a modest apartment via Airbnb.
These rentals offer more privacy and comfort than your traditional hotel, and you can often find great deals on some really interesting homes.

With more money in your pocket, you'll want to indulge in a special night out enjoying Denmark's cuisine, but make sure you limit these splurges or offset them with other low-cost meals to keep your budget in check.

If you'll be doing a healthy amount of sightseeing in Copenhagen, consider purchasing the Copenhagen Card to take advantage of some discounts.
The card includes admission to many of the major sights, including Tivoli Gardens, Amalienborg Palace, and the Copenhagen Zoo. It even includes admission to some locations outside the city, like the Viking Ship Museum in Roskilde and Kronborg Castle in Helsingør. 

For local transportation, consider bike rentals or public transportation. If you're traveling longer distances, trains are the most comfortable choice. Make sure to book as far in advance as possible to get the best prices.

High budget 3200 DKK ($465 USD) per day
For a more luxurious stay in Denmark, you'll find no shortage of high-end hotels and upscale Airbnb rentals. You can even stay in a castle or jungle-style hotel if you're looking for a unique experience.

Denmark is known for its high-end New Nordic cuisine. If you're ready to shell out for a great dining experience, you'll find tons of exceptional restaurants among the 28 Michelin starred restaurants in the country. Just be prepared for a large bill at the end of the meal.

Rather than explore on your own, try a guided tour for a more personal and informational experience. You can also pay up for some of the well-loved but pricier attractions like Tivoli or Legoland.

While biking is always a great option for local travel in Denmark, you may consider renting a car if you'd like a less athletic way to get around. Traffic isn't too much of a hassle, but parking can sometimes be in short supply. Taking the train or driving your rental car works best for long-distance transit. 

How many Danish Kroner for 3 days of travel?
The average cost of a trip to Denmark for 3 days on a medium budget will be around 3600 DKK ($522 USD) for a single person. Depending on how much sightseeing or eating out at restaurants you plan to do, this will vary, but a good baseline is to plan on spending around 1200 DKK ($174 USD) per day.

How much spending money do you need for a trip to Denmark?
| | |
| --- | --- |
| A breakdown of common expenses for your trip | Price |
| Hostel bed in a shared dormitory | 150-350 DKK |
| Double room in a budget hotel | 500-1000 DKK |
| Double room in a luxury hotel | 1500-5000 DKK |
| One-bedroom apartment via Airbnb | 450-1200 DKK |
| Big Mac meal | 64 DKK |
| Lunch at a café | 130-160 DKK |
| Two-course meal at a high-end restaurant | 300-600 DKK |
| Bottle of beer at a supermarket | 3-10 DKK |
| Bottle of beer at a nightclub | 65 DKK |
Like what you've been reading? Get our best tips by email!