A friendly welcome awaits guests staying at this homely B&B, located in a quiet part of town just north of central Gällivare.
The pretty wooden house is lit up by loads of softly glowing lights and is cheerily decorated by the owner Marita, who seems to take pride in keeping the place spick and span.
There are 30 beds here in total, spread across a mix of rooms. There are doubles, singles and small outbuildings sleeping up to six people. Interiors are bright and fresh, and although it definitely feels like someone's home, it's not so cluttered with pictures and ornaments that you'll be struggling for space.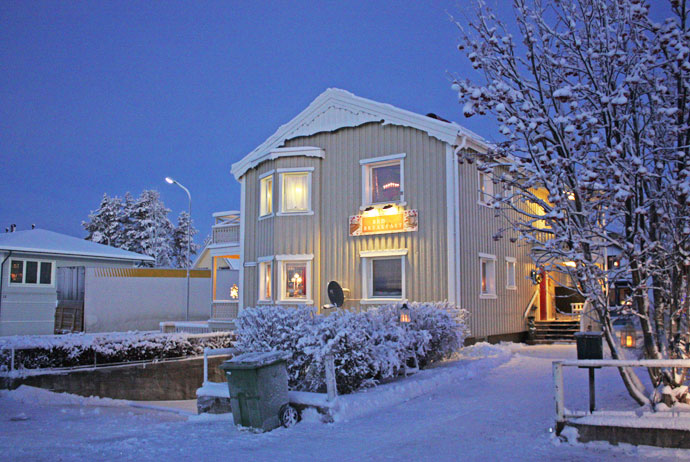 The room we were given was upstairs in the main building, where there's a shared self-catering kitchen stocked with everything you need to make a meal, plus a kettle and coffee machine. The free cup of tea (offered on hearing our writer's English accent) was a really nice touch.
Marita enjoys a good chat, especially if you can talk about British TV shows, but she gave us plenty of space to chill out when we needed it.
A good, Swedish-style breakfast is included, making this a superb budget option, and there's the added bonus of being able to learn more about the area from a local. Another perk is the B&B's first-floor balcony, which you can use to keep an eye on the northern lights (and possibly the midnight sun, if you're here in summer).
One thing to note is that the bathrooms at Gällivare Bed and Breakfast are all shared, but they're kept clean and we didn't have to wait long to get showered in the morning. Free parking.
Get the best rate on Booking.com
Gällivare Bed and Breakfast
Laestadiusvägen 18
Gällivare
+46 970 156 56
bbgaellivare.se
Last updated: March 2015