Most of what's written about Stockholm focuses on the city's refined, adult side – from museums and galleries to design boutiques and smart restaurants. But the Swedish capital is a welcoming place for young families too, with loads of fun attractions to check out and a public transport system that makes it easy to get around without too much stress, even if you're stuck on pushchair duty.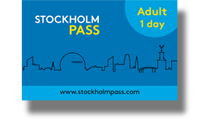 Is the Stockholm Pass worth buying?
Read this guide to see how much you could save during your trip!
Top attractions in Stockholm for kids
There are a few main attractions in Stockholm aimed at young ones, and some of these are so well done that they'll keep mums and dads entertained for an hour or two as well. Unfortunately most charge admission fees – scroll down if you need ideas for completely free things to do in Stockholm.
Skansen
There's something for kids of all ages at Skansen, the sprawling, open-air museum on the island of Djurgården. Little ones will love exploring the old shops and farmsteads which are done up in traditional Swedish style. There's also an indoor aquarium (extra charge applies) where kids can gawp at exotic fish, plus an outdoor zoo that's home to some of Sweden's native species, including foxes, brown bears and elk.
The admission fee for Skansen changes throughout the year but is usually low enough to make a family day out pretty good value – if the kids are feeling energetic you could easily spend half a day wandering around the place, stopping for drinks and snacks along the way.
Our full guide to Skansen has more details on admission costs and getting to the park.
Gröna Lund
Gröna Lund isn't Sweden's best theme park but it is close to the middle of Stockholm and has some decent rides that attract a mix of young families and thrill-seeking teenagers. Highlights for young visitors include bumper cars, an old-fashioned merry-go-round and a classic-style ghost train, though there are considerably scarier free-fall rides for older kids and parents to enjoy. Arrive early if you want to beat the worst of the summertime queues.
Tom Tits Experiment
Great fun for kids and with a name that will make parents snigger, Tom Tits Experiment is a sort of hands-on science and technology centre. Here, kids can play with giant bubbles, get lost in a hall of mirrors, throw themselves down a helter-skelter and learn about how the body works through a variety of weird and wonderful experiments.
Tom Tits is around 30km southwest of the city centre but is easy enough to reach. To get there, take the train from Stockholm Central to Södertälje Centrum and then walk 10 minutes north.
Vasa Museum
Without a doubt, this is the best museum in Stockholm. After the initial 'wow' of seeing the 17th-Century ship called Vasa for the first time, inquisitive kids will get a kick out of learning how the thing was built. They'll also discover what made the ship sink in the first place, and learn how it was painstakingly salvaged hundreds of years later. Our full guide to the Vasa Museum has more on what you can expect to see when you arrive.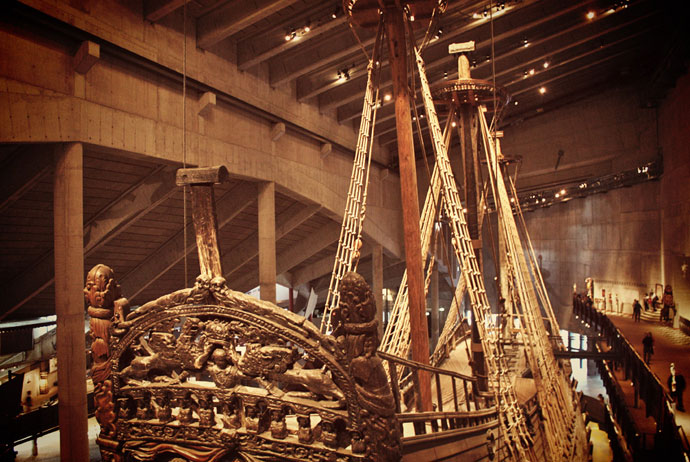 Junibacken
Built with Stockholm's youngest visitors in mind, Junibacken is a playful attraction based around Swedish children's books. The main focus is on characters dreamt up by Astrid Lindgren, including Pippi Longstocking, whose colourful 'house' kids can run around in – dressing up in zany outfits and making friends as they go. There's a great children's bookshop here too, which stocks books in English and Swedish.
The movies, baby
Some of Stockholm's movie theatres now run 'barnvagnsbio' events (the name literally means 'pushchair cinema'). The idea is that new parents can go and watch a film at the cinema without getting a hard time when their little one starts to cry. The volume is dampened to help protect babies' fragile ears, and there's an interval in the middle of the show allowing time for feeding and nappy changes. Naturally, babies go free. Try Filmstaden Söder in Södermalm – it's at Folkungatrappan 2.
Indoor playgrounds in Stockholm
If the weather is bad and your kids need to let off steam, it's worth checking out one of Stockholm's indoor play areas. These generally have ball ponds, slides, trampolines and – most importantly – a café for parents to relax in. Try Lek & Bus, just east of central Stockholm at Cylindervägen 4, Nacka Strand. Expect to pay 149 SEK per child (adults go free).
Some free things for families to do in Stockholm
Medeltidsmuseet
A museum about Stockholm in the Middle Ages might not seem like the most obvious place to take young kids, but this place is put together in such a way that it really helps to spark the imagination. At its centre is a life-sized recreation of an old market square, complete with clip-clopping horse noises and real cobbles underfoot. For now at least, the museum is also completely free – rare for Stockholm. You can read our full guide to Stockholm's medieval museum here.
Outdoor parks and playgrounds
On sunny days Stockholm's parks come into their own. One of the best central options is Humlegården in Östermalm, where you'll find a great outdoor playground. There's plenty of space to picnic beneath the mature trees and the skatepark here (also free) is perfect for older kids.
Rum för Barn
Up on the fourth floor of Kulturhuset in Norrmalm is Rum för Barn – a free, child-friendly area where kids can read books, paint pictures, build things and even learn how to dance. It's a neat, well-organised space (there's even a parking area for pushchairs) but it can get pretty busy. The centre is open 11am–5pm from Mon–Fri and from 11am–4pm on Sat & Sun.
See our full Stockholm travel guide for more tips and ideas
Like what you've been reading? Get our best tips by email!