Sweden has produced some pretty famous shopping brands. You already know the big ones but there's much more to the Nordic nation's shopping scene than Clas Ohlson, H&M and a certain flat-pack furniture store. Here are some of the quirky Swedish shops worth checking out on your next visit.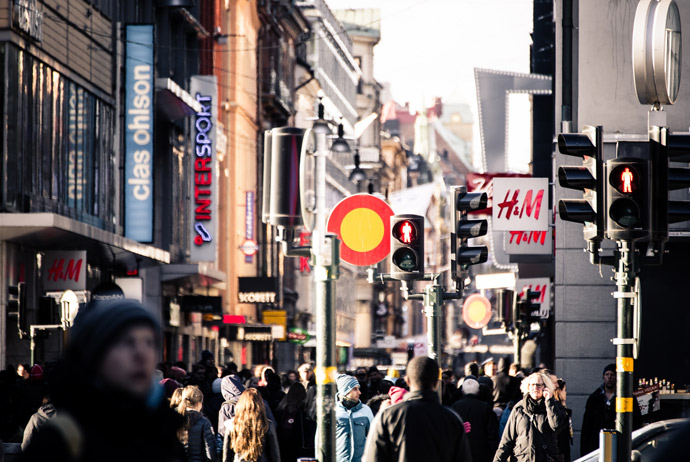 Design shops
Modern, minimalistic and oh-so expensive: the Swedish design products that end up in department stores abroad usually cost an arm and a leg. But even though Swedes love design, not everyone is willing to spend silly money on doing up their home. That's where shops like DesignTorget come in. There are branches of this form-focused interior design store in most big Swedish cities, selling everything from teacups to candlestick holders at not-too-scary prices.
Another cheap design shop worth checking out is Lagerhaus, which does porcelain, glassware and candy, as well as furniture, bathroom stuff and smelly candles. Both of these chains sell a fair bit of junk, but there's nice stuff to be had and you'll never get bored wandering the aisles. If you're not worried too much about cash and want to grab some top-notch Swedish design for your pad, try upscale shops like Artilleriet or Svenssons i Lammhult.
Bookshops
Most Swedish bookshops sell at least some English-language books, even if they're just British thrillers or English translations of the latest Nordic Noir series.
An easy option is Pocket Shop, which has branches at train stations and airports across Sweden. The bookish staff know a thing or two about the titles they have on sale, and they can probably point you in the direction of some good Swedish books. Alternatives to Pocket Shop include Akademibokhandeln and Adlibris, an online giant that has just one physical shop (it's in Stockholm).
Need some book recommendations? Here are some tips on Swedish books worth seeking out.
Department stores
If you want to try shopping at Sweden's answer to Harrods, head to Nordiska Kompaniet (NK). With branches in Stockholm and Gothenburg, these big, luxury-focused department stores are home to restaurants and bars, and they also stock high-end Swedish clothes for men, women and kids.
Similar to NK but not quite as flashy, Åhléns is a store that you'll find dotted across the country. Along with the usual perfume counters and make-up stands, it sells furniture, clothing and kitchen stuff.
Fashion outlets
Once you've tried out some of Sweden's lesser-known clothing stores you'll never want to go back to H&M. We've got a huge guide to the best Swedish fashion brands here, covering everything from Acne Studios to Whyred. If you're on a budget, delve into the second-hand scene: here are our recommendations for vintage stores and flea markets in Stockholm.
Other Swedish shops worth checking out
Grandpa
Hipsters love Grandpa, a quirky Swedish chain offering a mix of Scandinavian fashion, vintage furnishings and home accessories. There's a nice environmental focus and the company encourages its suppliers to produce organic and sustainable products. There are three branches in Stockholm, along with another one in Gothenburg.
Byredo
Swedes aren't known for their smells but luxury brand Byredo is trying to change that. The company was founded by Ben Gorham who apparently became intrigued by scents after travelling to his mother's hometown in India. A word of warning, though: these nice whiffs aren't cheap!
No trip to Sweden would be complete without experiencing the whacky world of Systembolaget. This is Sweden's alcohol monopoly – a government-run chain of stores with not-so-generous opening hours (boo!) but permission to sell hard booze (yay!). Wander in and start browsing the wine, which is organised by cost and country. Bonus tip: go on a Friday night, when long queues often fill the aisles. You'll be feeling properly Swedish in no time at all.
Pressbyrån
There's a very good chance that Pressbyrån will be the first Swedish shop you encounter. These newsagents' shops are on almost every corner, helping Swedes to feed their desire for candy, snus and hot dogs. Pressbyrån also sells Swedish sim cards, as well as tickets for public transport networks.
Not sure what to buy for folks back home? Our guide to Swedish souvenirs is full of ideas.
Like what you've been reading? Get our best tips by email!