Built in 1935, Bio Norden was Jokkmokk's first proper cinema. These days it's rarely ever in use, but it remains one of the prettiest buildings in the town, and its blue sign still glows brightly after dark.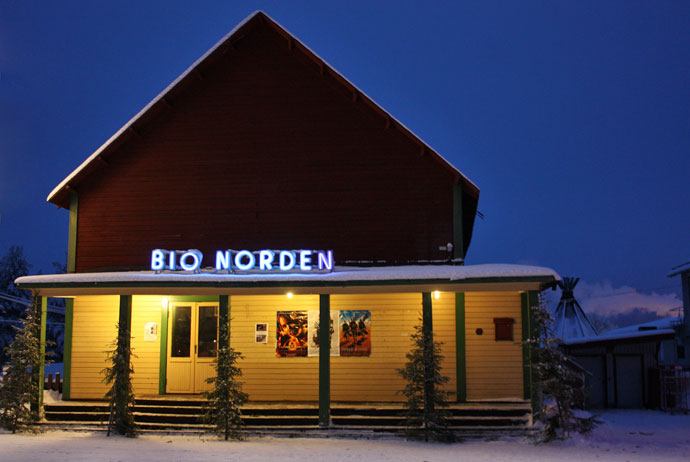 The building, with its rusty-red façade and open, saloon-style entranceway, is one of the few so-called biolada cinemas still standing anywhere in the country, and it's been given the strongest level of protection that an historic Swedish building can receive.
Bio Norden was apparently built on a natural slope to allow moviegoers good views of the films, even from the back rows. In the early days of its existence, the cinema also doubled as a theatre, attracting some of Sweden's best actors to its stage.
If you're lucky and Bio Norden is open when you visit (usually it only opens its doors for special occasions, such as Jokkmokk's winter market) you might be able to get inside and have a look at the colourful interior, which is painted in jolly blues and yellows.
At other times, if you're keen on going to the cinema in Jokkmokk, films are screened just around the corner at Folkets Hus. Usually the film is a Hollywood blockbuster with English audio and Swedish subtitles, but Swedish-language films get an outing too.
Bio Norden
Porjusvägen
Jokkmokk
Last updated: February 2015
Like what you've been reading? Get our best tips by email!