Surrounded by some of Sweden's most spectacular wilderness areas, Jokkmokk makes an excellent base for outdoor exploration.
There are lots of active things to do within a relatively short distance of the town centre, which makes day trips a realistic option, especially if you have your own car. Longer overnight excursions into the nearby national parks are also possible, either independently or as part of an organised tour. Here are some of the best things to do near Jokkmokk.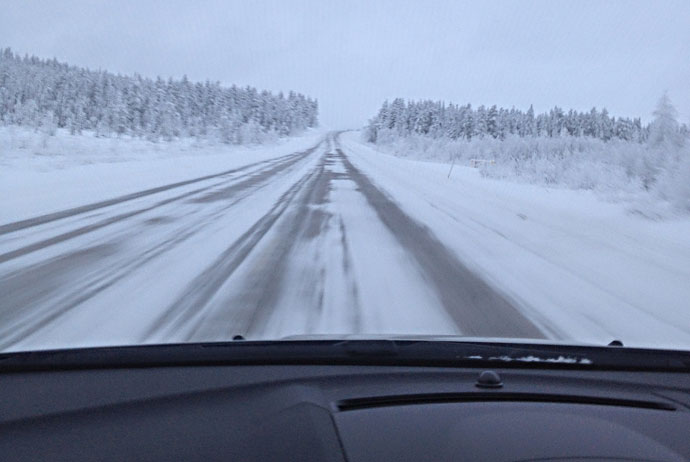 Canoeing and kayaking near Jokkmokk
A quick glance at the map shows that Jokkmokk is completely encircled by waterways. And you don't have to paddle far from the centre of town before you're among picture-perfect lakes and forests that seem completely undisturbed by human activity.
Whether you choose to go canoeing on one of the lakes or the nearby river is really a matter of personal preference, though obviously canoeing in this part of Sweden is a summer-only activity. Choose a lake such as Purkijaure, which sits just west of the town centre, and you'll be able to spend time exploring sizeable islands that are edged by sandy beaches. Opt to paddle on Lilla Luleälven, the river that passes Jokkmokk, and you'll face more of a physical challenge but be rewarded with superb views.
Local company Jokkmokk Guiderna can provide canoes and give advice on making trips, from easy, one-day excursions to more taxing seven-day tours.
Fishing and hiking in Kvikkjokk
An important stop on the Kungsleden hiking trail, Kvikkjokk can also be visited on a day trip from Jokkmokk. It's here that the Kamajokk and Tarraätno rivers converge, creating a huge, silt-edged delta that's popular among fishermen. For an aerial view of the delta you can join a helicopter tour (Fiskflyg runs trips from late June to September). A cheaper alternative that also provides a better chance of enjoying the local birdlife is to join a boat trip – try Björn Sarstad on +46 702 053 193.
If you want to properly explore the many hiking trails around Kvikkjokk, which take in lush pine forests and mountain peaks that serve as platforms for enjoying the midnight sun, the best option is to base yourself at Kvikkjokk Fjällstation, where you'll find dorms and private rooms.
Jokkmokk sculpture park
Still a work in progress, Jokkmokk's sculpture park is an easy walk from the town centre. Founded as a place for Sami artists to showcase their work, the very spread-out sculpture park is on the edge of the lake known as Talvatis. It's free to enter and snowmobiles are banned from this particular lake, which means it's a nice quiet place for a walk all year round.
At the time of writing there were just six sculptures in the park, but more may be added soon. Start at the southern end of Borgargatan – you'll find easy parking in the spot marked below.
National parks and nature reserves near Jokkmokk
Jokkmokk has a couple of excellent national parks and nature reserves right on its doorstep.
The mountainous Sarek National Park is one of the most beautiful areas in all of Sweden, and is home to six of the country's highest peaks, plus countless glaciers and wild bears. However, the park has no facilities at all for tourists; if you're going to attempt a trip into this region, you should do so only with qualified professionals. Fjällaktiv Lappland runs eight-night ski expeditions into the park each winter, including guides and safety gear.
More accessible for casual visitors is Muddus National Park, just north of Jokkmokk, which has simple cabins for tourists to sleep in. Here you'll find sections of virgin pine forest (a rarity, even in Sweden) as well as wild orchids.
Another nature reserve that's even easier to reach from Jokkmokk is Storforsen, where the forest is split in two by a wide series of rapids. It's possible to drive up close to the river and get views of the water, which apparently never freezes completely, despite the extreme winter temperatures.
To discuss options for tours of these national parks, your best bet is to head to the tourist office in Jokkmokk (see the map below).
Dog sledding in Jokkmokk
The area around Jokkmokk is suitable for dog sledding in summer or winter, but we've only spotted one company running tours. Jokkmokk Guiderna charges 950 SEK per person for a one-hour trip on a shared sled – for better-value dog-sledding trips you may want to try Kiruna or one of the ski resorts further south in Sweden (we've put together some general advice on dog-sledding here).
Last updated: February 2015
Like what you've been reading? Get our best tips by email!