Travelling to Scandinavia's wildest reaches is one thing, but capturing their raw beauty on camera is another challenge altogether – especially when icy winds begin howling across the mountains, and when the northern lights start dancing overhead.
To find out what it's like to search for the perfect shot in the very far north Europe, we caught up with the American photographer Cody Duncan, who has captured some incredible images along the Kungsleden hiking trail in northern Sweden, and on Norway's Lofoten Islands.
How long have you been taking pictures?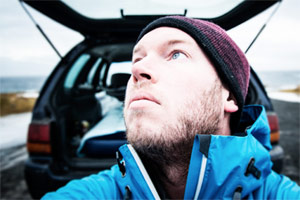 I think I shot my first role of slide film in a high school photo class sometime in the late 1990s. After that it was a bit of a pause until a trip to Scandinavia in the summer of 2001. I returned home from that trip and continued studying computer science in Santa Cruz, but I grew tired of math and decided to study photography instead, back in my hometown of Santa Barbara.
So you're from sunny California. How did you end up spending so much time in the frozen north of Scandinavia? What is it about that area that appeals to you so much?
The short answer: I'm not quite sure. Growing up in southern California, I always had a mild interest in the ocean and mountains. But one thing we don't have is seasons; it's just always mostly sunny and never too hot or cold.
I think in Scandinavia, and particularly Norway, I found a more wild and raw version of ocean and mountains – familiar elements, yet still so different. And then, once you begin looking beyond the land itself there are the extremes of light between the polar night of winter and the midnight sun of summer.
Without getting nerdy, the days in the north lengthen or shorten by about one hour of daylight per week. So if I'm spending a couple weeks on Lofoten in winter, I can really notice the days getting longer. And the reverse is true in late summer/early autumn, when you feel the days getting shorter and shorter.
This changing of weather and seasons seems to be a near constant process in the north. Two days rarely feel the same, as opposed to the nice (but slightly boring, for a photographer) weather of southern California.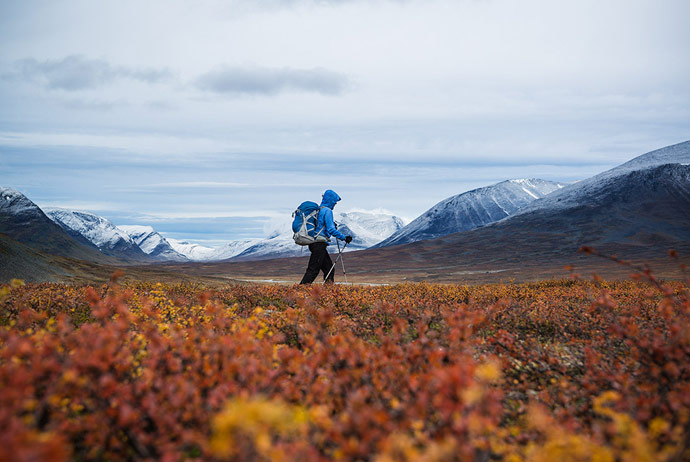 How does a typical trip to Scandinavia look for you? Do you spend much time in cities or is it all about getting out into nature as soon as possible?
It is a bit of a mix. I spend most of my time on the Lofoten Islands, where I'll often take shelter at the hostel in Stamsund from the many 'non-camping weather' days. And then when a good forecast comes, I'm back to the mountains or beaches for a few days until the next storm approaches. The Islands aren't too big anyhow, so even from the highest mountains, there's always some trace of civilization to be seen.
If I'm elsewhere in Norway/Sweden, then I'm usually more focused on hiking in one of the national parks. That's something I hope to do more of in the coming years.
You've spent a lot of time on the Lofoten Islands in Norway, which are ridiculously good looking. Is it challenging to capture such epic landscapes? Or does the scenery do most of the work?
The Islands do most of the hard work. I just have to convince my legs to carry my heavy backpack to the top of a 500-800 meter mountain, and then tell my brain to be patient enough for some nice light to arrive.
The weather can be challenging at times, with long periods of storms and low clouds, which can be especially frustrating if this is how I start a trip. But eventually some nice light will arrive, then I just have to make sure I'm in a good place for it. I used to try and do more 'light chasing' but found that, more often than not, I just ended up with an empty tank of gas. Now I think it's generally more effective just to focus on a single mountain or area and wait for the light to come to me.
Often I find each season or visit to have a 'mood', which would somewhat determine what I photographed on that particular trip. It used to always change during my early visits, but lately, no matter what time of year, the weather seems to be stuck on 'wind' mode for a majority of my time on the Islands. I even had my first experience of proper hurricane force winds this past February.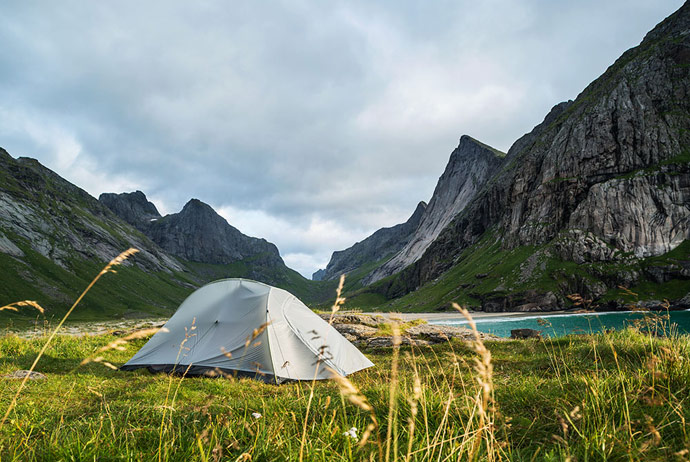 Are there any places that stand out as particularly beautiful? Where have you seen the best aurora?
My favorite location on the Islands is Horseid Beach – a long stretch of golden sand surrounded by a ring of near-vertical, glacially carved mountains. It is a location which seems almost perfectly made for a photographer or painter.
The best aurora I have seen was actually while sailing away from Lofoten on the Hurtigruten ferry. Though it was mid October and I had been in the north for some weeks, the skies mostly had remained quiet thus far on my trip. But while walking to the ferry to begin my journey home, I could feel that something was going to happen that night. I very nearly went back to the hostel, but [I had] an early flight and other plans that couldn't be missed. Just as the ferry pulled away, the sky erupted with light. For the following four hours to Bodø, the lights were shining from horizon to horizon as I traveled across Vestfjorden. Even as I was walking to the airport some hours later, the lights were still dancing in the sky!
Let's talk gear: what do you usually have in your backpack?
For shorter, non-intensive hiking trips I'm carrying two camera systems. My main camera is a Nikon D810, along with an assortment of lenses from 14-200mm. Lately I've also been carrying a Fuji XT-1 to use mainly as a second camera for shooting time-lapse sequences. For any hiking oriented trip, it will be the Nikon with one or two lenses.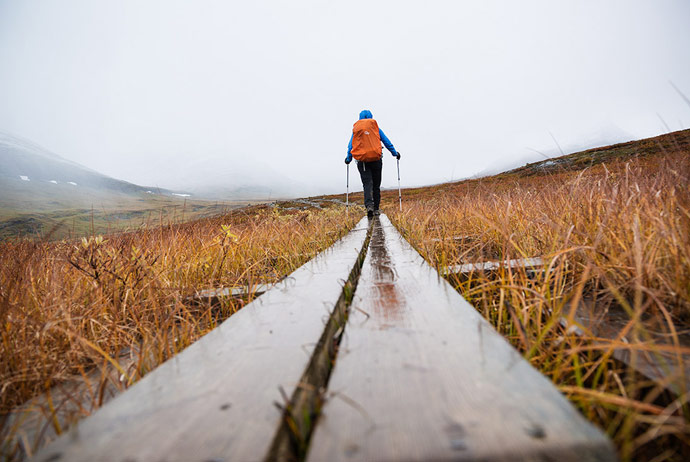 You've got some great shots of the Kungsleden walking trail in northern Sweden on your website. Did you manage to walk the whole route?
I've only done the northern section twice so far, and [I had] another attempt at a mid part of the route before dropping my camera in a lake on the second day. I actually have plans in the works to finally hike the whole route in September this year. I just need to figure out if I will have time to get across the last lake before they pull all the boats out.
Describe a perfect day in Scandinavia.
I think there are two: In winter, it's a perfectly calm day in late January after a storm has cleared overnight. The beaches are covered in a layer of fresh snow and the mountains glow a brilliant pink as the sun floats low across the horizon.
For the mountains it is a nice, late-summer day, blue sky with puffy white clouds and a gentle breeze. There is a bit of crispness to the air and maybe some hits of yellow on the leaves, signalling that autumn will soon arrive. I pitch my tent high on some mountain ridge and watch the shadows stretch across the valley below me.
What's your next project?
I just released my second photography/travel guide for Lofoten: Seasons on Lofoten – Summer, which has taken up a fair amount of my time over the last months. Beyond that, I will be working on the autumn guide, as well as planning for that one month hike on the Kungsleden trail. I also have something secret planned for August, but I can't talk about that yet.
What advice would you give anyone wanting to follow in your footsteps? Is it getting harder to make a living through pictures? Or does covering remote areas actually make it easier to sell shots (easier than, say, pictures of New York City)?
For me it has been a long, slow process to get to where I am today, and I'm still barely getting by really. I think it's both easier and harder to make things work today: there are more people taking photos, but there's also more demand for photos and a lot more ways to make a living from photography.
For example, 10 years ago, there wasn't really anything existing like today's, for lack of a better term, 'social media photographers'. If you can build a following, making a living by posting pictures on Instagram (or whatever) is just as possible today as trying to hustle for magazine and commercial clients.
Some of my best-selling images have actually been straightforward photos of tourist icons, places thousands of other people have taken images at. But popular locations have high demand for content, vs. some beautiful lake in the middle of nowhere that no one has ever heard of, at which point you are then competing against all other beautiful lake photos for a sale.
Which picture are you most proud of?
I don't think I could limit it to one image, but more about a body of work from a particular trip. I think the images from my first travels on the Kungsleden in September 2009, followed by Lofoten in January 2010 set me on the path to where I am today. So much bad weather, day after day, changed my outlook from trying to capture 'happy,' travel guide type photos to something a bit more abstract and atmospheric.
A tough final question: Sweden or Norway?
Norway all the way!
More info: codyduncan.com