As we've written on Routes North before, Swedish isn't the most useful language to learn. But foreign tourists who make the effort to pick up just a few words of svenska are sure to find favour with Swedes, who aren't used to hearing visitors have a stab at the local lingo.
So which Swedish words and phrases should you try to get to grips with before your big trip? And what's the best way to learn? To find out, we caught up with Christoffer from Prata Svenska ('Speak Swedish'), which posts free flashcards on social media to help people master new Swedish phrases.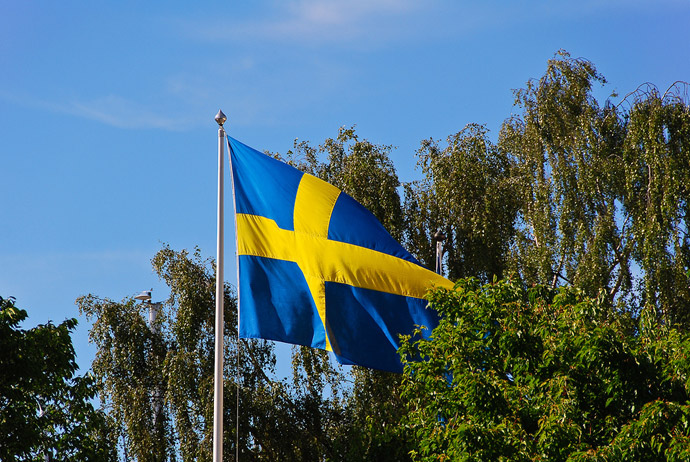 RN: How difficult is it for English-speaking tourists to learn Swedish?
Compared to many languages, Swedish is relatively easy for English speakers to learn. Swedish grammar is not too complicated and resembles English grammar. Pronunciation-wise, practice makes perfect… but getting started should be easy and many Swedish words are similar to their English counterparts.
RN: Most of our readers are in Sweden for only a short amount of time. Is it really worth them learning Swedish (especially as most Swedes speak great English)?
For most vacation trips in Sweden, English will do great! But you often visit a country to see something new and the local language can be a fascinating key to understanding the culture. Also, it can feel very empowering and fun to say your first word in a new language.
RN: So what are some of the essential words and phrases to learn before visiting Sweden?
Greetings
Hello
Hej
Nice to meet you

Trevligt att träffas

My name is John

Jag heter John

I am from England / America

Jag kommer från England / Amerika

Other basics

Hej då

Goodbye

Ja tack

Yes please

Nej tack

No thank you

Förlåt

Sorry

Ursäkta mig

Excuse me

I don't speak Swedish

Jag pratar inte svenska

I only speak a bit of Swedish

Jag pratar bara lite svenska

Travelling around
I like to travel

Jag gillar att resa

We're on holiday in Sweden

Vi är på semester i Sverige

I'm looking for the train station

Jag letar efter centralstationen

Shopping and eating
How much is it?
Hur mycket kostar det?
Where can I find an ATM?

Var finns en bankomat?

I'd like a coffee / beer, please!

Jag vill ha en kaffe / öl, tack!

Uniquely Swedish words

'Not too little, not too much; just perfect'

Lagom

'To have a break for coffee, often with friends and a bun'
Fika
RN: What made you decide to help people learn Swedish?
We've always been interested in foreign cultures and languages. Having studied several different languages we know that it's important to have language-learning material that is both fun and motivating, no matter if you just want to learn a few words or if you want to keep up the motivation to become fluent nice and quickly.
We started just over a year ago and have been steadily growing since then. We currently have more than 12,000 followers on Instagram and Facebook. We also have a lot of followers on Twitter and we even have followers on Snapchat and Pinterest as well.
RN: 12,000 sounds like a lot… isn't Swedish quite a 'niche' language?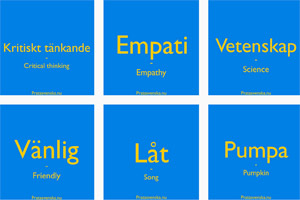 There are a lot of people interested in learning Swedish. There might not be as many as there are learning English, for example, but it is still a significant group. Also, since the language has always been thought of as a 'niche language', there has maybe not been as much [useful] material for people to find. We started a year ago and are already one of the largest online communities for learning Swedish.
RN: You use flashcards on social media… is that an effective way for people to pick up new words?
When you learn a new language it's important to practice often in order to become fluent fast. That's why we have fun flashcards – to motivate people in their language learning.
RN: What other tips do you have for people who want to learn Swedish?
Use the language as often as you can! Wherever you have an opportunity to use the language, just try. By doing this you'll notice that over time, you become more and more confident using the language. Another good way for learning languages is to expose yourself a lot to it. Listen to Swedish radio and music, watch Swedish TV and movies and read Swedish books. The more you are exposed to the language (and try using it) the faster you will learn it!
RN: What are your plans for the future?
We're constantly thinking of ways to develop our material in order to help people learn Swedish language in a fun, fast and easy way. The best way to keep track of our material is to follow our accounts or to visit our homepage www.pratasvenska.nu.
RN: Thanks for chatting with us, Christoffer!
You may also like: Routes North's list of resources for learning Swedish
Like what you've been reading? Get our best tips by email!