If there's one thing Sweden has a lot of, it's trees.
There are 87 billion of the things dotted across the country. That's almost 9000 trees for every single citizen. And as far as we know, only one of those trees has branched out into social media.
Since debuting on Instagram three years ago, the so-called 'Broccoli Tree', which sits on the edge of Lake Vättern in Huskvarna, Sweden, has amassed more than 24,000 followers.
The willow tree's appearance changes with the seasons. Sometimes people show up in the shots, or aeroplanes fly over. Otherwise, the pictures that appear on the Broccoli Tree's timeline are pretty much identical.
"It all started in May 2013 with just one picture on my personal account," says photographer Patrik Svedberg, who runs the Broccoli Tree feed. "Then a month later, I really hesitated… was it okay to post the same picture?"
However, there were small changes in that second picture. Even if it was framed in the same way as the first one and had the same, broccoli-shaped outline, the leaves had changed colour and the sky behind it had taken on a new hue.
The idea developed and it wasn't long before Svedberg had posted a few near-identical pictures of the tree in the space of a single week. He began wondering if his followers would abandon him.
"The perfect solution was that the tree got its own account," he says.
Since that day, Svedberg has posted more than 200 images of the Broccoli Tree on Instagram, all framed in the same way, but all ever so slightly different.
"The tree isn't really that unique," he says. "It's more about what you choose to see, what I have picked for you to see, and the excitement of what's going to happen inside the four walls of the frame.
"Sometimes it's the most beautiful sky. Sometimes it's a couple in their nineties. Sometimes its birds, or stars, or just weather that's so, so grey and dull. But it's almost never about the tree itself."
Svedberg works full time as a commercial photographer and lives in Jönköping, a 15-minute drive from the Broccoli Tree. This is a hard-working part of Sweden that changed dramatically in the 1950s, when big industry began employing thousands of people and local farms became mechanised. Until that point, the forests and lakes had been vitally important for food and recreation – and Svedberg thinks that may explain why people feel attached to the Broccoli Tree.
"In some way I'm overwhelmed by the reaction to the images, and in another way I simply believe in what I do. I had a feeling this was good.
"What really surprises me again and again is what you can do as a photographer within such a limited shot. If something truly stunning happens just outside the frame, then it's lost. I won't change the framing and go chasing it. But so many times something remarkable has happened right where I want it to. Even today, my pulse rises a bit every time I approach the tree.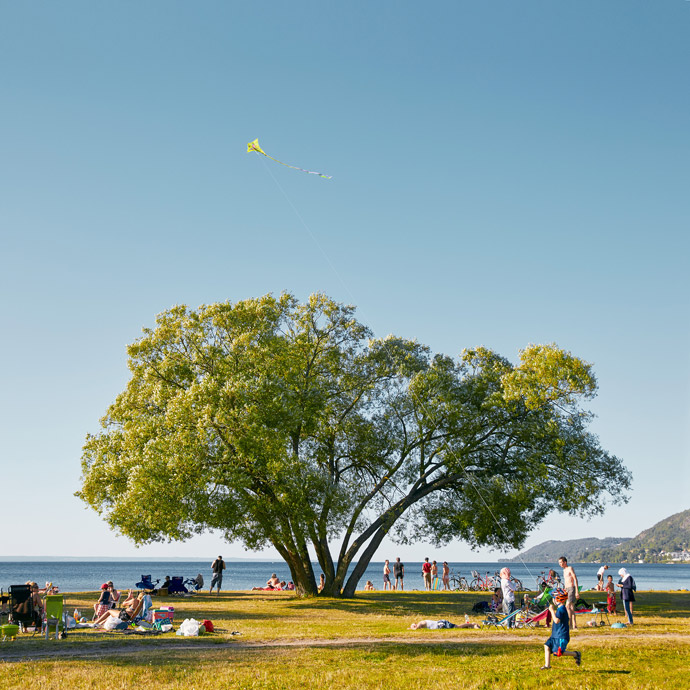 "I can't do magic. I've had the northern lights appear, but the tree and the lake are positioned straight to the north, so I'll never have a sunset behind the tree."
So, no sunsets in sight for the Broccoli Tree. But now that it's become one of the world's most famous willows, what's next?
"People often ask me about the tree's story," Svedberg says. "If there is one, I'm writing it right now."
Follow the Broccoli Tree
@thebroccolitree
@thebroccolitreeart
facebook.com/thebroccolitree
thebroccolitree.com

Visit the Broccoli Tree in real life
Set your GPS for Alviksvägen, Huskvarna. It's a 15-minute drive from Jönköping and around two hours from Gothenburg.