What could make drinking in Stockholm more fun? Ah, oui: a lovely game of boules. Francophiles flock to this roomy bar-restaurant in Vasastan, where it's possible to sip cold Kronenbourgs and enjoy a round or two of the classic French ball-throwing game at the same time.
The gravel-filled courts here are all inside, so there's no risk of rain spoiling play, and you can bring your drinks to the edge of the game. Scoreboards at the end of each court make it easy to keep track of who's winning.
Most people team up with a few friends to play boules here. A group of four to six is ideal, but there's nothing to stop you playing a one-on-one game if you prefer.
As you might expect, there's a charge for playing: pay for the court separately (450 SEK for 90 minutes at the time of writing) or as part of one of the bar's food-and-boules combo deals.
The weekend brunch offer (we paid 265 SEK per person) is pretty good value. You can eat as much as you want from a big buffet of hot and cold food, including coffee and pancakes, and then play 90 minutes of boules. If you prefer, it's possible to play first and then eat afterwards.
At other times of the week, options include a pricey boules and seafood deal, or a proper Gallic feast including moules and steak frites.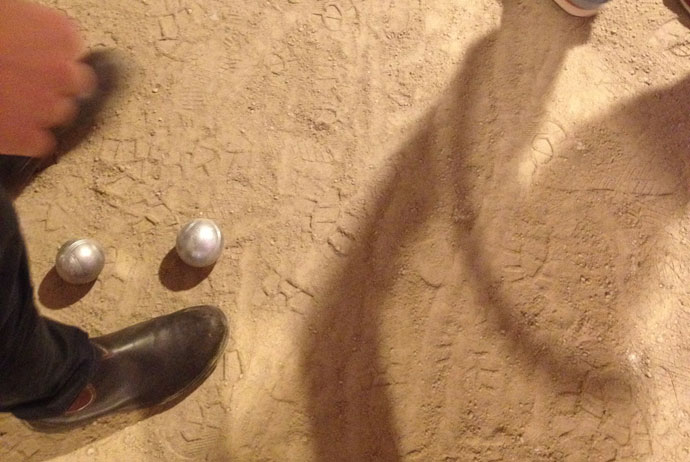 At busy times (and especially for the weekend brunch), bookings are recommended. Another tip: you might not want to bring your best shoes here, as the chalky gravel has a habit of getting everywhere.
Boulebar has expanded quite quickly and now has four bars in Stockholm, including this one, plus similar joints in Gothenburg and Malmö.
Boulebar Surbrunn
Surbrunnsgatan 46
Vasastan
Stockholm
+46 841 178 32
boulebar.se
Mon–Thurs 3pm–11pm, Fri 3pm–1am, Sat 10am–1am, Sun 10am–10pm
Last updated: March 2015
Like what you've been reading? Get our best tips by email!