Avenyn (or Kungsportsavenyen, to give the street its official name) is Gothenburg's main boulevard. Guidebooks sometimes describe it as the city's Champs-Élysées, but we think that comparison is a bit too generous and might leave first-time visitors feeling short-changed. Paris this ain't.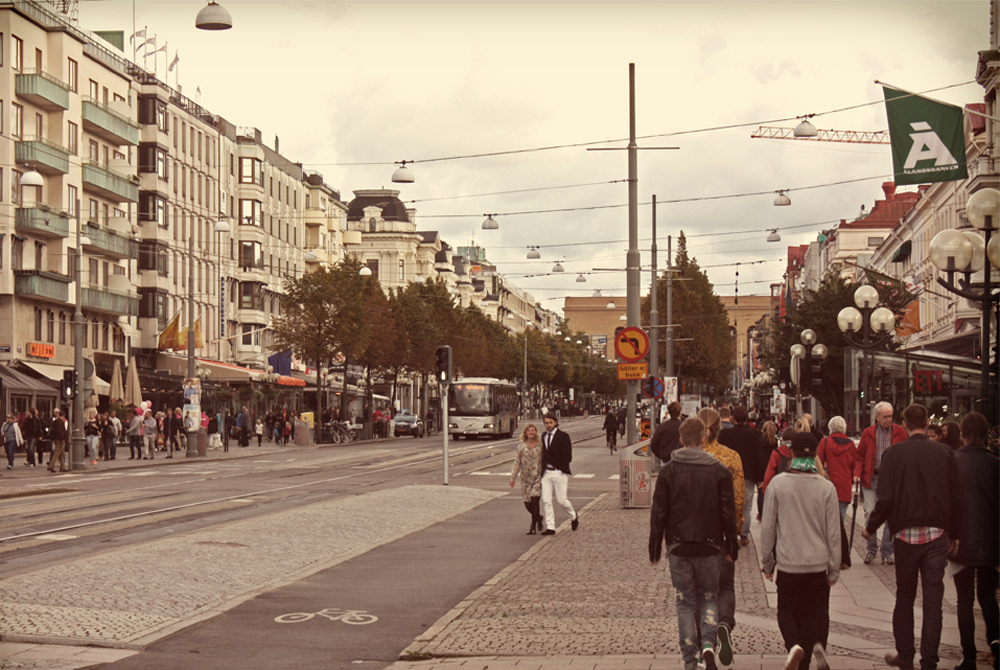 The wide avenue is charming in its own way though, cutting a long, straight line between some of the city's best sights. At one end is the imposing Konstmuseum, packed with Nordic art, and the impressive new city library. Almost a kilometre away at the opposite end of the avenue is the oldest part of Gothenburg, still surrounded by a moat.
Follow the tramlines and 19th-Century buildings that run along the boulevard and you'll see dozens of glitzy restaurants and bars aimed at the tourist market. When the sun is shining and tables are set up on the street, these places feel pretty lively. Unfortunately almost all of them are horribly overpriced; we'd advise saving your cash for another part of town.
While you're here (and most visitors end up walking along Avenyn at least once) be sure to check out some of the street art. Just outside the Konstmuseum on Götaplatsen is Swedish sculptor Carl Milles' seven-metre-high statue of the sea god Poseidon, which caused quite a stir when it was unveiled in 1931.
Residents complained that the statue's legs were too long for its body, and that the statue's penis was far too big. According to a local myth, Milles agreed to make the member smaller. In the process, he sneakily changed the position of the giant fish Poseidon is holding in his hand so that, when viewed from the steps of the nearby concert house, it looks like the original shaft is back with a vengeance.
Two other sculptures are worth seeking out. Just downhill from the museum is a statue of the Swedish author Karin Boye, best known for her dystopian novel Kallocain. She killed herself in the early 1940s and locals have kept up the rather lovely tradition of leaving a flower in the statue's hand from time to time.
A short walk away is a simple masterpiece by fellow Swede Carl Fredrik Reuterswärd. Called Non Violence, it shows a revolver with a knot tied in its barrel. Near-identical versions of this sculpture appear in cities around Europe, and also outside the UN headquarters in New York, USA.
Getting there
Take the tram to Kungsportsplatsen at the north end of Avenyn, or Valand, mid-way along. Buses 18 and 52 stop close to the Poseidon sculpture on Götaplatsen.
Last updated: September 2014
Like what you've been reading? Get our best tips by email!