In Stockholm, proper sit-down meals tend to be cheaper at lunchtime.
But even at fairly inexpensive restaurants in the central part of the city, you can bet on spending at least 150 SEK on a decent lunch. And that's before you start ordering drinks.
You could check out Stockholm's cheap food carts, but they're usually fairly spread out – and they're not the ideal choice when it's raining (or snowing, brrrr).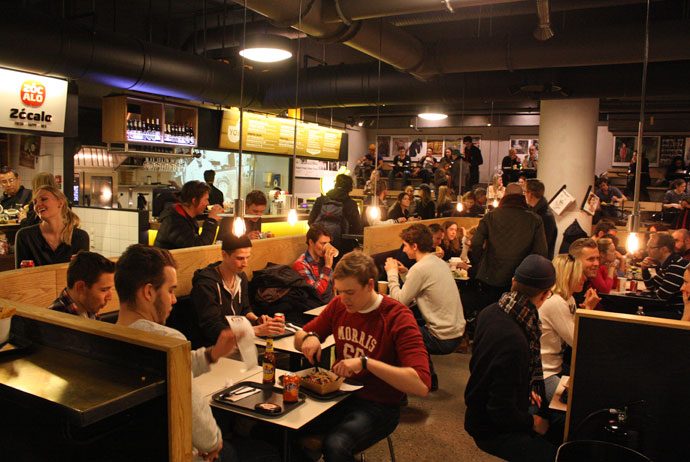 The popular spot known as K25 is the perfect compromise for cheap lunches, falling somewhere between food court and bar, with some of Stockholm's best street-food-style options together under one roof.

There are nearly a dozen food vendors at K25, each selling different specialities – from Greek salads to gourmet hamburgers. Other options include sushi, Mexican food and coriander-stuffed Vietnamese bánh mì. There's also a coffee place and a branch of Beijing 8, the dumpling chain that has outlets across Sweden, including this one in Gothenburg.

K25 is a cool place to hang out, with decent-sized portions and good prices (expect to pay around 90 SEK for lunch). On the downside, it can get extremely busy in the middle of the day; avoid the noon–2pm rush if you want to get a seat.

All the food at K25 Stockholm is available to take away. A little tip for when the sun's out: head a couple of blocks northeast with your bag of take-out food and you'll reach Humlegården, a pretty park that's perfect for picnics.

You can buy alcohol at K25 too, but strictly speaking you're supposed to drink it inside. If you're feeling cheeky (and we were), you can probably get away with slipping a bottle of beer in your pocket.

K25 Stockholm
Kungsgatan 25 (under the bridge)
Norrmalm
Stockholm

k25.nu
Mon–Fri 7.30am–9pm, Sat 11am–9pm
Like what you've been reading? Get our best tips by email!