Simply put, this is the best place to stay in Gothenburg. When it comes to views, facilities and service, there's nowhere else in the city that really compares.
Upper House occupies the top floors of the middle building at Gothia Towers. Like a hotel within a hotel, it feels super-exclusive but isn't over-the-top pretentious – and the service is just spot on.
Take the ear-popping glass elevator to the 25th floor and you'll step into a bright, minimalist lobby with panoramic views of the city. On one side there's an open-air terrace serving champagne and canapés; on the other is a fine-dining restaurant serving six-course dinners based around Swedish ingredients like lobster and reindeer.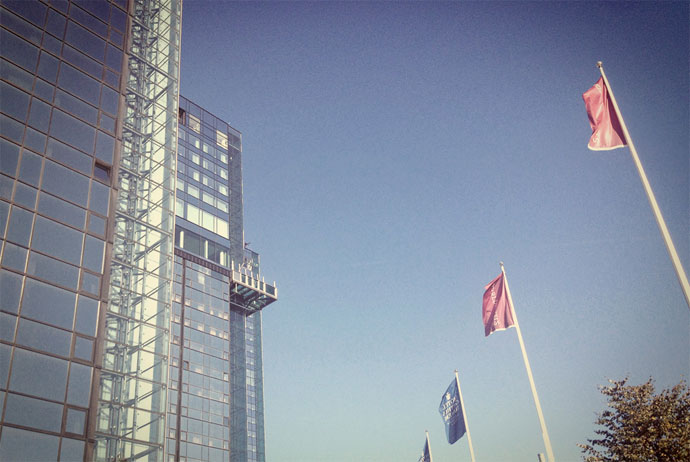 Rooms are located on floors 21–24, and all offer superb views of the city through sweeping glass windows. We should make it clear: this hotel is not the best choice for anyone with vertigo.
There are two main types of room to choose from. All of them come with sleek designer furnishings and two-meter-wide beds but the deluxe rooms on the corner of the tower, with dual aspect windows, are much bigger.
One other option is available too. But at more than 30,000 SEK per night, the two-storey grand executive suite, which has its own pantry and lounge area, is one of the most expensive hotel nights in all of Sweden.
All guests at Upper House get to use the gym and the spectacular glass-bottomed pool that clings to the outside of the tower, high above the busy street (you can just about see it in our picture, above). Hamam and spa experiences are available to non-guests, or as part of a sleep and spa package.
---
Make a booking now
Get the best rate on Booking.com
---
Upper House
Floor 25, inside the central building at Gothia Towers
Mässans Gata 24
Gothenburg
+46 317 088 200
upperhouse.se
Updated: September 2014