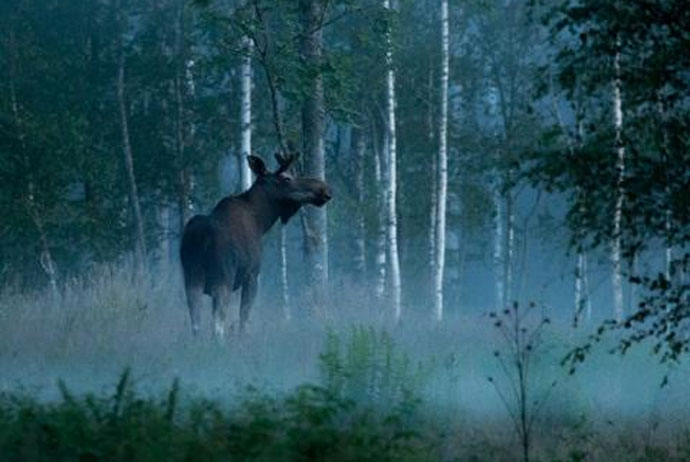 ✓  Exciting 5-hour tour
✓  Track and find wild moose
✓  Hike through boreal forest
✓  Eat by a secluded forest lake
✓  Chance to see wolves, foxes and lynx
✓  From per personDeep in the Swedish countryside, this tour will take you into the natural habitat of the Swedish moose. You'll track and find these beautiful animals in the wild, learning more about their lives and the forests that they inhabit.
Moose are wild animals and we believe that they belong in the forest, not in a zoo or a farm. This tour gives you the chance to see them in the wild, at their very best.
The local guides who run the tours enjoy meeting guests from all over the world and have been helping people see moose for more than 15 years.
Tour program
Meeting up with our guide at Kolarbyn Ecolodge in the early evening, you'll travel in a minivan to one of best areas in Sweden for watching moose. Once there, you'll sit down by a campfire overlooking a pristine lake, where birds like goldeneyes and herons are often spotted.
Apart from birds, this area is full of wild animals, including moose, roedeer, wild boar, hares, foxes, badgers, wolves and even lynx.
Once you've met your guide, you'll take a hike to explore the surroundings, a natural forest where the ground is completely covered by moss and scattered with various types of berry bushes. During the hike your guide will make several stops to share some interesting knowledge about moose, including why they are a vital part of the boreal ecosystem.
Returning to the campfire, you'll enjoy a delicious outdoor dinner – smoked lamb wrapped in flat bread together with organically grown vegetables. Wash it down with a glass of berry juice or a bottle of beer crafted by a local brewery. There'll be organic coffee, tea and chocolate cookies for dessert.
Later in the evening you'll drive through the forest in search of moose and other wildlife. The animals are observed from the van at a respectful distance and whenever there's a chance, you'll be able to step out and increase your chances of getting a good photo. Keep in mind that moose are shy animals. We don't feed them, as we want to continue finding them in their natural habitat.
The tour concludes at Kolarbyn Ecolodge.
FAQs
When is the best season for this tour?
The months between April and September are usually good for moose watching. From late April to May, moose feed in open areas which gives us lots of sightings, while June and July have the best light conditions for photography. During August and September, the bulls have grown antlers and we often see more moose bulls during this time because of the approaching rutting season. Note that during September we see most of the moose when it is too dark to take photos.
When do the tours run?
The starting and ending time for this tour depends on the season. Please make sure you reach the meeting point in time for the tour as we may not be able to wait for you if you are late.
How do I get to the meeting point?
Your guide will be at Kolarbyn Ecolodge, a five-minute drive from Skinnskatteberg or a two-hour drive from Stockholm. You can drive or use public transport (let us know if you need help planning the trip: hello@routesnorth.com).
Here is the address:
Address: Skärsjön, 73090, Skinnskatteberg
WGS 84: N 59° 48.311′, E 15° 43.718′
WGS 84 decimal: 59.80519, 15.72864
Can kids join this tour?
Yes, but the recommended minimum age is eight years, as we often stay out until late in the evening.
Do I need to be physically mobile?
Participants should be able to walk in the forest without difficulties. The walking level is easy. You will need to walk for about an hour at a slow pace in the forest (there are lots of stops along the way). If you are not able to walk in the forest you can wait by the campfire and still join the drive to see moose.
How big is the tour group?
This tour only allows small groups for a more genuine experience. There will be max seven persons with one guide. With two guides, there may be up to 14 participants in two groups.
Make an instant booking
Bookings and cancellations
Book and pay online at this page. You will receive an instant confirmation by email. All departures are guaranteed. Cancellations can be made at no cost up to 7 days from the time of booking. We will provide a 100% refund. Cancellations between 8 days from the time of booking and 46 days before arrival will be charged at 25% of the booking's total amount. Cancellations between 45 days and 15 days before arrival will be charged at 75% of the booking's total amount. Cancellations within 14 days of arrival will be charged at 100% of the booking's total amount.