Viking weddings are very much a thing at the moment – and you can see why they are so in fashion.
The idea of the bride wearing a simple Viking wedding dress outdoors in a beautiful setting such as a wood, or even on an island in the North Sea, seems very appealing.
And the recent TV series Vikings has done much to popularise this romantic image of a Viking wedding.
But were Viking weddings really like this? And how do you channel your inner Viking in a modern-day setting? Check out our guide to all you need to know about Viking weddings.
Viking wedding traditions
Traditional Viking weddings were always held on a Friday, which is Frigg's Day or Freya's Day, and lasted up to a week.
Freya was the Norse goddess of fertility, so it was considered good luck for the couple to marry on a Friday.
Also, for practical reasons, Viking weddings almost always took place in the summer as the weather was too bad in these northern climes for people to travel and to hold an outdoor celebration in the winter.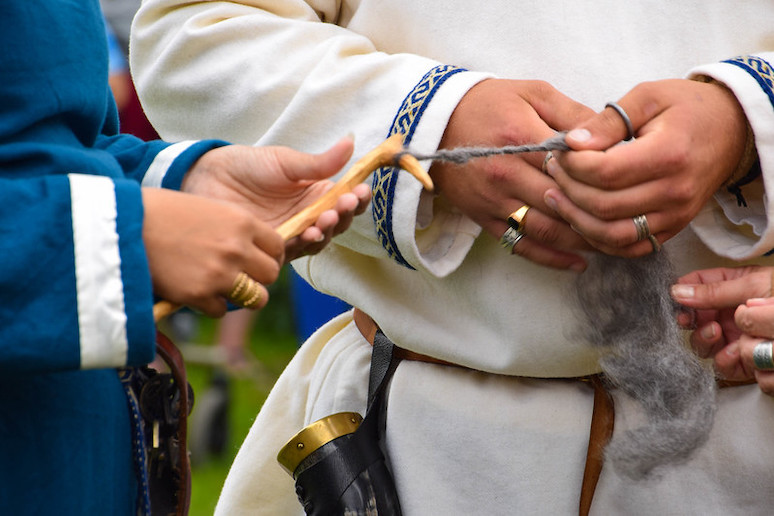 The Viking wedding rituals were considered very important too, but were different for the bride and groom.
Before the Viking wedding ceremony, the bride was taken to the bath house with her married female friends and relatives (unmarried females were excluded) and cleansed thoroughly.
Meanwhile, the groom went out with his mates to do a little grave-robbing! He and his friends took a sword from the grave of one of the groom's ancestors to give to his bride as part of the traditional Viking wedding sword exchange.
The bride would give him a sword from her family too, to symbolise the fact the she was now under the groom's protection, rather than her father's.
Viking wedding rings were placed on the hilt of the swords too, so that when the swords were exchanged the wedding rings were as well. These days you can actually buy modern versions online.
The tradition of handfasting often took place during the actual ceremony. This is where the bride's and groom's hands were bound together with ribbons or cords while they said their vows. It symbolised the entwining of their two lives – and is the origin of our modern-day expression "tying the knot".
For more about how to do traditional handfasting, check out this clip below.
And of course a big part of the celebrations was the feast.
Often the entire village would contribute food and help with the preparations.
The dishes would have been made from whatever was available seasonally, and may well have included fish or a hog roast.
But the drinking was just as important as the food! Traditional Viking wedding drinks were ale and honey mead, which the bride and groom had to knock back as well.
Viking wedding clothes
Traditionally, brides didn't wear white for Viking wedding ceremonies, but usually wore a long flowing dress of any colour with ruffles.
Bearing in mind that Viking weddings were outdoors, they often wore plenty of layers beneath the dress plus a fur-lined cloak over the top.
However, almost more important than the dress was the Viking wedding hair style, which was always worn long and flowing – the longer, the better – with a headdress or bridal crown made of silver and crystal, or straw and dried flowers.
Men's Viking wedding attire was quite simple too – usually just a decorated tunic and a fur-lined cloak – with the sword being the most important aspect of the groom's dress.
How to have your own Viking wedding
If you fancy your own nordic Viking-themed wedding, there are plenty of ways that you can take the best parts of a traditional wedding to give your own day a Viking vibe.
You can choose a woodland venue, such as this one in the New Forest, England that can also organise Viking activities including axe-throwing and archery.
The bride and groom may like to choose Viking style wedding rings, or the more ornate Viking rune wedding rings.
Alternatively, you could not bother with rings at all, and just go for a matching Viking wedding ring tattoo – check out some ideas here.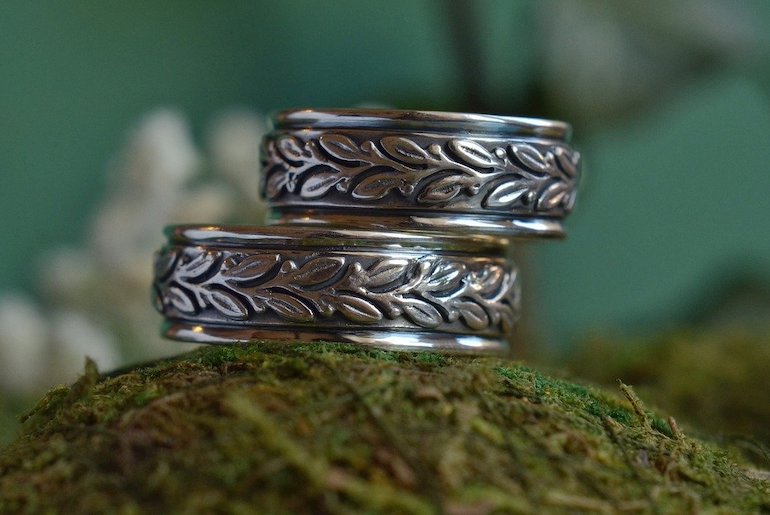 If you need some inspiration for DIY Viking wedding decorations, such as driftwood thrones and table decorations made from branches and fir cones, check out this homemade Viking wedding.
You can even buy your own Viking drinking horns for the mead and the toasts!
And if you want some help with the actual ceremony, here are some lovely ideas for a Viking wedding ceremony script that you can adapt and make your own.
Where to have a Viking wedding
And if you want to go the full hog and have a traditional Viking wedding organised for you, there are plenty of companies that can help.
Nordic Adventures can organise a full-on wedding in Denmark, complete with a traditional Viking wedding ceremony and a Viking wedding band and dancing.
You can choose your venue, from a medieval castle to an outdoor woodland to the Viking Open-air Museum with its traditional Viking hall.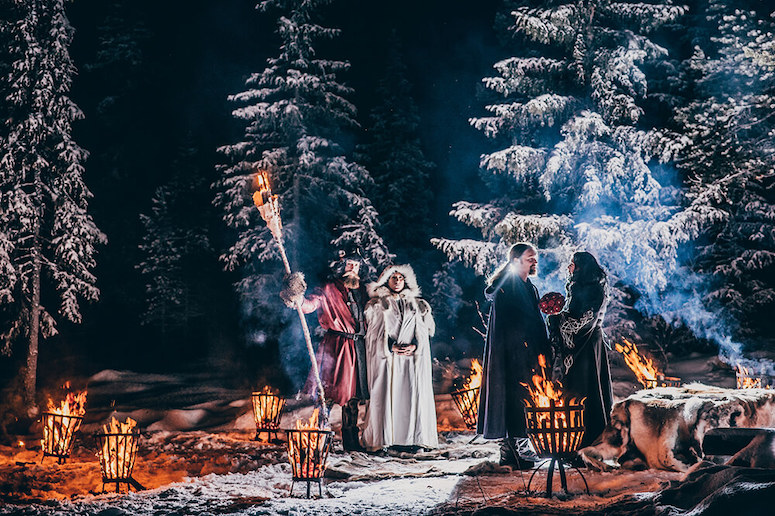 Or how about a wedding in a Viking long-house in the remote Orkney islands?
Spiritual Orkney can organise an authentic Viking wedding, with traditional music, Viking wedding vows, a Viking drinking horn, honey mead and the traditional handfasting ceremony.
Sweden's Icehotel can organise a wilderness wedding where you can arrive along the River Torne by long-boat, have your ceremony outside in the wilderness, then spend your honeymoon night in a room carved out of ice!
See also:
Where to find Vikings in Sweden
Viking attractions near Copenhagen
Norse names and their meanings