The Arctic Circle may be an abstract line around the Earth but, like the Equator, crossing it holds a fascinating grasp on people's imaginations.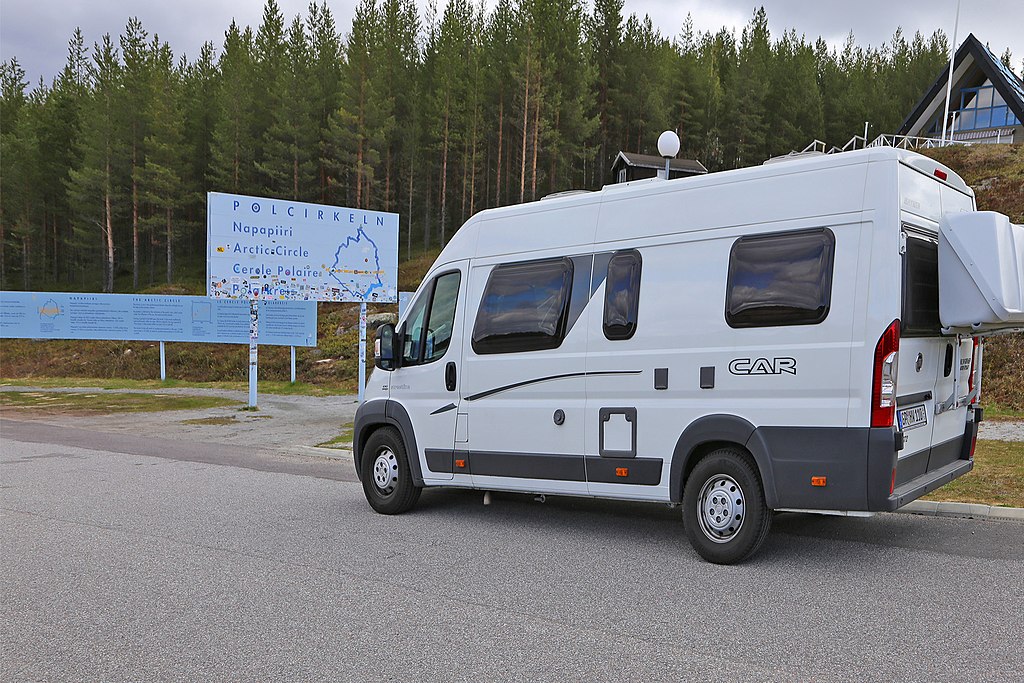 Swedish Lapland has several places where you can cross into the Arctic Circle and take the obligatory selfie by a sign in the road. But, it's worth sticking around afterwards, as there's plenty to explore in the vicinity.
So, why not combine a visit to the Arctic Circle with a stay in a nearby village and explore the surroundings? Here's our guide to where you can cross the Arctic Circle in Sweden.
First of all, what is the Arctic Circle?
With the North Pole at its centre, the Arctic Circle runs around the earth in the northern hemisphere at roughly 66°N. Some 9,900 miles long, this line of latitude embraces the Arctic region surrounding the North Pole.
North of this line, there are days – weeks even, if you head far enough north – when the sun doesn't set at all in summer (midnight sun) and doesn't rise in winter (polar nights). Travel to the area in and around the Arctic Circle and you will greatly boost your chances of seeing the northern lights.
How to get to the Swedish Arctic Circle
Daily flights run from Stockholm's Arlanda airport to Kiruna and Gällivare within the Arctic Circle, and to Luleå, Arvidsjaur and Skellefteå, south of the circle. There's also a night train from Stockholm to Gällivare, which takes around 15 hours.
So where can I cross the Arctic Circle in Sweden?
There are several points where roads heading north cross the Arctic Circle – all are marked with at least a sign, while some also have flags, visitor centres and snack stops.
Few people stop longer than to take a quick selfie and grab a cup of coffee, but we've chosen some Arctic Circle crossing points that are worth further exploration.
Juoksengi
Location
Some 20 minutes' drive north of Övertorneå, the Arctic Circle crosses road 99 in the little village of Juoksengi, also known as "Polcirkelbyn" which translates as "Arctic Circle village".
The circle is marked with a huge sign and international flags by the roadside.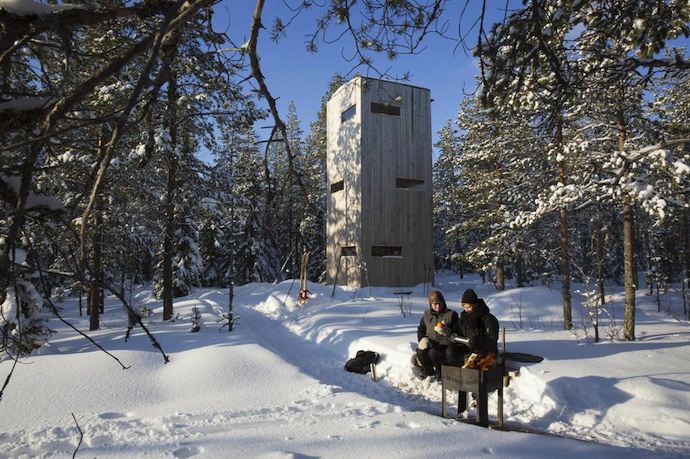 What to see and do nearby
Juoksengi lies just across the Torne River from Finland, and has a small visitor centre with information about the Arctic Circle and the village. In summer, events are held here, such as "Arctic Circle Swim".
Where to stay
One of the best places to stay in the vicinity is the Arthotel Tornedalen, a 40-minute drive south of Juoksengi. The hotel focuses on local handicrafts and art from the region and makes a good base from which to combine the Arctic Circle with a trip over to Finland.
Överkalix
Location
The Arctic Circle crosses the E10 road about 40km north of Överkalix – it's marked by a large sign, and there's a small summer-only service centre which sells coffee, ice cream and sandwiches (its opening hours are variable, though).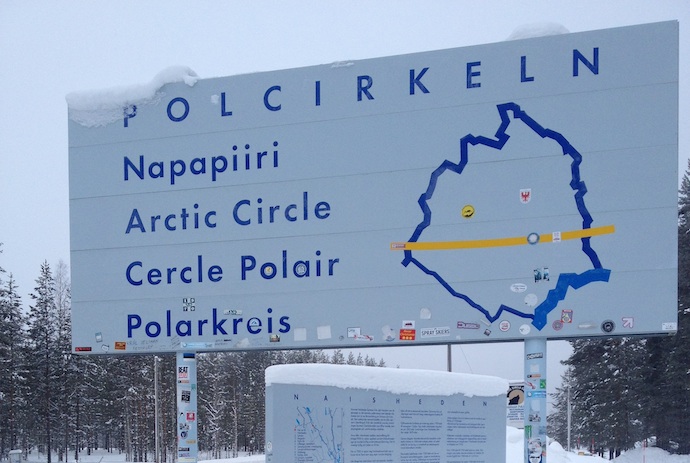 The easiest way to get here is by car, but if you're staying in Överkalix and don't have transport, most local hotels or B&Bs will offer a ride up to the Arctic Circle.
What to see and do nearby
Some 14km north of the crossing point, the village of Lansjärv is located by one of Swedish Lapland's most beautiful lakes, and has some great hiking trails nearby.
The lake, called "Sanningslandet", is the perfect spot for a summer dip.
About 15km north of Överkalix, the village of Rödupp is known for its Arctic strawberries. If you're here in summer, you can visit the local strawberry farm and sample some of the tasty berries that are grown slowly beneath the midnight sun in the fresh Arctic air.
Jokkmokk
Location
The Arctic Circle crosses the E45 road about 10km south of the traditional Sámi village of Jokkmokk. There's a visitor centre and a big sign by the roadside, in a beautiful lakeside location.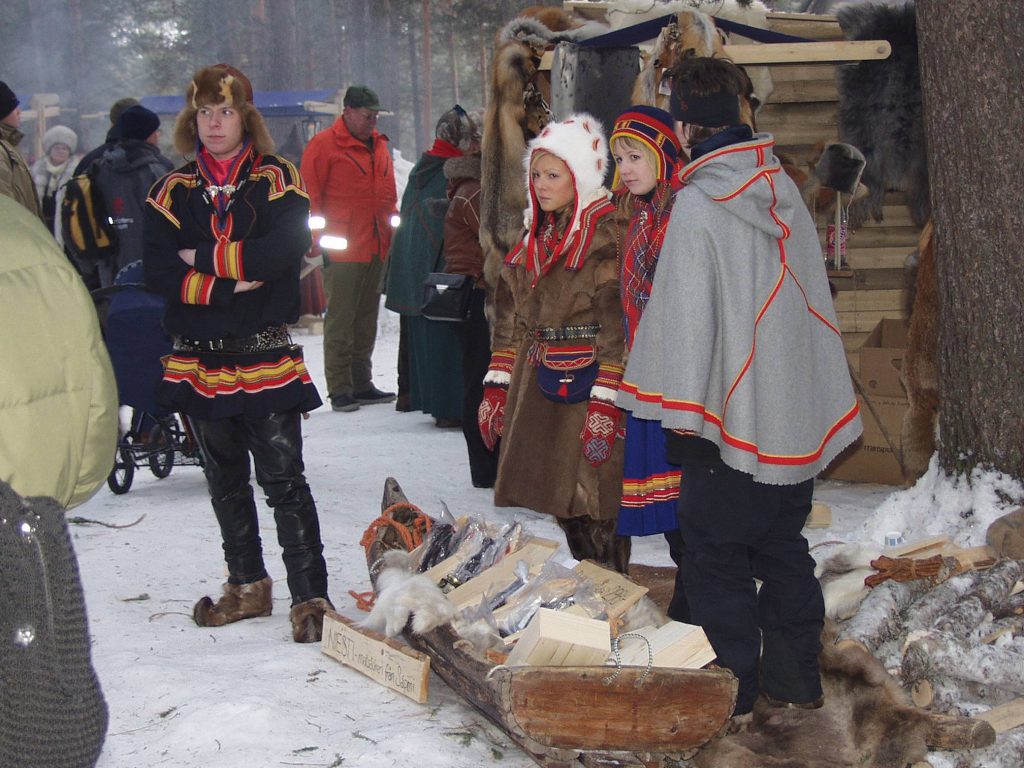 There's a second Arctic Circle crossing near Jokkmokk, 14km south of the village on road 97.
The location itself isn't that exciting – it's more or less a large parking lot with an Arctic Circle sign. But hey, it's still the Arctic Circle!
What to see and do nearby
Jokkmokk has long been an important Sámi village. Its biggest event of the year is the 400-year-old winter market, which takes place on the first Thursday of February and lasts for three days.
Sámi from all over the region gather to meet and trade, bringing a festival vibe to the village, with cultural events, music, food stalls and, of course, reindeer.
Even if you're not here at market time, Jokkmokk has plenty of independent shops year-round selling traditional Sámi produce, such as reindeer sausages. To learn more about Sámi culture, pop into the Ajttje Sami museum on the main street through the village.
Hot tip: For great views of the Arctic Circle landscapes, take the Inlandsbanan on its 14-hour journey from Östersund to Gällivare, which stops off in Jokkmokk.
Or, for a more in-depth exploration of the area, try this amazing 8-day train trip, which includes accommodation and tours in various towns en-route.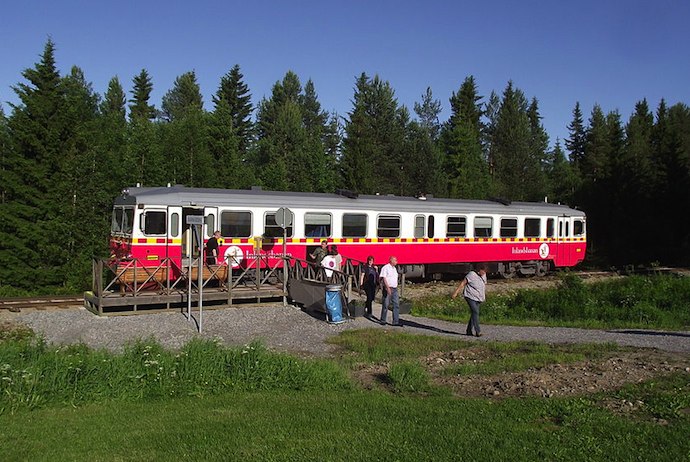 Murjek
Location
About 60km east of Jokkmokk, right in the middle of the village of Murjek, the Arctic Circle is marked by an Arctic Circle sign on road 810.
Jokkmokk is the nearest town to Mujek, with daily buses running between the two. The journey takes about an hour, so it's easy to combine a visit to both places.
What to see and do nearby
Murjek is a charming little village with its own train station and a local heritage centre (hembygdsgård), which is open during the summer.
It has a café, where you can enjoy Swedish fika and lunch, a museum of local history, and even an on-site hostel, if you fancy staying overnight.
See also:
Spa experiences in Swedish Lapland
Where to stay in Swedish Lapland
Like what you've been reading? Get our best tips by email!