It's hard to find a good, cheap place to fika (basically, drink coffee and have a chat) in Gamla Stan, as so many of the cafés charge high prices.
Schwiezerkonditoriet is also on the pricey side, but at least it's a little bit different from its neighbours, with Swedish words and phrases scrawled all over its salmon-pink walls in white pen, and little tealights flickering away on the tables.
In the wintertime the café is a cosy place to come and watch the snow falling on the cobbles outside – and the bowl-sized mugs of chai are perfect for warming frozen fingers.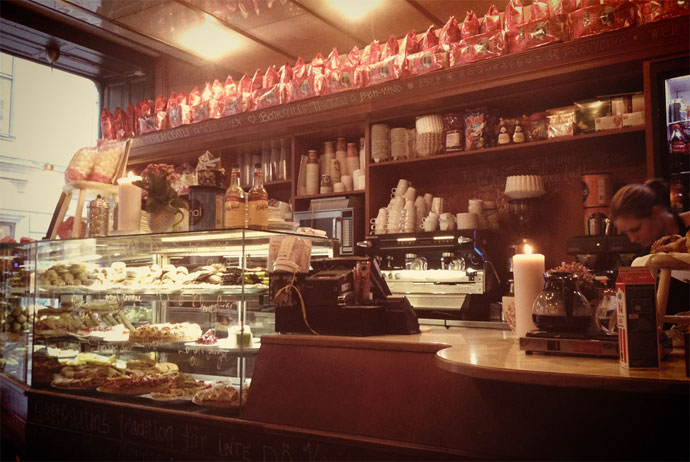 A lot of the classic Swedish cakes and pastries are available here, like punschrullar (liqueur-flavoured cakes covered in green marzipan, with both ends dipped in chocolate), and chokladbollar (literally, chocolate balls).
You can also get big, tasty sandwiches, which are served up – for some reason – with a thick slice of watermelon. Call it a free pudding.
Service is pretty quick but as the place is so small, it can get busy quickly.
Schwiezerkonditoriet
Västerlånggatan 9
Gamla Stan
Stockholm
+46 841 151 77
Daily 7am–8pm
Like what you've been reading? Get our best tips by email!