Spritmuseum takes a cheeky yet honest look at Sweden's complex relationship with alcohol. Drinking was a major problem here in the 1800s, and the country still places some of Europe's strictest controls on the sale of booze (the government-run monopoly, Systembolaget, is the only retail outlet with permission to sell drinks stronger than 3.5%).
The lively museum isn't very big, but is neatly put together with interactive exhibits and plenty of information in English. If you've ever imbibed a few too many drinks and experienced the highs and lows of getting drunk, you'll find plenty you can identify with.
Stands near the entrance provide a pungent introduction to snaps – the fierce alcoholic drink that's served up with meals during midsummer, Christmas, and pretty much any other special occasion you can think of.
Squeeze the little rubber pumps here and you'll get wafts of some of the intoxicating snaps flavours made here in Sweden, like citrus, dill and summery elderflower. Pay 100 SEK extra and you can get a tray of samples to try as you walk around.
Nearby, in a caravan kitted out with its own sound system, you can listen to Swedish snapsvisor. These are the songs traditionally sung at dinner parties before everyone gulps down a shot. There are more than 200 songs to choose from, though most share a common theme: they're about getting drunk.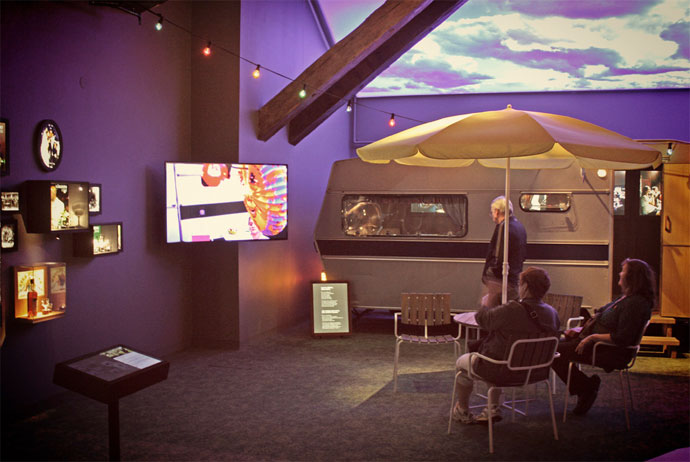 Other exhibits look at alcohol's effect on lust, sin, sex, and romance. As you might expect, a pretty large chunk of Spritmuseum is devoted to the morning after. Lying back on the sofas here you can watch a loud, remorse-filled film that shows a man getting smashed, falling over and generally feeling sorry for himself.
If you're somehow still feeling thirsty after that, the museum has its own tasting room and bar. But – and here's a prime example of Sweden's alcohol legislation in action – you cannot buy booze in the attached Absolut Art gift shop.
Entry
100 kr. The tasting tray (can be shared between two) costs an extra 100 SEK and comes with an audioguide.
Getting there
Take the tram from Sergels Torg to Djurgården and get off at the stop called Liljevalchs/Gröna Lund. The museum's entrance is 300m northwest along the waterfront.
Spritmuseum
Djurgårdsvägen 38
Djurgården
Stockholm
+46 812 131 300
spritmuseum.se
Sept–May daily 10am–5pm (until 8pm on Tues)
June–Aug daily 10am–6pm (until 8pm on Tues)
Like what you've been reading? Get our best tips by email!