You may have seen the attractive designs of Norwegian rosemaling art on wooden bowls, plates, chests or on wall plaques.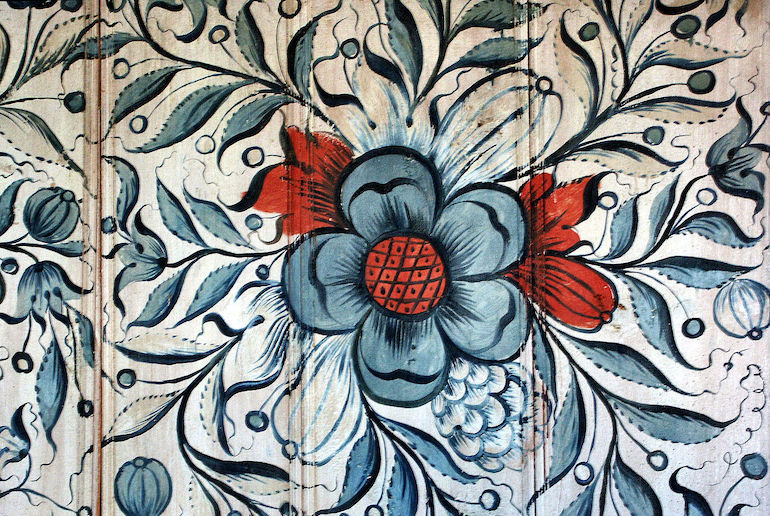 The brightly coloured floral designs are usually painted on a red or blue background, though black, white or orange background can sometimes be found too.
This traditional style of painting is very popular throughout the Scandinavian countries, but do you know about the history of Norwegian rosemaling or the difference between the regional designs? 
Read our guide to find out all you need to know about Norwegian rosemaling.
What is Norwegian rosemaling?
The name rosemaling means "rose painting" or "decorative painting" and it's a traditional style of folk art that dates back to the 1700s. It consists of brightly coloured floral designs, either painted or carved on wood.
The style of painting grew up in the remote valleys of eastern Norway and, since transport links between the valleys were limited, each valley developed its own distinct style and rosemaling designs.
The original rosemaling artists were considered crafts people for their carving and painting skills, which added a splash of colour to the otherwise austere Norwegian stave churches.
They were also employed by wealthy families in the region to decorate the interiors of their houses.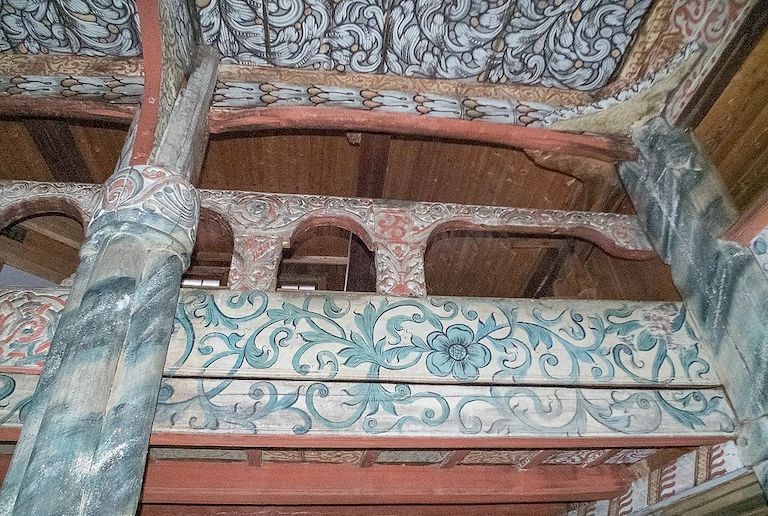 The early designs were strongly influenced by the flamboyant Baroque and Roccoco styles of decoration that were popular throughout Europe at the time.
The colours used were dictated by what could be found locally – the rusty red shades came from iron oxide in the ground, while the Prussian blue pigment was very expensive so used sparingly.
In the early twentieth century there was a wave of immigration from Norway to America.
The impoverished Scandinavian immigrants packed their belongings in beautifully painted wooden trunks, thus introducing rosemaling designs to the US.
American artists and craftspeople adopted and adapted the designs and the popularity of rosemaling as a folk art spread throughout the US.
While the prevailing aesthetic in Scandinavian decor is minimalism and functionality, the flamboyant rosemaling designs are often used to add a splash of colour and contrast to the muted tones and clean lines.
Norwegian rosemaling styles by region
Norwegian rosemaling patterns vary according to the region from which they originated.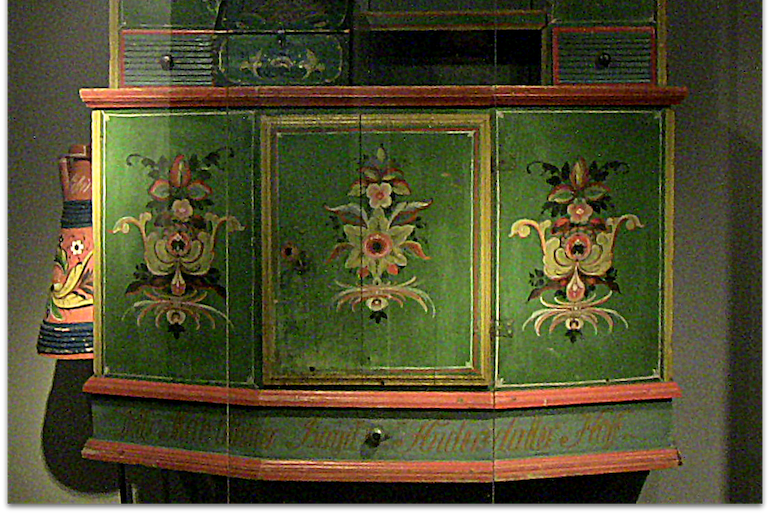 The three main styles of rosemaling are Telemark, Hallingdal and Rogaland, which are the names of the valleys where they developed.
The rosemaling patterns from the Telemark region typically feature asymmetrical decorative scrolls and flowers, with the dominant colours usually being Prussian blue and oxide red.
The flowers tend to be more realistic and can be recognised as specific types of flower such as tulips or roses, rather than the figurative flowers of the Telemark designs.
The rosemaling patterns from Rogaland tend to be symmetrical patterns that include both scrolls and flowers, but with blue, white and sometimes black backgrounds.
For more on the regional rosemaling designs, check out this clip.

Where can you see Norwegian rosemaling?
One of the most impressive examples of rosemaling art can be seen in the beautifully preserved Rambergstugo building within the Heddal Open-air Museum in the Telemark region.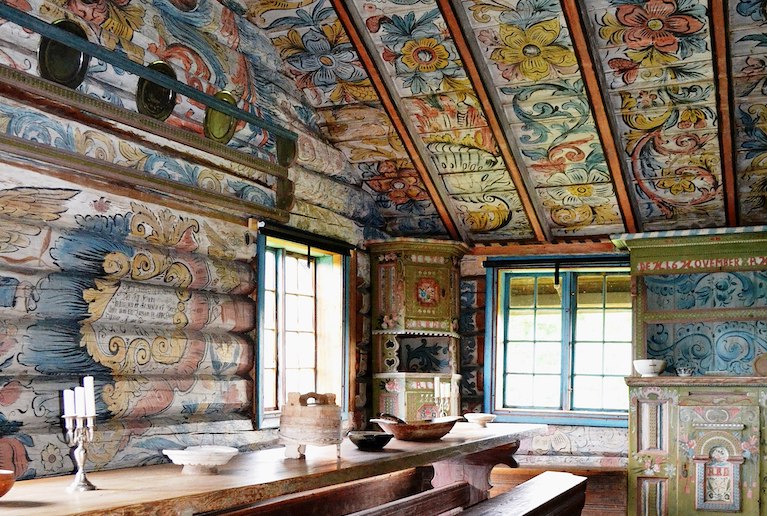 Painted in around 1784 by skilled rose painter Olav Hansson, the inside of the house is covered in some of Norway's finest decorative painting, including the walls, ceiling and the furniture.
What is Swedish dalmålning?
Dalmålning is similar to rosemaling, but developed in the Swedish region of Dalarna in the 18th century. It's unknown whether it was influenced by the Norwegian rosemaling, or whether it grew up separately from Swedish artists and craftspeople.
The style of Swedish dalmålning is slightly different to the Norwegian rosemaling, featuring ribbons and large figurative flowers and plants.
Dalmålning is also known as kurbits art after the flamboyant mythical kurbits plant that features in some of the Swedish artworks.
And if you're wondering how to tell if it's rosemaling or kurbits art, you should look out for the type of flower or plants that are depicted. The Swedish paintings often feature the imaginary kurbits gourd, while Norwegian rosemaling usually depicts more recognisable flowers.
The best-known example of the Swedish dalmålning style is the Dala horse, a red painted wooden horse decorated with brightly-coloured ribbons. 
Where to buy rosemaling gifts
If you're in Norway and looking for Norwegian rosemaling gifts, drop into the Unni Marie Rosemaling workshop and shop, just outside Ølen in Vindafjord.
Here, the artist Unni Marie makes and sells a wide range of rosemaling souvenirs, from bowls and wooden chests to signs and baskets. She'll even paint rosemaling designs on your bike or skis too!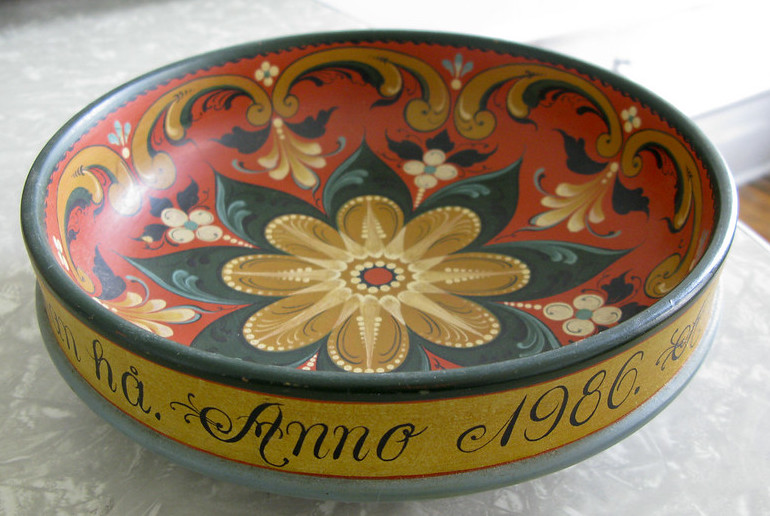 If you're not in Norway, Etsy has a good selection of rosemaling gifts by different artists around the world, from mugs to art prints to carved rolling pins and antique cake stands.
They also have some beautiful rosemaling embroidery, with the traditional rosemaling designs embroidered onto tea towels and table runners.
Do-it-yourself rosemaling
And if you want having a go at rosemaling yourself, you can get rosemaling stencils free here.
The basic patterns are designed to help beginners get started on rosemaling designs, and the website also has tips on techniques for rosemaling and helpful hints for getting an authentic look.
Rosemaling tattoos
Rosemaling tattoos are increasingly popular and can be found as a pretty subtle flower design on an ankle or wrist or as floral full-arm or shoulder and back design.
And if you don't want to commit to a permanent tattoo, Etsy sells stick-on temporary rosemaling tattoos.
See also:
Traditional Norwegian sweaters
What's so special about Swedish art and design?
Nordic and Viking tattoos – examples and inspiration
Scandinavian Christmas decor: the coolest decorations from the Nordic countries
Like what you've been reading? Get our best tips by email!