Compared with lots of other countries, Denmark is an extremely safe place to visit. It regularly appears near the top of the annual Global Peace Index, and can therefore proudly stake a claim to being one of the least troubled countries on Earth.
But just because Denmark is safe and peaceful, that doesn't mean that you'll always have good luck there. The country still sees its fair share of crime and, just like at home, there's a chance you could wind up getting involved in an accident. For that reason (and plenty of others) you should definitely invest in some decent travel insurance before your trip to Denmark.
A good policy will cover you against all sorts of mishaps, from stolen phones and laptops to broken ankles caused by icy pavements, and should be up there on your holiday planning list alongside booking your flights and accommodation.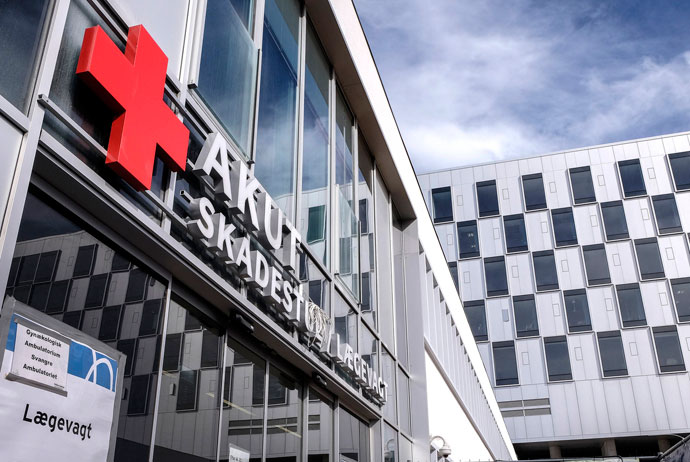 Who needs travel insurance for a trip to Denmark?
If you're visiting Denmark and you ordinarily live somewhere else (even if that's a fellow EU country) then you should seriously consider travel insurance.
While it's true that EU citizens visiting Denmark get emergency medical care and treatments for pre-existing conditions through the European Health Insurance Card, bills for longer-term treatments and private consultations could add up quickly.
If you're visiting from outside the EU and the Schengen area, you must be able to prove that you have sufficient travel insurance to cover you during your stay in Denmark and the other Schengen countries.
If you don't have a travel insurance policy that will cover medical expenses of at least €30,000 (and also cover emergency medical evacuations) then it is likely that your visa application will be rejected outright. The policy needs to be valid for the entire length of your intended stay in the Schengen zone, plus an additional 15 days.
What good travel insurance will protect you against
Crime
It's unlikely that you'll get tangled up in any sort of crime in Denmark, but there are a few things to keep an eye out for, especially in big cities like Copenhagen. Pickpockets often work crowded areas and are well practiced at pulling smartphones out of pockets and bags without their owners noticing.
You should also keep a close watch on luggage, especially while riding trains and buses. Don't leave handbags or laptop bags hanging on the back of chairs in restaurants and bars. Thefts from hotel rooms are rare in Denmark, but stuff can go missing from shared dorms at hostels. A good travel insurance policy will cover you against thefts and help you to get gadgets replaced while you're on the road.
Accidents
Thanks to Denmark's low crime rate, you might fancy taking your chances without insurance. The thing is, accidents can happen wherever you are. Ending up in hospital because of a fall, a cycle accident or a car crash is never fun, but insurance can help to ease an already stressful situation and give you all the support you need to get back on track.
Lost items, missed connections and family trouble
Missed your flight? Need to cancel your trip and look after a sick relative back home? Left your snazzy new phone on the bus in rural Denmark? Having a good travel insurance policy to back you up can give you a much-needed mood boost – and save you a stack of cash on replacement flights, accommodation and gear.
Things to look out for when buying insurance
Exclusions
There's no point in getting travel insurance if it doesn't cover you for all of the fun activities you've got planned for when you arrive. Some insurance companies exclude certain activities and will not pay out if you're injured while doing those things. This part of the policy is worth checking carefully because even activities that can seem extremely tame (like snowshoeing, for example) can be grouped together with more dangerous sports like snowboarding and skiing.
Winter sports
Compared with Sweden and Norway, proper mountain sports aren't really a big deal in Denmark (thanks partly to how flat the country is). But insurance companies can still consider things like ice skating as winter sports – so think twice before strapping on those skates at the Christmas market!
Measly payouts
One of the biggest frustrations with travel insurance providers is stingy payouts. If you've lost a laptop that costs $1200, getting just $700 back from the insurer seems like a bad deal. Always check the small print and make sure that your gadgets are covered up to their full value (or as close as possible).
Excessive excesses
Another problem with travel insurance can be the unfairly high excesses (the amount of money you have to pay when you make a claim). Good insurance companies tend to keep these excess charges nice and low, so that you don't end up paying out hundreds just to make a claim. Check the terms and conditions carefully when you buy your insurance and see how much they will want you to cough up if you lose that beloved camera.
A cap on the value of your gadgets
Lots of travel insurance policies put a very low cap on the amount you can claim for gadgets and electronic devices. If you're travelling with lots of different devices like phones, cameras and laptops, you might want to consider upgrading your policy. Many insurers call this 'business cover' but you don't usually need to be on a business trip to take advantage of it.
The small print
Yes it's boring and yes it will make your head hurt, but we can't recommend this enough! A quick read through the small print can help you to feel confident that you're getting a good policy and will be well looked after in the event that something goes wrong. It will also help you to avoid any nasty surprises when it comes to making a claim.
Need a recommendation?
There's no shortage of insurers offering travel insurance for trips to Denmark, but our advice is simple: go with World Nomads.
This company has been running for ages and has a great reputation for looking after its customers. We wouldn't recommend anyone else for a trip to Scandinavia.
Their cover is reasonably priced and can be amended quickly and easily online, even if you've already started travelling.
Other reasons for choosing World Nomads
• You can extend your policy online if you decide to keep travelling
• You can make an insurance claim online, even if you're still travelling
• Skiing, snowboarding and loads of other activities are easy to get covered
• Policies are easy to understand, and can be bought anywhere
• There's 24-hour emergency assistance, wherever you are
• There's special cover on offer for digital nomads, which means you can get your laptop, camera and phone protected nice and easily
Get a quote for your trip to Denmark here, or start by filling out the form below.
NB: We'll get a small commission if you book with World Nomads through one of the links here (don't worry, the price you pay remains the same). Even if you choose not to go with them, please make sure you get some other kind of travel insurance – it really can help you out if things go wrong.