We all know how popular all things Scandinavian – and Swedish, in particular – are at the moment, and that includes girls' names!
After all, the Swedes have a bit of a reputation for being wholesome, happy and healthy, and why wouldn't you want those attributes for your new-born baby girl?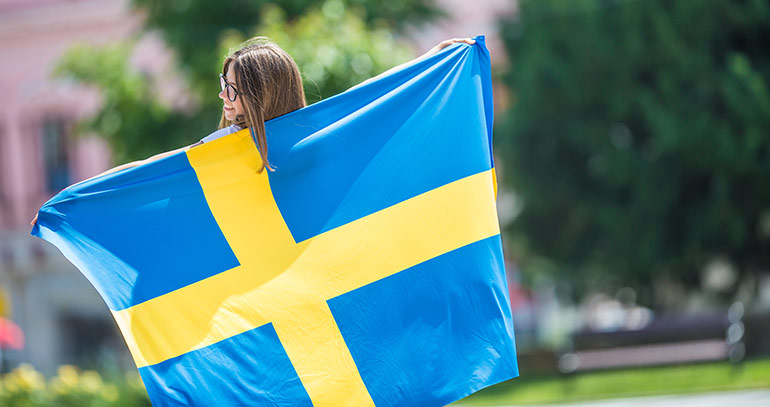 Add to that the (very stereotypical) image of Swedish women being blonde, blue-eyed, strong and independent, and you can see why Swedish names for girls are having a resurgence in popularity.
So, if you're thinking of picking a Swedish name for your baby, we've done the leg work for you – we've looked into which are most popular Swedish girls' names right now, and which are the most common Swedish girls' names overall.
We've also looked into the origins of some of the most popular Swedish baby names for girls, so that you know what each name means and where it came from.
The most popular names for newborn Swedish girls
So what are the most popular names right now? We've ranked Swedish girls' names here by popularity, according to the 2020 figures from Sweden's official statistics bureau. And here are the top ten Swedish girls' names for newborns.
Alice
Maja
Elsa
Astrid
Wilma
Freja
Olivia
Selma
Alma
Ella
What do Swedish girls' names mean?
Some Swedish names originate from ancient Norse sagas, some from more recent traditions, while others derive from nature or religious cultures.
Often different sources suggest different derivations, and sometimes the origins have evolved or got lost over the years, leading to some names having several different meanings.
Here's an insight into the origins of some of the most popular Swedish names for girls.
And if you want to know how to pronounce some of these names in the truly authentic Swedish way, check out this video:
Alice
Top of the rankings, Alice is currently the number one name for newborn girls in Sweden, and has long been a popular choice.
It comes from Germanic or English roots and it means "kind" and "of noble origin". Lewis Carroll's Alice in Wonderland provided a possible early inspiration, though perhaps a more common influence today is Alice Cullen from the Twilight series of books and films.
Maja
A truly Scandinavian name, Maja is a very popular name for girls in Sweden. Some sources say that it means "splendid" or the "goddess of springtime and warmth", while others claim is a corruption of the Arabic Marie, or Maria, and means "of the sea". Either way, it's a very pretty name for a girl and certainly has a Swedish vibe.
Elsa
Of course, there's no doubting the reason behind the popularity of the name Elsa for Swedish baby girls in recent years.
Disney's strong female Nordic character Elsa in the phenomenally popular film Frozen has been a role model for young girls for nearly a decade now, and shows no sign of abating. The name has actually evolved as a shortened from of the name Elisabeth and means "pledged to God".
Astrid
What's not to love about this popular Swedish girls' name, which has Norse origins and means "divinely beautiful" or "God's strength"?
Sweden's best known Astrid is Astrid Lingren, author of a series of books about the independent, quirky and archetypical Swedish girl Pippi Longstocking.
Non-Swedes may associate the name more with the mellow tones of Brazilian Bossa Nova singer Astrid Gilberto, whose soulful rendition of the classic Girl from Ipanema is known the world over.
Wilma
Short for Wilheminia, this popular Swedish girls' name means "strength" and "determined protector" and derives the Germanic word for "helmet". A good choice for those wanting to bring their daughter up strong and brave.
Freja
Freja is an old Norse name that means "lady or noblewoman". Freja (also sometimes spelt Freya or Frida) was the Norse Goddess of love, beauty and fertility, who is depicted as a blonde blue-eyed beauty in traditional Norse lore.
Olivia
Popular throughout the whole of Europe and the US, Olivia is of Latin origin and means "olive". It signifies peace and fertility.
Selma
Short for Anselma, Selma is a name of Celtic origins that means "beautiful view" or an old German word meaning "helmet of God" and "safe".
Alma
The origin of the name Alma in Sweden is "loving", though its Latin origin means "nourishing" and "kind' – either way, they're pretty good characteristics to bestow on a baby!
Ella
The name Ella come from German origins meaning "all, complete" or a "fairy maiden". However, it's more commonly used in Swedish as a diminutive of Elisabeth or Eleonor (meaning "shining light").
And there are no shortage of famous Ellas to take inspiration from, from the singers Ella Fitzergerland and Lorde (real name Ella Yelich O' Connor) to the Swedish actress/gymnast Ella Wahlestedt and Swedish film director Ella Lemhagen.
Most popular girls' names in Sweden overall
And if you're looking for a more traditional Swedish girls; name, here are top ten favourite Swedish names for women of all ages.
Anna
Eva
Maria
Karin
Sara
Kristina
Lena
Emma
Kerstin
Marie
Anna
Anna is the most common name in Sweden for women of all ages, and means "grace". It is also a diminutive of the pretty Swedish name Annali, meaning "graceful meadow".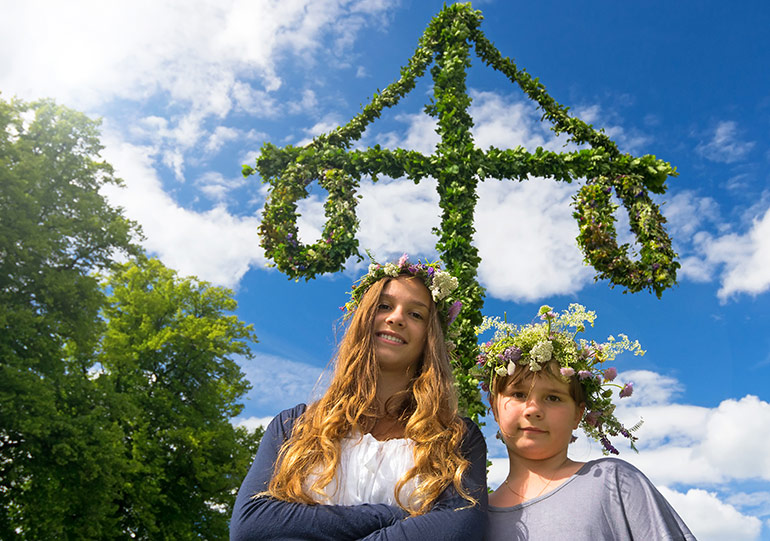 Eva
Eva is a popular name in Scandinavia, Czech Republic and Poland and means "mother" or "life". The name is Hebrew in origin and, of course, is a variation of Eve, the first mother. Swedes often combine it with a second name, as in Eva-Lisa or Eva-Karin.
Maria
Although it's of Latin origin, Maria is very popular in Scandinavian countries and appears way back in several of the Norse sagas.
There are many variants, including Marie, Mary, Mariah, but the most common meanings of the name are "wished for child", "bitterness" and "rebellion". There are plenty of well-known Marias to inspire, including opera singer Maria Callas, influential educator Maria Montessori, double-Nobel Prize winner, Marie Curie and tennis player Maria Sharapova.
Karin
Pronounced a little bit like "car-in", Karin is of Swedish origin and means "the pure one". Originally, a Swedish variant of the name Katherine, it's been a consistently popular name in Sweden for many years.
Sara
Originally from Hebrew, the name Sara means "princess". It's been popular in Sweden for a long time, with the first recorded use being way back in 1464.
Kristina
The name Kristina and its common variant Christina are of Scandinavian and Czech origin and mean "follower of Christ" or Christian. It's thought to derive from the ancient Greek christos, meaning "anointed one". Famous Swedish Kristinas include the Queen of Sweden, who reigned from 1632 until 1654 when she abdicated to become a Catholic.
Lena
Lena means "light" or "ray of light" and has connotations of being bright – a good choice if you want your daughter to grow up clever and studious! It's also often used a diminutive of longer names such as Helena, Yelena and Madalena.
Emma
Popular throughout Europe and the US, Emma has Germanic origins. Some sources suggest it derives from the Germanic word ermen, meaning "whole" or "universal", though other sources say it comes from ermunaz meaning "strong and powerful". Either way, it's a good choice of name for a well-rounded child.
Kerstin
A variant of Kristina, the name Kerstin is popular in Sweden and simply means a Christian.
Marie
The name Marie or Mari is thought to have Latin or Hebrew roots, and, like its variant name Maria, means "beloved or much-wanted child". Other sources claim it as an Arabic word meaning "of the sea". Take your pick!
Other popular Swedish girl names (A to Z)
Not a fan of the top ten Swedish girl names? Try these other Swedish girl names, from Agnes to Yvonne! These are the top 200 most common names for females in Sweden, according to the official statistics bureau.
Agnes
Agneta
Aina
Alexandra
Alice
Alicia
Alma
Alva
Amanda
Andrea
Anette
Angelica
Anita
Ann
Ann-Charlotte
Ann-Christin
Ann-Marie
Anna
Anne
Anneli
Annelie
Annette
Annie
Annika
Åsa
Astrid
Barbro
Beatrice
Berit
Birgit
Birgitta
Britt
Britt-Marie
Britta
Camilla
Carin
Carina
Carolina
Caroline
Catarina
Catharina
Cecilia
Charlotta
Charlotte
Christina
Christine
Clara
Cornelia
Ebba
Eivor
Eleonora
Elin
Elina
Elisabet
Elisabeth
Elise
Ella
Ellen
Ellinor
Elsa
Elvira
Emelie
Emilia
Emma
Erika
Ester
Eva
Evelina
Ewa
Fanny
Felicia
Filippa
Frida
Gabriella
Gerd
Greta
Gudrun
Gun
Gunilla
Gunnel
Gunvor
Hanna
Helen
Helena
Helene
Ida
Inga
Inga-Lill
Ingeborg
Ingegärd
Ingegerd
Ingela
Inger
Ingrid
Iréne
Irene
Iris
Isabella
Isabelle
Jeanette
Jennie
Jennifer
Jenny
Jessica
Johanna
Josefin
Josefine
Julia
Kajsa
Karin
Karolina
Katarina
Kerstin
Klara
Kristin
Kristina
Laila
Lena
Lilian
Lillemor
Lilly
Lina
Linda
Linn
Linnea
Linnéa
Lisa
Lisbeth
Louise
Lovisa
Madeleine
Magdalena
Maj
Maj-Britt
Maja
Malin
Margareta
Margaretha
Margit
Mari
Maria
Marianne
Marie
Marie-Louise
Marina
Marita
Märta
Martina
Mary
Mathilda
Matilda
Maud
Mikaela
Moa
Molly
Mona
Monica
Monika
My
Nathalie
Nina
Nora
Olivia
Pernilla
Petra
Pia
Rebecca
Rebecka
Rut
Ruth
Saga
Sandra
Sanna
Sara
Selma
Signe
Sigrid
Siri
Siv
Sofia
Sofie
Solveig
Sonja
Stella
Stina
Susanna
Susanne
Svea
Therese
Therése
Ulla
Ulrika
Vera
Veronica
Victoria
Viktoria
Viola
Wilma
Ylva
Yvonne
See also:
Swedish boy names
Stockholm for kids
Copenhagen with kids
Theme parks in Scandinavia
Like what you've been reading? Get our best tips by email!