You don't have much time left to see Stadshuset, Kiruna's city hall. Unlike some of the city's other landmarks, which are being moved to stop them falling into the mine, the city hall will be knocked down completely and a new one built in its stead across town.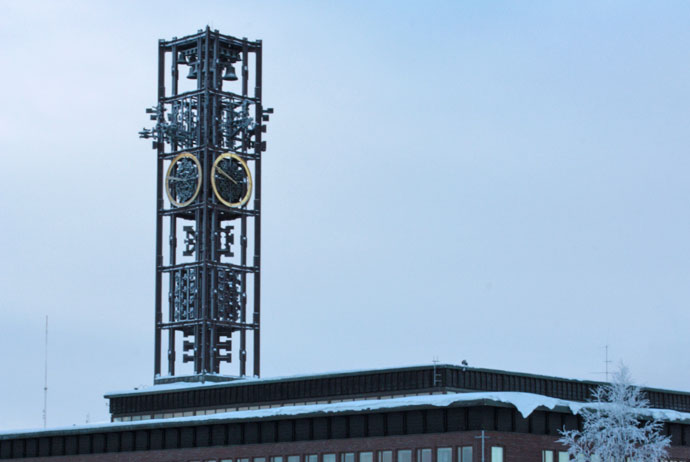 In 2001 this monumental 1960s block, with an open-plan design and a tall iron clocktower soaring up from the roof, was named as a protected building, which should have saved it from demolition. But that decision was reversed in 2012, presumably because the city hall is doomed to collapse if it isn't torn down first. It's right on the edge of Kiruna that's closest to the mine.
Some locals are against doing away with a building that has held Kiruna's most important meetings and events for the past few decades, but the cost of moving such a large building is deemed too high to be worthwhile.
Local councillors have argued that moving parts of the city hall to the new site across town would involve knocking down several blocks of housing just to get the pieces past.
At the time of writing it was still possible to go inside the city hall and have a look around at the unusual design, which won an architectural prize in 1964 (it's hard to imagine but at the time, it was considered Sweden's most beautiful public building). You can also read about plans for the vast city-moving project and learn why the mining company LKAB is going to such lengths to keep extracting the valuable iron ore.
There is one silver lining for those locals who've said they'll miss the old city hall. It's expected that some parts of the building will be salvaged and used during the construction of the new city centre. The clocktower, for example, is going to be moved across town and placed in front of the new city hall.
Known as Kristallen ('the crystal'), the new city hall will be designed to let in as much light as possible – something local politicians will no doubt appreciate during the dark winter months. This new city centre, with the city hall at its heart, should be finished by around 2018.
Entry
Free
Getting there
Kiruna City Hall is just opposite the bus station close to the middle of town.
Kiruna City Hall (Stadshuset)
Hjalmar Lundbohmsvägen 31
Kiruna
+46 980 700 00
kiruna.se
Daily 7.30am–5pm
Last updated: December 2014
Like what you've been reading? Get our best tips by email!