Once voted Sweden's most beautiful building, Kiruna's church comes as something of a surprise. While much of the city is formed of forgettable, functional apartment blocks that were thrown up to accommodate miners and their families, this wooden place of worship is surprisingly flamboyant.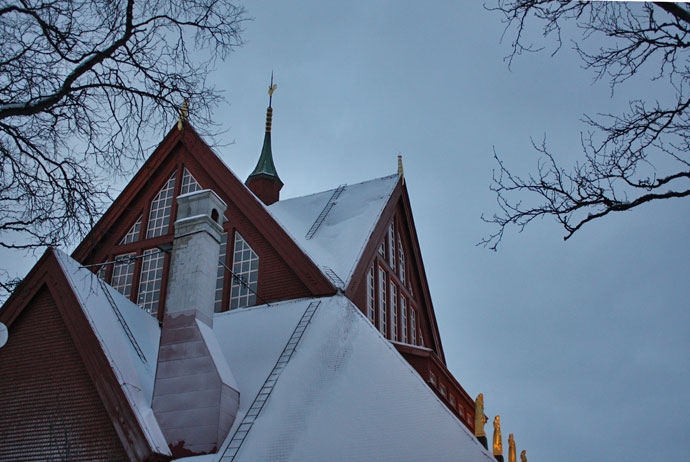 The brief given to architect Gustaf Wickman at the end of the 19th Century was to create a church in the shape of a kåta, or traditional Sami tent. This was achieved by creating a broad, square base and adding long, sloping rooflines that extend from bottom to top like the walls of a pyramid.
Completed in 1912, the church remains one of the few architectural nods to the area's early inhabitants, who roamed the land for millennia before the arrival of Christianity – or indeed the mining company LKAB, which paid for the church to be built and then donated it to the parish.
Although the church is much loved among locals, it won't be standing here for much longer. Like so many buildings in the centre of Kiruna, it's at risk of falling into the vast mine that stretches below the city. But given its unusual design and historic nature, steps are being taken to conserve it for future generations. What this means in practice is that the church will be dismantled, piece by piece, and rebuilt a couple of kilometres to the east.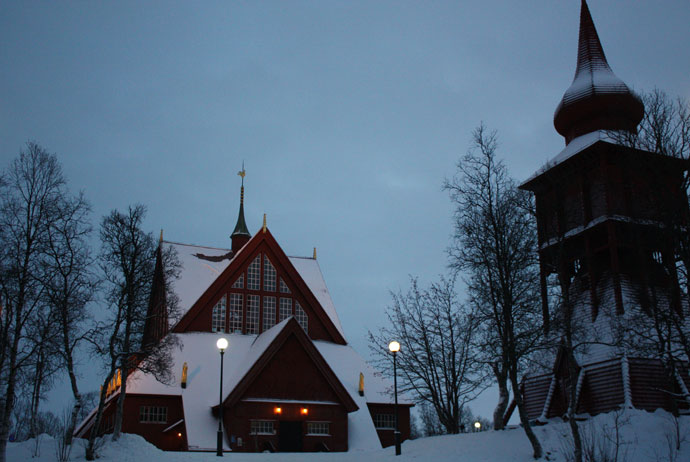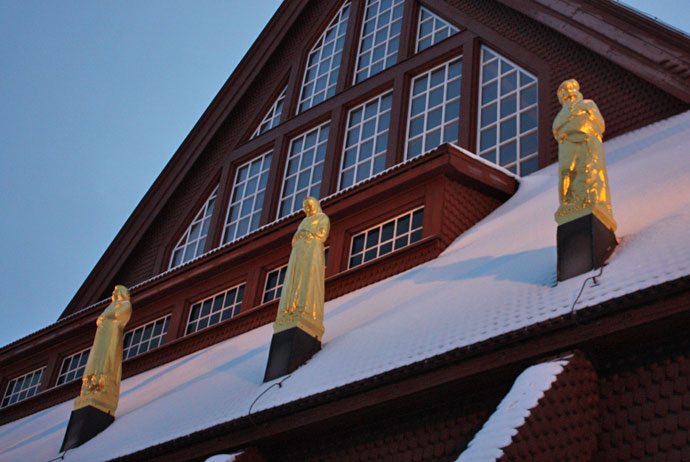 For now, you can enjoy Kiruna's church in its original location. It's a peaceful spot, surrounded by mature trees. As you walk around the outside of the building, notice the two-meter-tall bronze statues that jut out from the roofline. Each is said to represent a different state of mind – from shyness and sadness to love and despair.
Inside, the church is surprisingly big. There's said to be space for around 800 worshippers here and on weekends, when weddings often take place, it can feel as though half the city has gathered inside.
If you're lucky enough to have the church to yourself, take a minute to check out the mural behind the altar, which was painted by Eugén Napoleon Nicolaus, a Swedish prince known for his love of art.
Entry
Free
Getting there
The church is a short walk south of the centre, just off Gruvvägen.
Kiruna Church (Kiruna kyrka)
Kyrkogatan
Kiruna
+46 980 678 00
jukkasjarviforsamling.se
Winter: daily 10am–3.30pm
Summer: 9am-5.45pm
Last updated: December 2014
Like what you've been reading? Get our best tips by email!