At the eastern end of Kiruna's main shopping street is the English-style Bishops Arms pub, part of a nationwide chain with bars across Sweden.
It's not a bad place for a beer or an evening meal, though don't expect the same charm (or low prices) as you'd find in a real British boozer – it's joined to a modern shopping precinct and feels a bit soulless.
Along with the bowling alley, this is really the main spot for after hours fun in Kiruna. There's a menu of simple pub food too, with mains like fish and chips costing upwards of 160 SEK.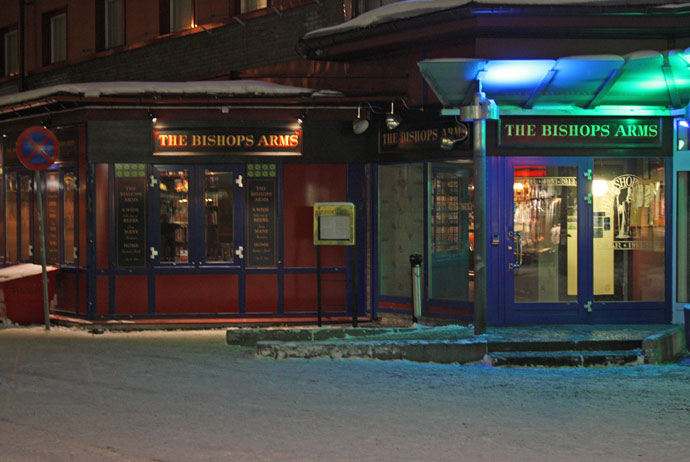 Away from the pub's main seating area, which is divided up by wooden panels, there's a nice snug area with hundreds of books lining the walls – it's a pleasant spot to slurp a beer, warm up and watch the world pass by outside.
The Bishops Arms is popular with mine workers (and nowadays, construction workers helping to build the new city centre). As such, it's a good place to get the latest gossip on what's happening in the city – failing that, there's a notice board in the entrance way. Rooms are also available here if you need somewhere to stay.
Bishops Arms
Föreningsgatan 6
Kiruna
+46 980 155 00
elite.se
Mon–Thurs 4pm–midnight, Fri 3pm–1am, Sat noon–1am, Sun 4pm–10pm
Last updated: December 2014
Like what you've been reading? Get our best tips by email!