The spectacular northern lights can be seen across northern Sweden in winter, but Abisko is widely regarded as the best place to view them in the country. Some go further and say it's the best place in the entire world.
One reason for Abisko being singled out as the place to see the northern lights is its isolation, with the nearest big city, Kiruna, around 90km away.
The surrounding countryside is also part of a protected nature reserve, which means there's very little light pollution once you step away from the main areas of human habitation.
But the primary explanation for Abisko's excellent reputation among aurora spotters is the relative lack of clouds.
The tall mountains around here tend to keep the worst of the rainclouds at bay, making clear, cold nights more likely in Abisko than in other parts of Swedish Lapland.
Should I stay in Abisko?
The pros and cons of taking a tour
Our favourite tours
Do-it-yourself options
What about the Aurora Sky Station?
Staying in the Abisko Turistation
Should I stay in Abisko to see the northern lights?
Because it's such a good destination for viewing the lights, trips to this little Arctic outpost are gaining in popularity.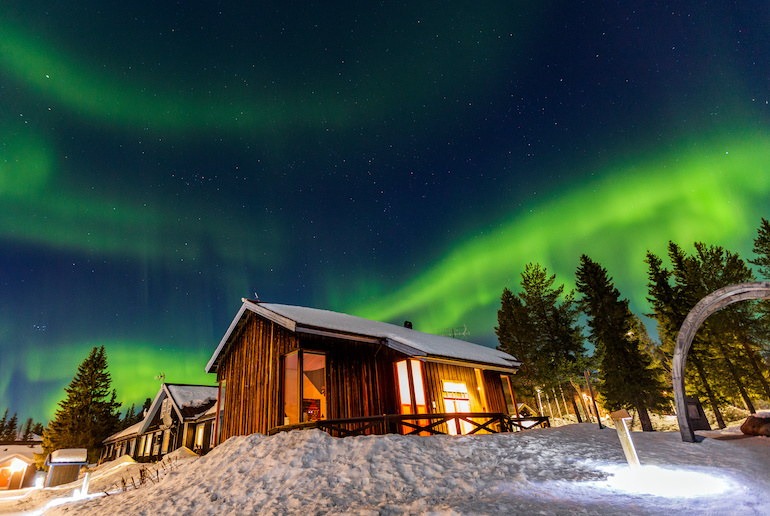 On any given day you can expect to see folks from as far afield as India, China and Australia arriving in the hope of seeing the lights.
If you can find accommodation, our recommendation is definitely to stay in Abisko.
And since cloudy nights are possible – and even if it is clear, there's no guarantee that there will be any action in the sky – we think it's worth staying for at least a few nights to maximise your chances of seeing the lights.
That said, Abisko is a small place and accommodation options are limited, so staying in Kiruna, which has good transport links to Abisko, is a reasonable alternative.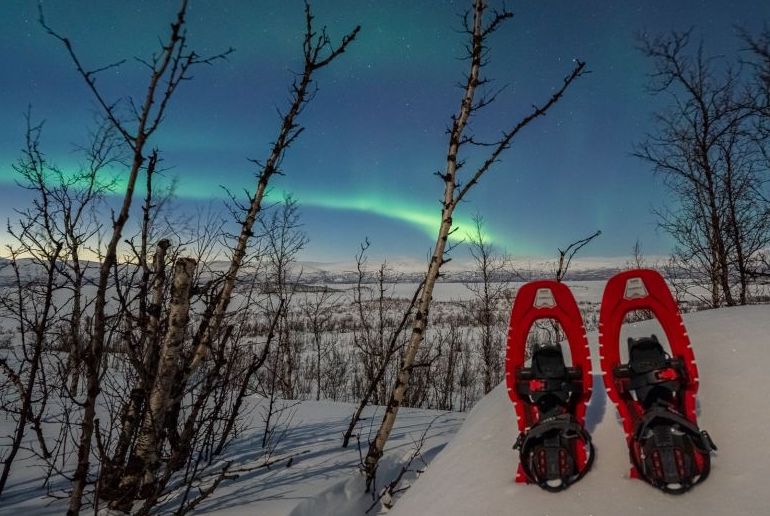 Our top 3 northern lights tours from Abisko
We love this snowshoe adventure, where you can silently glide across the pristine snow in search of the northern lights.
We also like this photo tour by foot, 4×4 van or a snowmobile-drawn sleigh, which also provides professional cameras for you to use.
But our top northern lights tour from Abisko is this trip up to the top of Mount Ednamvárri by snowmobile for a great vantage point over the mountain range.
Do I really need to take a tour?
You can either see the lights independently or you can take a tour, and there pros and cons of both options.
Obviously seeing the lights independently can be cheaper – though not necessarily, if you have to rent a car – but taking a tour can be fascinating and great fun.
So, what are the pros and cons of taking a tour versus the DIY option?
Cons
Tours generally cost more than doing it yourself.
Tours may lack a certain flexibility.
Pros
Tours are more fun, especially if you're travelling solo.
You don't need your own transport with a tour.
Guides are extremely knowledgeable and can tell you all about the science behind the spectacular lights.
Guides can take you to the best places to see the northern lights.
You can combine a tour with a range of other fun activities, such as snowshoeing and riding a snowmobile.
6 of the best northern lights tours from Abisko
So here are some of our favourites northern lights tours in Abisko – and why we like them.
Take a classic northern lights tour
This good value northern lights tour picks you up from your hotel and takes you into the Abisko National Park in search of the northern lights.
We particularly like the knowledgeable guides, who have years of experience in choosing the best viewing spots.
And if you're lucky, you may get to see the lights reflected in the clear waters of Lake Torneträsk.
Price: 800 SEK; US$75
Search for the northern lights by snowshoe
We love the fact that you can combine two amazing Arctic experiences in one with this snowshoe and aurora tour.
Snowshoeing is an atmospheric way of exploring the national park, as you glide silently across the snow while looking out for the lights above. This tour includes a pick-up from Abisko accommodation.
Price: 995 SEK; US$94
See the northern lights from a mountain top
Enjoy the aurora from the top of a mountain while eating dinner round a campfire by a tipi. Our favourite thing about this trip is that you get to ride up to the top of Mount Ednamvárri by snowmobile, where you'll get views over the mountains and, ideally, of the northern lights!
Price: 2495 SEK; US$325
Take the best pics of the northern lights
Run by a professional photographer, this tour will help you get the best images of the aurora. The guide will help you set up your gear and give you hints about how to get the best shots.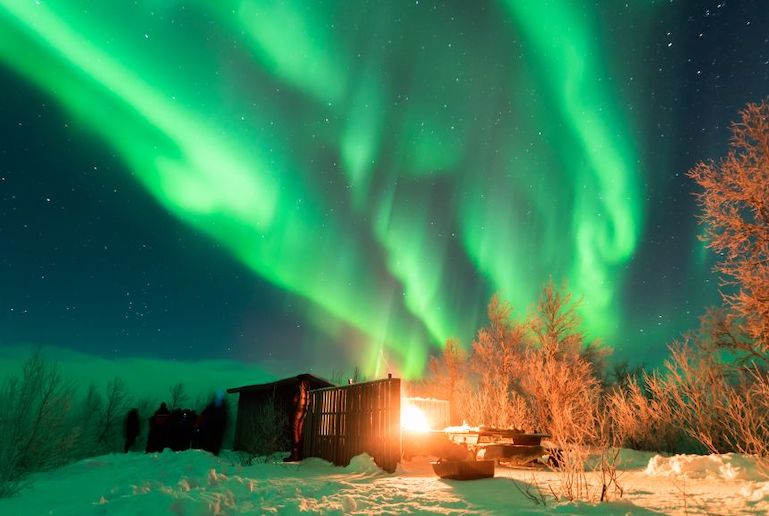 And if your pics don't work out, they will send you their own photos and videos. We love that you can set your insta page alight with some fab photos of the lights!
Price: 1650 SEK; US$156
See the northern lights in autumn
We love the fact that even if it's not the depths of winter, you can still have a good chance of seeing the lights with this autumn northern lights tour.
You'll be picked up from your hotel in Abisko at about 8pm in the evening and head off into the Abisko National Park to search for the lights as it gets ever darker.
Price: 995 SEK; US$94
Look out the northern lights from Kiruna
What we like about this tour is that you can go northern lights hunting in Abisko, even if you're not staying there.
This tour picks you up from a choice of seven locations in Kiruna in a heated mini-bus and takes you round the national park to some of the best places for viewing the aurora.
Price: 1770 SEK; US$160
DIY options for seeing the lights on a budget
And if your budget won't stretch to a tour, can you see the lights on your own? Well, the answer is definitely yes.
Since Abisko is so remote, there's very little light pollution and you can often see the lights from the town itself.
Our favourite place for watching the northern lights for free is in Abisko Östra, down by the lakeside. You can simply walk down to the water's edge and wait for the show to begin.
Wrap up warm, though – if it's a clear night, temperatures plummet pretty quickly after dark.
If you have your own transport you can easily drive out into the national park for good views of the lights. Or head along the shores of Lake Torneträsk and look out for the lights over the water.
Is the Aurora Sky Station worth it?
One way to view the lights independently without taking a tour is to visit the Aurora Sky Station –though this certainly isn't a budget option.
Some 900 metres above sea level on Mount Nuolja, the Sky Station has a large terrace and a lookout tower with great views, as well as an exhibition that explains all about the aurora itself.
It's accessed by a chair lift, and expert guides give regular presentations on the lights throughout the evening.
The Sky Station claims to provide some of the world's best views of the northern lights, and most visitors rave about the experience – even on nights when the lights don't appear.
However, there's no denying that a trip here is expensive. It costs SEK 1025 per person to visit (which includes the chair lift), and you may well find that you can get good views of the lights in Abisko itself without having to pay for the experience!
Abisko Turistation
If you do stay in Abisko, we recommend Abisko Turistation. Run by the STF (Swedish Tourist Association), this sprawling place is in the best possible location, with its very own train station.
It also has a restaurant and shop and sleeps 377 people in a range of accommodation including a hotel, hostel and cabins.
It's the STF's northernmost hostel complex and marks the beginning of the 467km long-distance Kungsleden trail that wends its way through some of Sweden's wildest, most remote countryside. See our guide for more on hiking this amazing trail.
And even if you're not staying there it's worth a visit, because it's the best base for tours, tourist information, trail maps, local knowledge, equipment rental and more.
It can organise loads of activities, including skiing, ice-climbing, a trip to wood-fired sauna by the lake and, of course, hikes out to view the northern lights.
See also:
Seeing the northern lights in Sweden
The best northern lights tours in Rovaniemi, Finland
Wild northern lights tours in Tromsø