Taking its name from a Swedish design classic (those bookshelves made from thin 'strings' of metal), this chilled-out coffee shop has a strong claim to being one of the coolest daytime hangouts in SoFo.
The idea is an odd one: a café where the furniture that customers sit on is actually for sale. Look closely enough and you'll see that some of the oddly paired rococo armchairs, tables and cosy green sofas have price tags stuck to them.
Apparently you can still barter if you want – you know, just in case you get an urge to give your living room a makeover midway through your latte.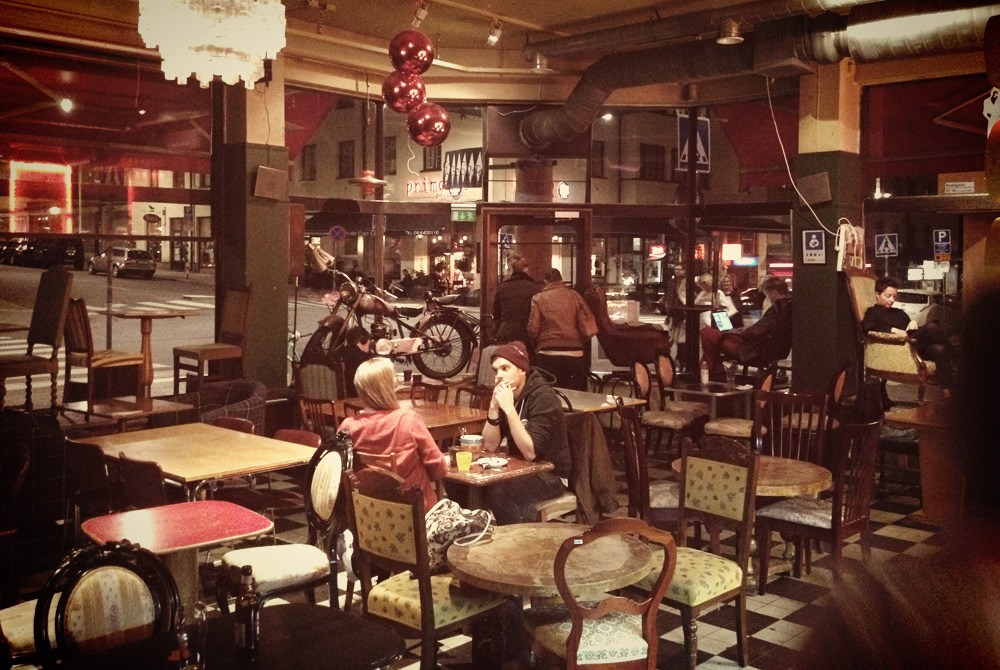 It's not only the furniture that makes Café String look different; old traffic lights and embossed metal signs advertising lubricants decorate the walls, and there's a motorbike propped up by the window.
Sweet treats sold at the counter include carrot cake, muffins, cheesecake and homemade pies. Greek salads and chunks of vegetable lasagne are also on offer. The food is okay, but nothing special – we'd recommend just getting a coffee or a beer and soaking up the atmosphere.
The very cheap breakfast buffet here (weekends until 1pm) is popular, with plenty of pancakes, coffee, fruit and toast to go around. Arrive early to get a space in the main part of the café, as the basement area downstairs isn't nearly as appealing.
Café String
Nytorgsgatan 38
Södermalm
Stockholm
+46 871 485 14
cafestring.com
Mon–Thurs 9am–10pm, Fri–Sun 9am–7pm
Last updated: September 2014
Like what you've been reading? Get our best tips by email!