Influenced perhaps by the long-running Vikings TV series and the Thor superhero films, the 'Viking' look is certainly having a moment. And that includes hairstyles.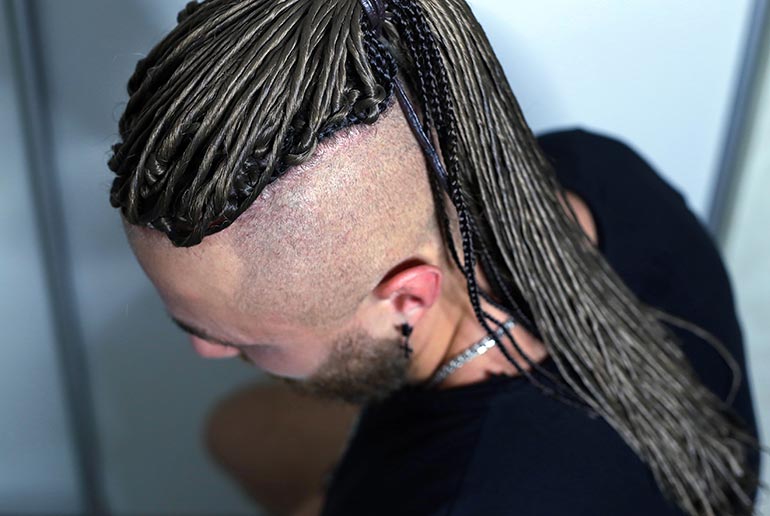 Maybe Chris Hemsworth as Thor is your style icon, or perhaps you prefer Tom Hiddlestone with Loki's look – whichever it is, there are plenty of different styles of Viking haircuts to choose from.
And it's not just men who are rocking the Viking look – there are plenty of badass female Viking hairstyles too.
So whether you prefer historical Viking hairstyles or kick-ass modern cuts, read on to get the lowdown on some of the best Viking hairstyles for females and for men.
Viking hairstyles for men
Viking-style haircuts have become super popular with men in recent years. Here are some of our favourites.
Undercut Viking haircut
Most Viking haircuts for men involve some kind of shaved undercut with longer hair on top. The longer hair can be styled in a variety of ways, including a top-knot, a pony-tail, a man bun or braids.
Braids can either be weaved tightly over the head or worn as a single long plait down the back, and some people even have tattoos beneath the undercut. Almost always the look is paired with a bushy beard.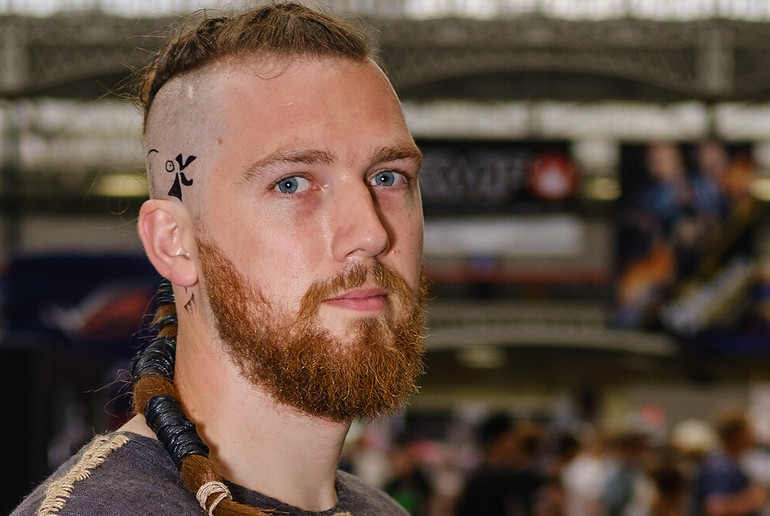 Apparently, the reason behind the Viking undercut is so that Vikings didn't get their hair caught in the bow strings when firing their arrows.
Viking fury haircut
The Viking fury haircut is shaved round the sides with longer hair on top slicked back. It was made popular by Brad Pitt in the 2014 film "Fury", so much so that the style takes its name from the film.
Other celebs, however, have also been seen sporting this style including David Beckham and Jake Gyllenhaal.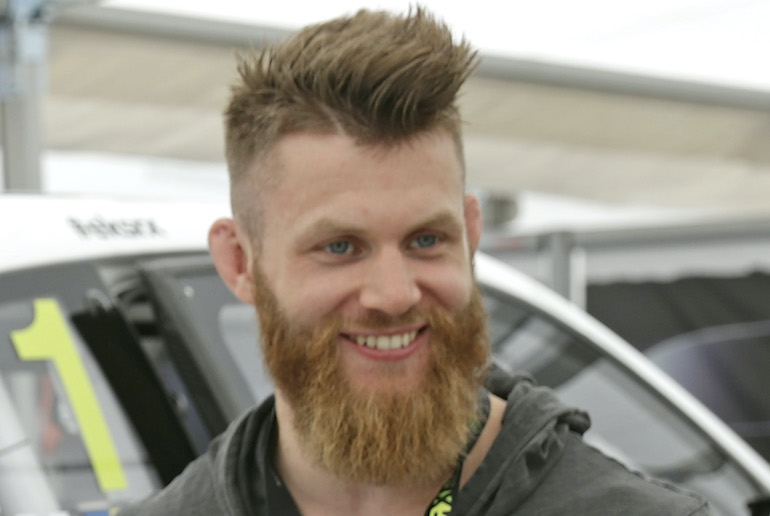 Viking mohawk
The Viking mohawk is similar to the Viking fury style but with the hair on top left longer and gelled up in a mohawk rather than being slicked down.
The idea behind it is that a high mohican makes a Viking stand out and look more fearsome, though of course there's no historical proof that this style was worn.
Viking hairstyles for thin hair
If you're thinning on top, the mohawk or Viking fury styles aren't really an option. So, the best Viking hairstyle for thin hair is probably the simple shaved head and bushy beard look.
Or, if you're feeling really brave, you could go for a 'shaved with ponytail' look like the one below.
Easy Viking hairstyles for men
You may think that long flowing windswept hair is a good choice for an easy Viking hairstyle, but in fact this style relies on the hair being kept in really good condition.
To be a good look, you need a glossy mane of hair, which must be freshly washed, combed and swept back – so it's a pretty high maintenance style.
Better options for easy Viking hairstyles include a man bun, dreads or a plait. They all take a bit of time to perfect, but are very easy to maintain once they're done.
Viking hairstyles for women
The 'Viking' look has also become a big hit a women's salons, too! These are some of the most popular haircuts and styles.
Viking shield maiden hairstyles
There are many different Viking shield maiden hairstyles, but most involve some kind of combination of braids or plaits and loose hair.
Sometimes, there are just a few small braids on top of the head with the bulk of the hair left loose. Other styles go for a variety of thick and thin braids, with just a little loose hair.
Either way, if you've got long hair, this is a great look and easy to maintain once it's done.
Female braided viking hairstyles
There are loads of different way to use braids for a female Viking hairstyle. A single full braid that runs down the back is the most practical option. It can either start at the bottom of the neck, or be combined with smaller tight braids on the head.
Other options include a half-up, half-down braid with tight braids on top and loose hair or a pony-tail at the back. Some people prefer two larger side braids or several smaller braids, or even the full dreadlock look.
Female viking hairstyles for short hair
You don't have to have long flowing flocks to get a kick-ass Viking look. There are plenty of short Viking hairstyles for females, that use braids on top and at the side.
If you want to find out more on how to do Viking hairstyles with short hair, check out this video with Vikings actress Amy Bailey.
How do we know what are traditional Viking hairstyles?
Traditional viking hairstyles for men are generally thought to be shaved short on the sides and at the back and left long at the front. But if you're looking for historically accurate Viking hairstyles, well that's a bit harder to define.
Since there were no cameras in Viking times, we have to rely upon on the few carvings, sculptures and other historical pictorial depictions that are available – and these seem to show a variety of styles.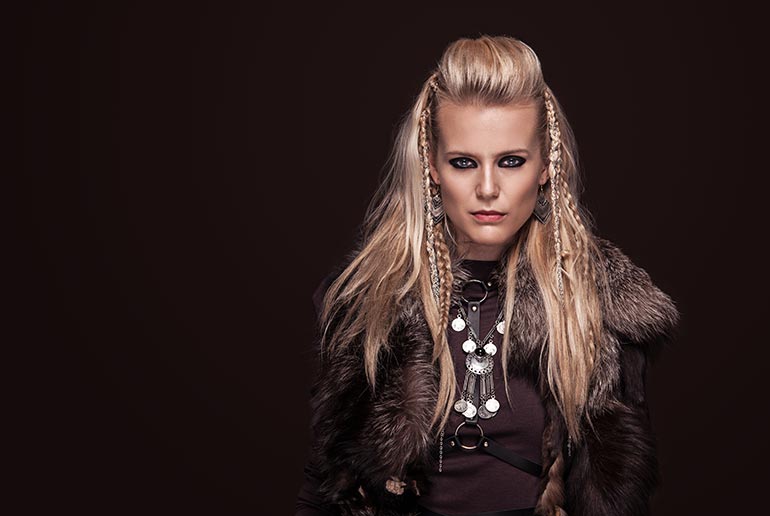 Some have shaved short hair, others show shaved sides and long hair tied up in a man-bun, while others still show long flowing locks and full beards. And, of course, modern film and TV portrayals of Vikings have introduced alternative versions of hairstyles.
Of course, the same thing applies to traditional Viking hairstyles for females. Some images show Viking women with long, loose flowing locks, others with a pony-tail, others with braids, or half braids and half loose.
So, the takeaway from all this is – don't worry too much about authenticity, just a pick a style you like that suits you.
How to do Viking hairstyles
If you chose one of the simpler Viking hairstyles, you can have a go at doing it yourself at home. If you're doing braids, you may want to get a friend to help. There are plenty of online tutorials that give advice and practical demonstrations on how to do it yourself.
If you want an undercut or something more complicated, you're probably better off going to a professional – many barbers and hairdressers can do a good Viking style nowadays.
Why would you want a Viking hairstyle?
Viking hairstyles look seriously cool for both men and women, so who wouldn't want a kick-ass crazy Viking hair-style?
Not only that, but if you opt for braids or an undercut, they can be very practical and easy to manage once you've done the initial style.
See also:
All you need to know about Viking weddings
Cool Viking names and their meanings
Nordic and Viking tattoos