The Icehotel is beautiful but as it's rebuilt every year, it isn't especially historic. To see something truly old, head east along the main road through Jukkasjärvi, Marknadsvägen, and keep going until you reach Jukkasjärvi Kyrka – the oldest church in Swedish Lapland.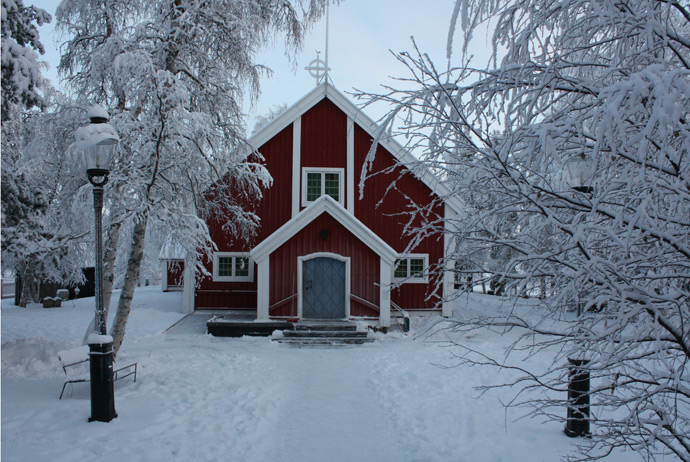 Like something that's tumbled from the pages of a children's storybook, the little wooden church is painted red and white, and – for much of the year – blanketed with thick snow.
The oldest, most central part of Jukkasjärvi church dates back to around 1607. Additional sections, like the tall wooden clock tower that you'll walk through on the way in, were added in the mid-1700s.
While the outside is pretty to look at, it's really the striking interior that makes Jukkasjärvi church worth a visit. The vivid altarpiece, added in the 1950s, was actually a gift to the parish from the mining company LKAB, which runs the huge mine in Kiruna.
The brightly coloured triptych on the far wall depicts a coming together of Christian and Sami traditions. The left-hand panel shows Lars Levi Laestadius, a 19th-Century pastor credited with reigniting Christian sentiment among the Sami, preaching to locals.
A repentant man returns a stolen reindeer to its owner, while another chap empties a keg of alcohol onto the ground – significant, as Sami communities long struggled with alcoholism. Laestadianism, the branch of Christianity that Laestadius founded and which still holds sway for many in the area today, preaches abstinence from alcohol except during holy communion.
The central image is more familiar, showing Christ on the cross, and the right-hand panel depicts a 'summer-land of forgiveness', illuminated by the midnight sun. The underlying message is that by following Christian laws through the hardship of 'winter', believers will arrive in a better, sunnier place.
There are two other unusual things about Jukkasjärvi Church. The organ, made from reindeer horn and birch, is decorated with images from Sami mythology. And, more curiously, the mummified bodies of locals who died during the 18th Century are still hidden somewhere beneath the church floor.
Entry
Free
Jukkasjärvi Church
Marknadsvägen
Jukkasjärvi
+46 980 700 61
jukkasjarviforsamling.se
Daily 9am–3pm. Open until 5.45pm from mid-June–mid-Aug.
Last updated: December 2014
Like what you've been reading? Get our best tips by email!