Located just 9km south of the city centre, the gorgeous wooden mansion known as Gunnebo Slott makes for an enjoyable half-day excursion. It's surrounded by formal gardens and forest trails, and feels refreshingly distant from the bustle of the city centre.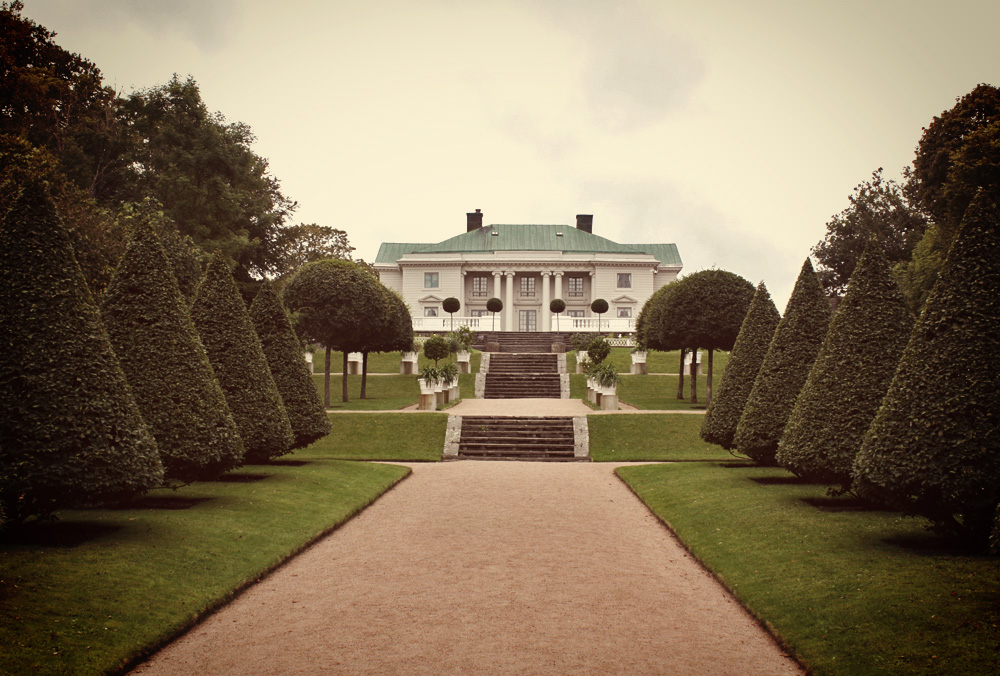 Gunnebo Slott was built in the late 1700s as a summer residence for a wealthy trader by the name of John Hall, whose family originally came from Britain. At that time, Hall was one of the richest men in Sweden – so rich, it's said, that he lent money to the King of Sweden himself.
To realise his grand vision for the house and landscaped gardens, Hall enlisted the help of Carl Wilhelm Carlberg, Gothenburg's first-ever city architect. Carlberg sketched out the house and its interiors, taking inspiration from his recent trip to Versailles. He even designed furniture for exclusive use in Gunnebo's rooms. There are 26 different types of chair spread across the house.
Roughly half of the furniture found at Gunnebo Slott today is original. The rest of the pieces are replacements made using Carlberg's original sketches as a guide.
Otherwise the interiors at Gunnebo Slott are extremely well preserved, and give us some clues about the kinds of lives that Sweden's wealthiest people enjoyed during the early 18th Century.
You can walk through the grand reception room where evening guests would have mingled during summer parties. Here, bone-white statues and arch-shaped mirrors send light bouncing around the room. Also open to the public is the dressing room where house staff would have helped Hall's wife to prepare for social gatherings.
Be sure to check out the wallpaper in the upstairs guest room in the north-facing part of the house. Hand painted in China in the 1700s, it remains in astonishingly good condition, with vivid shades of green appearing to jump out from the walls.
Unfortunately, the wealth that blessed the Hall family was not to last. When the Napoleonic Wars began and trade with Britain become more troublesome, their empire collapsed completely. Gunnebo was taken over by creditors and John Hall's son, who had lived his early life in total luxury, ended up without a home. It's thought he died on the streets of Stockholm during a snowstorm.
Visiting Gunnebo Slott
It's free to look around the gardens at Gunnebo Slott, where you'll find fountains, topiaries, statues and neatly trimmed lawns laid out in neo-classical style. To get inside the main building you'll need to join a guided tour at one of the following times.
October–April: Sun only at noon and 1pm
May–mid-June: Sat & Sun at noon, 1pm and 2pm
Mid-June–mid-Aug: daily at noon, 1pm and 2pm
Mid-Aug–Sept: Sat & Sun at noon, 1pm and 2pm
Tours cost 85 SEK per person and last around 45 minutes. You can buy tickets from the gift shop. It's worth calling ahead to ask for the tour to take place in English.
Eating
Unusually for a tourist attraction that's guaranteed a steady stream of visitors, Gunnebo Slott has put real effort into creating an excellent onsite café. It serves light snacks and reasonably priced lunchtime meals made with organic ingredients – many from Gunnebo's own kitchen garden. The sourdough sandwiches and lemon meringue cakes served here are really top-notch, so try to stop by if you can.
Gunnebo Slott
Christina Halls Väg
Mölndal
+46 313 341 614
gunneboslott.se
Getting there
Blue bus number 753 leaves from Korsvägen in the centre of Gothenburg at least twice per hour (wait at the stop marked with the letter D). After around 12–15 minutes, get off at Kristinedal. Cross over on foot and begin walking down the road called John Halls Väg.
After the bridge you will see a small trail on your left-hand side. Follow this narrow gravel path along the waterside and through the woods and eventually you will emerge onto another road with the house up ahead of you. The whole walk should take no more than 5–10 minutes.
Like what you've been reading? Get our best tips by email!