With more and more people visiting Abisko, in the far north of Swedish Lapland, the number of things to see and do has skyrocketed. You'll find information on the latest tours and events on noticeboards inside local shops and hostels, but the absolute best place to go for information on activities is Abisko Turiststation.
The hostel there runs a good selection of tours and serves as a very comfortable base for exploring the Abisko National Park, which is home to bears, lynx and wolverine.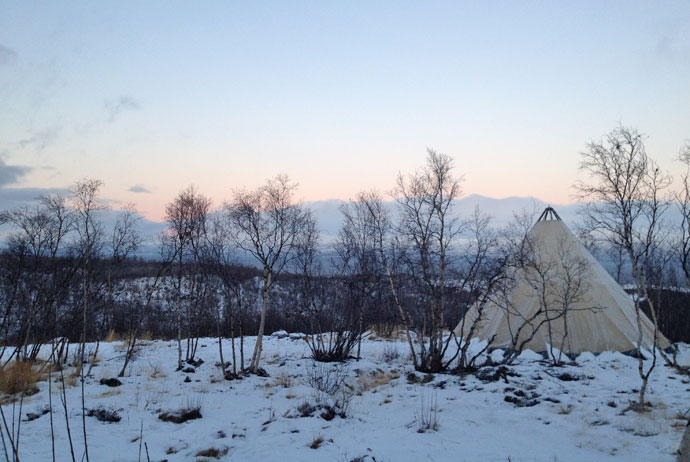 Outdoor activities around Abisko
Watching the northern lights
If you're heading to Abikso then you probably already know – watching the northern lights is a serious business here, and it's probably the single biggest reason that most people visit during the winter months. You can see the northern lights alone or on an organised tour. Either way, our guide to aurora-spotting in Abisko has all the info the need to successfully seek out the lights.
Walking and hiking
Serene and scenic, the area around Abisko is perfect for walking. And you don't need to attempt the full 450km-long Kungsleden trail to get a good feel for the landscape, which is dotted with pretty wildflowers in summer and blanketed by great expanses of ice and snow during winter.
Abisko Turiststation has maps of local walking trails if you want to get out and explore. You should always exercise caution when walking in the park, especially in cold weather when rocks get slippery. If you'd rather not take off alone, the hostel also runs guided trips lasting around an hour and a half, which give you the chance to learn more about the region's history (around 200 SEK per person). Longer winter hikes – snowshoes included – also leave from the hostel.
If you're interested in seeing some of the national park's key sights, like Abisko River Canyon, the Abisko river delta or the shores of Lake Torneträsk, this two-hour guided tour is a great option.
Ice climbing
You don't need any previous experience to try out ice climbing in Abisko. From Abisko Turiststation you can join a three-hour ice-climbing trip to a frozen waterfall in the Abisko Canyon. Crampons, picks and knowledgable guides are provided – expect to pay around 710 SEK per person.
Nordic skiing
In winter, cross-country skiing provides a fun way to see the Abisko National Park, which stretches out over a huge valley with bare, treeless mountains all around. The area is rich in birdlife, so you may even spot an eagle or two soaring above the peaks. Organised tours suitable for beginners last around three hours and cost 690 SEK per person.
Avalanche awareness course
If you're planning to spend a lot of time outdoors or would just like a better understanding of the threats posed by the region's heavy snowfall, you can join an avalanche awareness course (375 SEK per person). During the snowiest part of winter (usually February onwards) these take place daily with up to eight participants at a time.
Fishing
Local hostels (like Abisko Guesthouse, for example) can get you hooked up with a fishing trip. The abundance of clean lakes and streams makes this part of Sweden great for fishing, and there's the chance to catch everything from Arctic char to brown trout.
Dog-sledding
During the winter, Abisko Mountain Lodge (a two-minute walk from Abisko Östra) runs sledding trips into the countryside, led by a pack of dogs. Good deals are available if you're staying at the hostel.
Other things to do in Abisko
Abisko National Park Visitor Centre
Naturum, or the Abisko National Park Visitor Centre, is just across from the main hostel building at Abisko Turiststation. The permanent exhibition here has plenty of information about the national park, including an overview of its flora, fauna and cultural history. The guides here should be able to answer any questions you have about exploring the park. The visitor centre is open as follows:
Dec–mid-Feb: Thurs–Sat 3pm–5pm;
Late-Feb–May: daily 2pm–6pm;
June–Aug: daily 9am–6pm;
Sept–Nov: Tues–Sat 9am–6pm.